Happy Birthday, Jeannie! Jeannie Cheatham Celebrates her 95th Birthday this Month
Jeannie Cheatham has been, if you ask her, a working professional musician for 90 years… 91 this Aug. 14, when she turns 95.
As she told Living Blues magazine in a profile earlier this year, "I would get a dime for playing in church at age four, and if you get paid, you're expected to be professional. I've been playing 90 years. A playing, paid musician. I have an electric piano in my apartment, and I still play in case I get an offer I want to take."
In addition to her accolades for her piano playing, singing, and composing, she's also known as a tough taskmaster who demands the best of the players in her band as well as a shrewd businesswoman, who always gets paid for her gigs. And while nobody can last in business for 90 years (almost 91!) without a few knock-downs, Jeannie is mostly as beloved by her fellow musicians as she is by her fans. Part of the reason why—despite her willingness to defend both her art and her financial interests—is the respect she feels and exhibits for others, something illustrated by two stories she likes to tell of the times she was interrupted in the middle of a performance.
She and her late husband and musical partner, Jimmy, were performing in Paris in 1968, as the Soviets were crushing a democratic tide in Czechoslovakia. While Jeannie was leading her band through an old blues song, suddenly a group of refugees in the back of the club stood up and began singing a folk song from their homeland. Jeannie said she directed the band to hold up and let the refugees finish. "The blues touches everyone," she said. "Our music had touched these people who would likely never be able to go home again, and it caused them to want to share THEIR music with us." She took the interruption as a compliment of the highest order.
Another time, she was playing a club in Canada when she was told that a ship from Ireland had docked in port, and that Irish sailors were in attendance. To honor them, she started singing "Danny Boy," only to be interrupted by an Irish sailor with a beautiful tenor voice, "who sang the song as it SHOULD be sung!" Jeannie said she stopped singing and simply accompanied the unnamed sailor.
*********************
One of my favorite stories about Jeannie:
In 1992, I was working on an outline for an oral autobiography of Jeannie and Jimmy. They had come over for dinner and were taping their remembrances at our little apartment in Ocean Beach. While Jimmy entertained our 14-month-old, I went in the other room and put side two of Mother Earth's Living with the Animals on the turntable while I finished dinner. As Tracy Nelson's vocals wafted out of the speakers in a soaring take on Allen Toussaint's "Cry On," Jeannie sat up straight, her eyes wide. She tapped Jimmy on the arm, nodded toward the speakers, and said, "Jimmy, listen to that! That's that little white girl that used to sing at the Church Key in Madison."
Jimmy had taught jazz at University of Wisconsin Madison in the '60s, when blues singer Tracy Nelson was first starting out—and some 25 years later, after not having heard her in the interim, Jeannie immediately recognized the voice. (When I interviewed Tracy Nelson in the mid-'00s, she got a kick out of that story and remembered the Cheathams fondly.)
A few years before that, when I was stringing for the old San Diego Evening Tribune, I invited Jeannie and Jimmy to dinner at Elario's, atop the Summerhouse Inn in La Jolla. Papa John Creach was closing out one of his twice-yearly two-week stays with his usual band of Duane Smith on piano, local stalwart Bob Magnusson on bass, and the wonderful Maurice Miller on drums and vocals. As we finished dinner, introductions were made all around. Jeannie, Jimmy, and I settled in next to Gretchen, Papa John's wife, and took in the first set. During intermission, Papa John asked Jeannie if she'd like to sit in on piano for a few songs during the second set. When she agreed, Papa John made sure that Smith was okay with it. (He was.)
First up, this one-off all-star combo ran through a crisp instrumental of Ellington's "Perdido," with Papa John and Jeannie harmonizing on violin and piano. Then they tackled "Ain't Nobody's Business" in rousing fashion. After Jeannie and Papa John traded solos four or five times, Magnusson started to play a solo on bass, only Jeannie and Papa John were so into their duel they didn't notice and played right over him! Magnusson, ever the gentlemen, dropped back, but at the end of the next solo again tried to take his own—and was again cut off! Jimmy was watching all this, and laughingly yelled out, "Don't you let them do that to you, Bob! You take your solo!"
The next time Jeannie and Papa John came to the end of a bar, Magnusson picked up his acoustic bass, waddled two or three steps forward toward the front of the stage—where he and his instrument couldn't be so easily overlooked— plopped it down with a slight thud, looked at Jeannie, looked at Papa John, broke out his bow, and played the most magnificent riff on "Ain't Nobody's Business" you ever heard. Took a second for good measure. Jimmy loved it. "That's right, Bob, that's right!"
*******************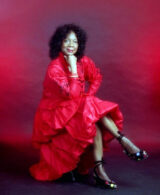 We're not done making new memories yet, either
On Nov. 11, Jeannie will be inducted into the San Diego Music Hall of Fame. Given the role she and Jimmy played in helping cultivate jazz with their Sunday night jam sessions in the 1970s and '80s at the airport Sheraton and, later, the Bahia resort, and all the young musicians they mentored, encouraged and taught, it is a well-deserved recognition.
Beyond that, when the Cheathams and their Sweet Baby Blues Band were signed to Concord Records in the mid-'80s, they helped prove that musicians from San Diego could get national record deals without having to move to L.A. or New York. (Other local outfits who got national deals while remaining in San Diego include the Beat Farmers, Mojo Nixon, Cindy Lee Berryhill, Joey Harris, the Paladins, Peter Sprague, Bruce Cameron, Hollis Gentry, Fattburger, and Magnusson.) That helped set the table for the bands that followed, like Rocket from the Crypt, POD, Switchfoot, blink-182, Unwritten Law, and more.
Happy birthday, my friend, and congratulations!