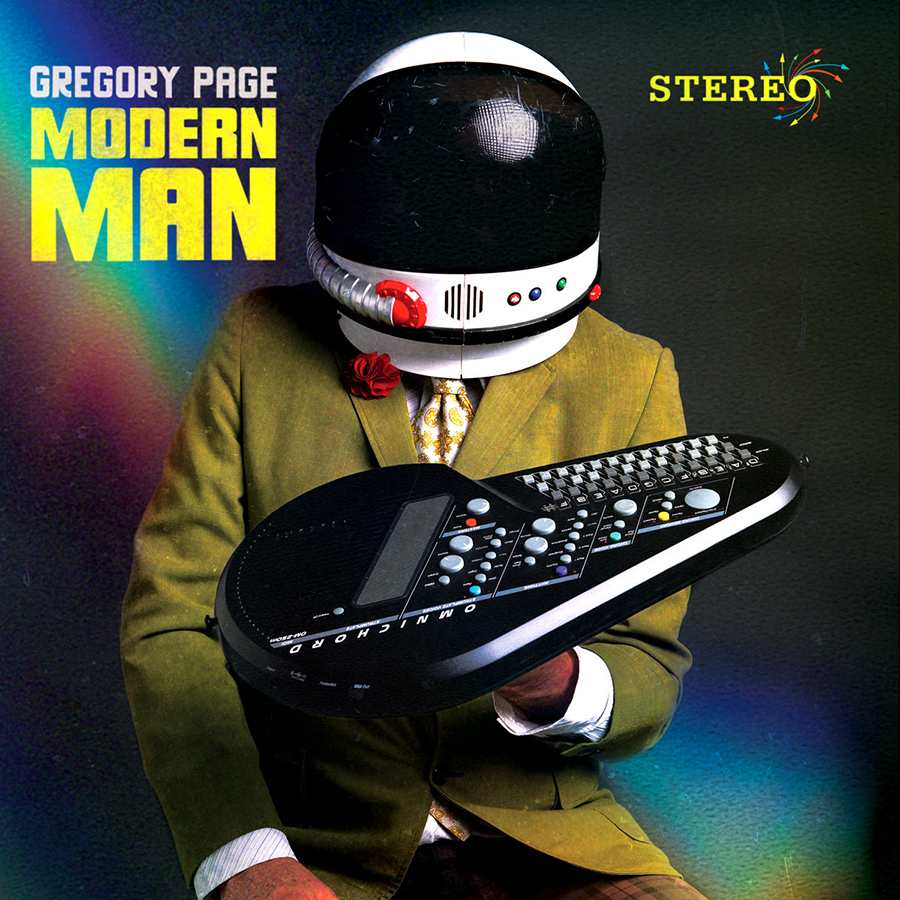 Gregory Page has struck again, but this time in a whole new way. The iconic singer/songwriter has had enough and he's here to tell you about it. His 12-track CD, Modern Man, which includes all original compositions, was recorded by Robbie Robinson with additional recording by Jeff Berkley and produced by Jason Mraz. It lets you know right away what's on his mind in the first two tracks, opening with "The World's Gone Mad." The world's gone mad, what shall we do, you can't put back the genie, he's on the loose.
The big revelation happens on the second track, "F the Future," where we learn this from Page's lips: The future came to take away my acoustic guitar, it left behind a synthesizer, soulless and bizarre. Yes, that's correct. Page is playing only an omnichord to accompany his voice throughout the project, with accompaniment by James East on bass, Josh Weinstein on piano, Enrique Platas on drums and percussion, and Mraz on synthesizer with featured appearances by Chithrinie Nirupama on sitar and Leonard Patton on backing vocals.
The carnival music arrangement on the title track, "Modern Man," fits the bill for Page's take on the shallowness and narcissism of the modern man right from the opening line: This handsome devil takes an early selfie, wearing a million dollar smile I got for free. Nirupama's sitar and guest percussionist, Gregory's uncle, David Page, provide the mesmerizing Raga groove on "Fall into You," followed by the wonderfully clever lyrics in "Dinner and a Movie." It's Friday night, I'm wearing my favorite bathrobe, laughing by myself, holding on to the remote.
Page strikes a bit of an optimistic tone behind the happy-go-lucky groove on "Low Then High" via the repetitive cheerful vocal chorus, May your joy be greater than your fear, set apart from the sarcastic view of modern day reality in "Disconnected Dreams," perfectly arranged in a lilting 6/8 time waltz, an antithesis to Page's stinging lyrics: Once long ago many books we would read…before hardcover and paperbacks just became words on a screen.
Page takes a breather from his angst on the next two tracks with "Let's Escape" and "A Modern Love," which are well-crafted Pop tunes à la Michael Franks, giving Mraz, Weinstein, and Platas an opportunity to stretch out a bit in a more lounge-oriented tune setting.
"Plan B" is Page's wordsmanship at its best, rhyming the woes of little ambition and scant recognition growing up, acknowledging the unthinkable in his opening verse, singing on stage, my own songs that I played, was never a thought, climaxing into the nirvana of plan B. Plan B came quick, giving flight to music, with the stars in my eyes, what a beautiful rise, singing in the spotlight, flying high, flying high.
Page yearns for a more peaceful Utopian existence in the closing track, appropriately titled "Are You Ready?," inviting you to join him in a world of silence with fewer distractions—with the absence of video games, cable TV, and cell phones—poignantly stated in his lyrical verse and refrain: Someday I wish everyone with their phones in their hands would hang up to see themselves standing alone…finally peace would break out in a place I call heaven on earth, what a dream it would be…no pills, no depression, with no plans to ever leave…are you ready to join me?
Page adds a bonus track, "Stars Above You," a romantic bossa nova ditty, to conclude the project. Once again Page has struck gold in his unique concept and approach to each CD he does. His wordsmanship brilliance emanates throughout Modern Man, leaving behind the often harshness of stringed instrument overkill and letting Page's lyrical messages breath air successfully amid each electronic orchestral arrangement. Bravo!