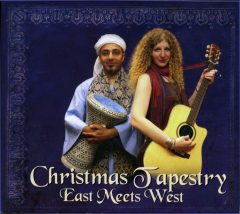 Perhaps the most exotic Christmas album in my collection is a CD titled Christmas in Calcutta, a sitar-enhanced album given to me by an Indian musician after a riveting concert in La Jolla a few years back.
My newest entry in the "Yuletide World Music" section will also be given some well-deserved spins this month. Christmas Tapestry: East Meets West is an album that you probably won't hear in the malls or during a 48-hour Christmas music marathon on the radio. And that's perfectly fine; this is an album best enjoyed in front of a warm fireplace.
The album is a creative collaboration between two artists hailing from the Pacific Northwest: George Sadak and Fae Wiedenhoeft. A native Egyptian, Sadak is a master of the drums and the dumbek, an Egyptian form of the tabla. Since coming to the U.S., Sadak had the opportunity to use the ancient musicians to a vast array of musical genres. When he is not performing in concert, Sadak operates the Barking Dog Studios in Edmonds, Washington, the facility in which Christmas Tapestry was recorded. An exceptionally strong vocalist, Wiedenhoeft arrived in Victoria, British Columbia upon completion of a theater arts degree at Roosevelt University in Chicago. She first gained recognition for her inspired singing with a Celtic group, Kitangus. Like Sadak, she is into musical multi-tasking; when not on stage, Wiedenhoeft operates her own music program. For this disc, Sadak and Wiedenhoeft gathered the finest musicians from the Pacific Northwest's Middle Eastern music scene. Maurice Rouman is featured on the oud, an instrument Western audiences will recognize as being similar to a lute. David McGrath plays a flute indigenous to the region called a nay (or ney). The violinists are Alimah Helming and Joel Gamble, Dan Sales plays the guitar, and John Sanders is featured on the accordion.
Generally, the songs on the CD veer toward the spiritual. "We Three Kings," "God Rest Ye Merry Gentlemen," "Silent Night," "What Child Is This," and "Oh Holy Night" all sound like they are from the repertoire of a good street group entertaining the pilgrims along the crowded cobblestone steps of Jerusalem (perhaps they are). Long associated with the 1958 version by the Harry Simeone Chorale, "Little Drummer Boy" becomes the "Little Tabla Boy" in the capable hands of Sadak. Two other nice departures from the usual arrangements are "Coventry Carol" and "Good King Wenceslas." The most authentic composition on the CD is a Coptic hymm called "Eporro." Coptic traditions and culture come from the Egyptian Christian faith, and this hymn features a splendid vocal from Samia Panni.
After the tenth track selection, there's a mystery song that suddenly appears a minute later. My less-than-subtle hint is that one of the chorus lines goes "FIVE BAKLAVA." Yes, it's that song…
Christmas Tapestry is available through Amazon, CD Baby, and the album's chief sponsor, the Ottoman Trading Company: www.ottomanbellydance.com