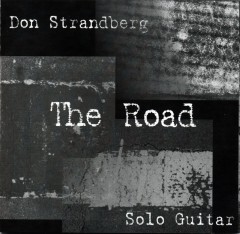 A good solo acoustic guitarist can stop time in a way that few musicians can, weaving simultaneous melodies and sound moods into a whole greater than the sum of its parts. Most listeners have their favorite artists (John Fahey, Jerry Reed, Bert Jansch, and many others) who in various musical idioms combine fluid finger-picking latticework and lyrical highlighting with the harmonics and echo tones of the wooden instrument. San Diegan Don Strandberg's new CD, The Road manages this same kind of magic. A veteran performer who has self-released several albums, including Kaleidoscope, most for solo guitar, his latest reveals surprising technical mastery and interesting musical ideas throughout 12 nicely home-recorded tracks.
All but three of the songs are Strandberg originals, and he keeps things musically interesting by tapping into Celtic sounds, bluegrass, traditional folk, and mysterious sounding, jazz-oriented melodies. "High Noon" opens the disc and is just that, a solo guitar arrangement of the title soundtrack tune for the 1952 western. It works well enough, but Standberg really gets untracked on "The Road," his title track for this disc, which features a crystal-clear treble string finger-picking to sharply contrast the softer lines picked over the bass strings. Throughout, he is able to put the important notes out in front and the supporting notes behind, even as he fills the air with them. "Prayer to St, Christopher" is an interesting original drawn from traditional country-folk sources like "My Old Kentucky Home," giving it a pastoral vibe. Davey Graham no doubt has been an influence, and on "The Tavern," Strandberg is cooking in "Anji" mode; it's quite a technical workout and a standout track.
The music here is nearly all minor-key dominated, and several of the songs feature dropping baselines. Strandberg plays steel-stringed guitar throughout, except for "The Dream," a 50-second track near the end of the disc that for some reason features the finger-picked line of the previous tune played on nylon strings. For all the technical similarities, the tunes stand up well, and the disc is not repetitive.
Strandberg burns up the fret board on "The Traveler," combining rapid picking patterns with catchy bridge chords. Another highlight, this one challenges the listener to figure how one guitarist can manage to play such fast, complex music so smoothly. Sure, it can be done, but it never ceases to amaze. "Zinskaro," a Georgian folk song, is something different; it conveys a drone and overlays very intriguing textures that go unexpected places. The disc wraps with "A Country Dance," a bright farewell that gives Standberg a chance to play a bit more conventionally on what is a Celtish-influenced waltz; he even gets to play a few choppy chords.
A trip to the web shows that Don Strandberg also paints. On The Road, all of the strokes are meticulous and blend to create a series of sonic canvases that acoustic music fans will enjoy — and acoustic guitar lovers should consider a must.
www.myspace.com/donstrandberg