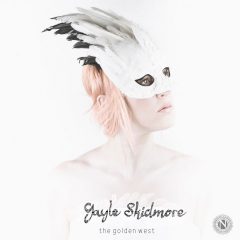 Gayle Skidmore has no shortage of dogged determination and passion for her craft as she continues her musical sojourn as a live performer and recording artist. Her latest CD, The Golden West, is testament to the high bar she sets for herself in each of her recording projects; case in point, a year and a half in the making of these delightful ten tracks of original songs, her third full length disc since her 2010 debut release, Make Believe.
"I've always been scared to say what I mean… been racking my brain for a way to come clean." Skidmore's self therapeutic lyrics from "Beautiful Soul" set the tone for her theme throughout the disc, a recurring validation of her move from Southern California to Amsterdam whereby leaving myriad past life episodes behind.
What makes this 35-minute CD especially spellbinding is the lush orchestral arrangements abounding throughout, highlighted by Marta Blalock on violins and viola and Erdis Maxhelaku on cello, which provide a tonal tapestry for Skidmore's alluring voice, from the k.d. lang-tinged opener, "Pale Ghosts," to the raw, gutsy vocals on "Long Way Home." In addition to her vocal versatility, Skidmore showcases her multi-instrumental prowess from the electric piano refrains on "Hourglass" to her arpeggio-driven banjo phrases on the title track as well as the uptempo foot stomping hootenanny track, "Moving On," with her Deering Goodtime banjo riffing in tandem with Daniel Crawford's dulcet Dobro tones.
Recorded and produced in three locales, Eugene, Oregon; Joshua Tree, California; and at San Diego's Singing Serpent Studios, where Brandon O'Connell's footprint is imprinted as producer, guitarist, percussionist, and keyboardist, including his searing electric guitar lines on Skidmore's Beatlesque rocker, "How to Let Go," complemented as well by Merlin Showalter's clear and precise drum chops here and throughout the disc.
Husband Rob Teeuwen joins the party on electric guitar and bass along with additional vocals by Danny McCarthy for the happy-go-lucky ditty "Honey Bee," a tune Paul McCartney would love to say he'd written, capped off by a jubilant and catchy repetitive chorus finale. The moving lyrics in the gospel-flavored "The Hallows" and the haunting vocal and instrumental inflections of "Only Ever You" are the perfect elixirs as closing numbers to a beautifully crafted project that makes one want to stand up and cheer at its conclusion.
Not only a splendid addition to one's musical library, but where else can you also receive an accompanying adult coloring book depicting coinciding drawings for each individual track? …pretty cool!