Flatpicking, bluegrass, and Americana is the order of the day for Travis Oliver. Originally from the Smoky Mountains, after a stop in Florida, the Virginia, Oliver arrived in Ocean Beach in 2009.
Is it hard to grab an audience's attention with original music?
It can be, especially in a lounge setting where you are creating background music. I strive to create more of an entertainment experience for listeners. Here, you can set the stage a bit with storytelling through song. This can create a little more receptivity in the listener if they are following along with your song-to-song story progression. For instance, I wrote a song during a meeting that could have been an email, called "Laptop for a Flattop," which will be released on my next album in early 2020. If you have captivated your audience enough with high energy songs to keep them wanting more and then deliver an original through that medium, they become more receptive to it through vibration. But when you change that pace or vibration, even if it follows suit in story, I can lose most of my audience at times. It is a head scratcher for sure.
The music biz is tougher than ever – what motivates you to keep going?
At a personal level I am carrying on a musical legacy. I am honoring both my family roots and leading by example for the next generation, for my son. When I was young my father was my primary influence. When I started playing guitar, my grandmother on my mother's side would sit and listen to me play. When I really started homing in on the bluegrass sound she sat me down and drilled into my head the musical heritage of her family, a heritage born deep in the Smoky Mountains of Western North Carolina near Bryson City. Her cousin was Arthur Lee Smiley, or more commonly known as Red Smiley of the Reno and Smiley band. They were a bluegrass and country band in the '50s and '60s that did really well, well enough to be inducted into the Country Music Hall of Fame. Red was the guitar player and lead vocalist in the group. He is also known as country music's first cross-dresser, which is kind of weird (done as a skit/stunt on a country music TV show). Red died in the '70s before I was born but I have spent a lot of time with my kin folk in that area of the Smoky Mountains. As I grew as a guitarist my grandmother asked me to promise to carry on the family's musical legacy if I ever developed my skills enough and I obliged wholeheartedly. So this creates an underlying fuel to my musical fire. All that simmers while my own creativity bubbles up and that needs to be distilled into something or I will go crazy…. or regret not distilling it.
What music have you released? Have you toured?
So far I have released two projects. The John Olivers – Herringbones, which was a project with my Dad that represents some of the work we did together over the years. It also features the two Herringbone guitars we played together as I grew up. And then there is the Guiro Grass EP, which was a project I did with a local San Diego musician named Junior Fos, more commonly known in local circles as "Soul Man." This was an interesting duo I formed with this Korean War Veteran who incorporated his adaptive talents on the Latin guiro instrument into bluegrass and country. Normally I would not go for such a thing but the Soul Man really wanted to learn how to play bluegrass with his instrument. Who was I to tell this veteran no? We performed as a duo in the San Diego and Los Angeles region for about three years. The EP was recorded at Signature Sound Studio and includes upright bass work by the great Bob Magnusson, showing off his country and bluegrass chops. I have never really toured outside my local area. Family duties and day jobs have kept me locked close to home, but I do anticipate touring in the near future in support of my next release.
What's the best thing that's happened to you through music?
There are so many great moments that it is hard to pick one. But I would say my happiest moment in the performance space is having my son, who was three years old at the time, wow a crowd of patrons on a rooftop in La Jolla as he helped me sing an old moonshining song called "White Lightning." Ever since then he has endeavored to perform with me and we have performed at the Ocean Beach Street Fair, the Athenaeum in La Jolla, and other venues around town where he is allowed entry. His repertoire is slowly expanding and he is starting to take up ukulele thanks to his grandpa (my dad) and Ocean Beach Elementary School via the music in schools program.
What's next for you?
Next up is a full album of all original material set for release in early 2020. It will be a mix of songs I have written and some co-written with my Dad that draws on Smoky Mountain and SoCal inspiration dressed in southern swagger and love-filled vibrations. Tyler Grant, originally from Jamul and a National Flatpicking Guitar Champion, has committed to helping me produce the album. In the meantime, you can catch me around San Diego playing local venues and events testing new material in sets where appropriate and letting them breathe a little before getting cemented in stone. I am also working with a few local bands on a provisional basis, so folks may see me in a group setting on occasion.
www.travisflatpicking.com
REVIEWS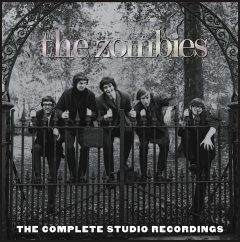 The Zombies – The Complete Studio Recordings (Varese Zarabande)
61 tracks on five LPs. This could be a one word review: Essential. Interestingly, though, the band is British, and the collection takes it's cue from the Zombies' American album releases, using the track listing from 1965's "….featuring "She's Not There" as well as the standard Odessey & Oracle 1968 set.
Any way you look at, it this is an excellent way to explore the music of one of the most influential bands of the rock era. If your favorite band is strong in melody, there is a high probability the Zombies figure heavily somewhere in their music collection. Of course, the hits are here, "Time of the Season," "She's Not There," and "Tell Her No," as well as songs covered by others such as "I Love You" (People) and "I Want You Back Again" (Tom Petty), but there are also a lot of great deep cuts to be found here. Indeed, the quality of the songwriting is uniformly high, an embarrassment of pop riches.
Disc 1 (She's Not There/Tell Her No) covers the first album, with favorites, including harmonica-driven instrumental rocker "Work 'n' Play," and minor-chord gem "What More Can I Do." Meanwhile Disc 2 (I Love You) collects stray tracks, including that should have been huge singles as frantic rocker "Indication" complete with Gregorian chant outro and the soul inspired "Whenever You're Ready." Disc 3 is a repro of Odessey & Oracle. Disc 5 (Oddities & Extras) collects yet more singles and stray cuts. While everything here is indeed essential, Disc 4 (R.I.P.) is perhaps the most interesting. Originally scheduled as the follow up to Odessey & Oracle, its 12 songs are amongst the strongest in the band's repertoire and that's really saying something. Songs like "She Loves the Way They Love Her" and "Don't Cry for Me" reveal an album that would be justly considered a masterpiece today.
It is amazing to track the growth of the band on this box set. From the R&B/jazz-influenced beginnings and covers of songs like "Got My Mojo Working" from the first album to classic originals such as "This Will Be Our Year" on Odessey & Oracle was only three years, the sort of achievement that doesn't seem possible anymore.
The Zombies were inducted into the 2019 Rock 'n Roll Hall of Fame and every track here is part of the reason why. This box set is the perfect way for a novice fan to collect all of the band's tracks in one go, while even a fan who has it all will love the beautiful packaging. Is it complete? There are a handful of tracks missing, but that's a minor quibble. Hopefully, this collection will also act as a springboard for interest in other related music, such as the band's BBC sessions, Colin Blunstone's solo albums, Argent, and, of course, the wonderful new Zombies tracks.
www.thezombiesmusic.com