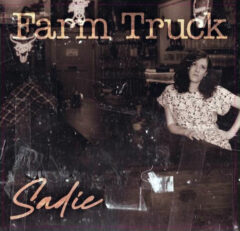 Sadie is a collection of highly visual songs that set me up, if not to play the lead character, at least to watch the movie. Craig Fischer's vocals are easy to listen to. They flow right from his mouth to caress my grateful ears. There is no need to include a lyric sheet, the levels are mixed just right, and I can hear every word. Melodies are simple and pleasingly familiar, with more than a touch of traditional country—and what I wish country still sounded like. In fact, the whole album is straightforward and uncomplicated in a most appealing way.
Farm Truck bandmembers are songwriter Craig Fischer on vocals, Tim Edwards on vocals and guitar, Mike Ashley on guitar, Wade Maurer on bass, and Dan Renwick on drums, although guest Nathan Raney plays all drums on this album. Additional guest musicians are listed on the CD cover.
The first song, "Home on a Hound," is the story of Sadie—the album's namesake—as she plans to get away from her sad situation of little pay in a small town. It opens with guitar picking and a full pedal steel build to lead us through her contemplative disposition. Lower octave guitar licks come in sounding more hopeful about her prospects. As it rolls along, I begin to think I know where it's going, but then an unexpected chord change takes us into a chorus full of them. The last line brings us back to the more predictable melody lines of the verses. It all works beautifully together.
"Shot of Regret" paints an unruly picture of strangers and a night in a bar in the middle of nowhere. Drums and bass start off in force foreshadowing the "sound of 16 hammers pounding in my head." Guitars come in, one laying down quick rhythm changes, the other with diggy-diggy tags that put me right on that highway coming into Barstow to encounter some red-headed trouble. Pedal steel flows in now and then, loosening up the action and filling in some holes, as the evening wears on. It breaks wide open at 1:55 beginning with a lower octave guitar solo that brilliantly rumbles along, taking me with it toward the intentionally reckless and wild-eyed pedal steel ripping it up. It comes back to the chorus and then settles into a final verse, in which the lyrics highlight the very cause and essence of regret.
"Didn't It Just Rain" begins with acoustic guitar strumming in a drowsy, despondent tone, with an open and sparse arrangement. It begs you to follow along with the heartache. We get our first chance to hear Aubrey Richmond on fiddle at :46, as she leads us, lively, into a chorus that contradicts the despair and stands up against the hardships of loss. The verses speak of a life of sameness, the chorus furthers the idea, yet there is defiance in the swing of the drums, and the more upbeat bass and guitars. The fiddle is buoyant as Fischer sings "go on, blow hurricane; didn't it just rain?" The guitars pair up in a lower octave, doubled solo that brings it back to a verse of quiet resignation. The fiddle is ever-present, spirited, and hopeful. I am in love with this song.
The fiddle opens "Baby Ride Easy," a raucous romp that pairs Fischer with Sara Petite in a spunky call and response on vocals. To Fischer's "if we arm wrestled," Petite, in full character, finishes with "I'd say that I won." Their voices mix well, each with the same slightly nasal resonance, bringing to mind the pluck of Cash and Carter on "Jackson."
On "That Ain't Love" Tim Edwards sings the lead, along with Ashley E. Norton on backing vocals. Their voices complement each other: his is full and deep; hers is warm and round with sunny harmonies. The fiddle is prominent, squeezed in between and wrapped around the snappy drums, hand claps, and bass. The lyrics admit to having romantically crossed a line, but still agonize over "I've still got her, you've still got him." A guitar solo leads to where the bridge opens the door to an anticipated key change. Then, finally, the whole thing winds down with the last line: "Only one thing'll put out this fire; that ain't love, it's desire."
There are others with upbeat, driving tempos and they're handled well. "Simple" offers the first time we hear the horn section, along with some funky keys. Its pre-chorus chord change at "it's a long, long road; you won't make your destination tonight" reminds me of Tom Petty. In fact, several do ever so slightly; you hear it in the vocals and guitars. The dobro first appears on "Long Hard Road." Another Pettyesque piece, it slow burns until the drums kick in at the second verse, followed by a fat-toned guitar solo and some spoken lines in French by Cheyenne Benton, to be finished off with the dobro and keys.
"Tattoo" opens with Steve Langdon on guitar, playing sparsely and leaving plenty of room for Doug Pettibone to embellish with the dobro, then mandolin. It's quiet but insistent, moving slowly and deliberately from start to finish. Fischer wants us to know her: "She's got a million-dollar smile and a tattoo on her chest." Ashley E. Norton's harmonies are sometimes low and throaty and other times ring clear as a bell. Nathan Hubbard surprises on xylophone at 2:33, then the dobro is back. Fischer's voice breaks as he sings the last line twice, bringing an emotional close to the final song.
I thoroughly enjoyed spending time with all these songs and getting to know the players through their parts; I will go back to listen again. The CD is not yet available, but you won't have to wait long to hear it for yourself. The album release party is on October 14 at Ramona Main Stage, with guests the Beat Farmers, Sara Petite, and Lady Psychiatrist's Booth.