EUPHORIA BRASS BAND: EBB & Flow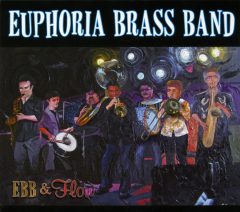 Incorporating funk and rock, as well as elements of modern jazz and bebop, the Euphoria Brass Band plays an updated version of New Orleans-style brass band music. They are brash, boisterous, lots of fun, and guaranteed to get a roomful of people up and dancing. And with the release of their third CD, EBB & Flow, this San Diego-based ensemble demonstrates that they now have a sound all their own.
With the tuba and the pairing of a bass drummer and snare drummer, the Euphoria retains a great deal of New Orleans in their music. You can smell the crayfish cooking and taste the blackened catfish in all the tunes on this new disk. But the band now has a lot of San Diego in their sound. It begins with the compositions of Jean-Paul "JP" Balmat, who, besides playing baritone and alto saxophones and clarinet, composed half of the 12 tunes on EBBÂ & Flow. Balmat's compositions, in particular the somewhat ominous sounding "Absinthe Minded," are contemporary and less traditional, straying away from the simple harmonies used in New Orleans music. And the arrangements, all of which are by the Euphoria Brass Band, are lively, sometimes intricate, and interesting.
And, as it is apparent from the very first number, "Bitter Blues," all the players in the Euphoria are strong soloists. April West's trombone and Steve Ebner's trumpet are confident and bold, and the solos from the saxophonists Balmat and David Jackson bring in elements of straight-ahead jazz and bebop.
The sound of the band swings back to New Orleans as San Diego's Queen of Boogie-Woogie, Sue Palmer, joins the Euphoria for "Beignets and Bourbon," "Mardi Gras in New Orleans," and "Big Chief." With "Mardi Gras in New Orleans" the band demonstrates that they still have their musical feet still firmly planted in the Mississippi Delta, as Balmat's clarinet brings in the sound of Dixieland. Trombonist William Driskill joins the band on "Bone Temps," a bit of a departure for Euphoria that includes a sort of trippy repeated line. It made me think that this is what Philip Glass' music would sound like had been born in New Orleans.
The fun and excitement of the Euphoria Brass Band in performance is not to be missed. By all means go see them live. Until then, rest assured that EBBÂ & Flow comes very close to capturing this ensemble as they sound at a club or in concert. At 59 minutes and 58 seconds the disk is chock full of music. Yes, 59 minutes and 58 seconds! Just two seconds shy of a full hour of great music. That is worth — well, I'm guessing — six and half bonus points! Yes, six and one half bonus points to this fine recording. EBBÂ & Flow is highly recommended for folks who like to dance and listen to good music. Put it in the CD player, turn up the speakers, and you will have a good time.