Duncan Moore: Signature Time Traveler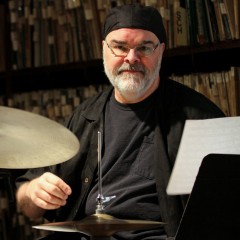 Nighttime in the Gaslamp District, bar hoppers pass by, the women in heels and very short skirts, and their men looking like they still aren't ready to leave their fraternities. Pedicab drivers solicit fares, and the homeless solicit for anything that might help. It's a Tuesday, and the sidewalks aren't overflowing with the throngs of crowds that can sometimes turn this part of town into a confirmation of your worst Malthusian fears.
At the corner of Fifth and F Streets my friends and I step in to Croce's, the Gaslamp's anchor since the late eighties. With Rob Thorsen on bass, flutist Holly Hoffman, and pianist Mike Wofford are leading a quartet on some straight ahead jazz. Sitting in with the quartet is saxophonist Ben Schachter. And just off to our left, literally almost right in the doorway, is Duncan Moore behind his drum kit. Entering, I skirt around a cymbal as I step past the band.
Since he came to town in the late seventies, Duncan Moore has distinguished himself as one of the most accomplished and busiest musicians in San Diego. One of the top go-to drummers for the top jazz ensembles, he also performs in country and popular bands. He has played drums for the Little River Band, Mose Allison, Tom Scott, and scores of other ensembles and musicians. His discography numbers well over 100 listings; he has recorded with just about every prominent local musician or ensemble, from local guitar slingers Peter Sprague and Patrick Berrogain, to singer/songwriters Dan Connor and Deborah Liv Johnson.
The night spot is full, and the waitresses wend their way between the bar and tables. My sister finds seats at the bar. Cigar in hand, Jim Croce's portrait looms over my left shoulder, and mementos of the seventies' singer/ songwriter hang along the wall opposite the bar. The band launches into a blues, a slightly up-tempo number. Hoffman plays lead and takes the first solo. The rhythm section is tight. About the best way to describe Moore's drumming is that it has a clean, crisp sound — a combination of restraint and excitement behind Hoffman's flute. When Schachter solos, there is a bit more punch to the drums and more splash in the sound of the cymbals.
Speaking to Moore later in the evening, he says there is intentionality in his approach to the drums with differing soloists. "I know that I'm going to play with a dryer cymbal backing up a flute. You don't want to be overbearing," he says. "But a lot of what I'm playing is the feel of the tune and seeing where the soloist is going with the dynamics."
Hoffman adds that she appreciates Moore's restraint while she plays "The cymbal is in the same range as the flute, and a drummer can really step on a flute player's soloing," she says, adding, "Besides feeling great in a rhythm section, Duncan is also a remarkable studio drummer and sight reader." Wofford adds, "Preeminent drum master Duncan always brings a high level of creativity and energy to any performance."
Moore explains that besides time and feel, a good drummer works to mix the colors of the sounds that his drums and cymbals create. A single cymbal is capable of producing a wide array of sounds, depending on how and where the drummer strikes the instrument. "It also depends on how you hold your sticks. If you play with a relaxed grip, you get a nicer fuller tone out of the cymbal," Moore says. "Ride cymbals are designed for overtones. You don't want them too dry. On the other hand, they can be hard to control!
"As a drummer, I walk into a new situation and check things out. My job is to keep time, then maybe have a chance to develop something, give some of my personality to the music. I enjoy that you have to be versatile and take any type of gig. It can be a challenge, but mostly I enjoy the variety these days as a jazz player."
As with many folks of a certain age now, Moore mentions the Beatles, and specifically Ringo Starr, the Fab Four's drummer, as a reason for wanting to get into music. "I was really interested in the drums," he says. My parents had a Harry Belafonte record. It had a bongo on it, and I was just fascinated by it and what it did. I always loved to watch the drummers when I would see a band playing. It didn't matter, rock or jazz, I just liked to watch what the drummer was doing."
At around the age of ten, growing up in Des Moines, Iowa, the young Moore went to his parents and said that he wanted to play the drums. "My parents were very sympathetic to me pursuing music. My mother was a singer and my father was an actor," he says. His parents agreed to put up half the money for a new drum set if he would raise the other half from the money he earned from his paper route.
He worked with a practice pad, nothing more than a square of rubber that can be placed on a tabletop, until he entered seventh grade, a learning method for the drums that he appreciates as he looks back on the experience. "It's actually good to get the kids started on the practice pad. It makes them get their hands together before dealing with all the different drums and cymbals," he says. "But it's actually rare that kids start with a pad anymore. It's so common for kids, even young kids, to have their parents buy them a full drum kit now."
Moore was into rock music as a youngster and teenager. His drum lessons were nonetheless centered on learning jazz and jazz technique. He remembers, "I never got into jazz until later, but all the other kids who were learning drums were learning rock. In a talent contest in seventh or eighth grade I did a drum competition with a friend of mine. He played rock; I played jazz."
After high school Moore moved to Iowa City and majored in music at the University of Iowa, where he studied percussion with Thomas L. Davis. "Tom Davis was wonderful teacher. He was not a drum set player. He taught orchestral percussion," he says. While Moore learned a great deal about playing mallets and other percussion instruments, he confesses that his heart lay in playing drums.
Moore left the university after three years to play and tour with a concert pop band that performed five or six nights a week. He has no regrets about not finishing his fourth year. "The music program at Iowa was set up to teach people to be band directors. There's nothing wrong with being a band director, but I knew it wasn't for me," he says.
If you were a music fan in San Diego during the eighties, one name that you will certainly remember is Ella Ruth Piggee. The singer, who passed away all too young in 1988, was perhaps the most popular performer of pop and soul in town. Moore met Piggee when they both lived in Des Moines. He performed with her for a six-month stint there and also performed with her in Iowa City. "Then she and I, as well as the other players performing with us, kind of moved out here to San Diego as a band," Moore says. "We came out here together, but once we got here we weren't really a band. We all wound up getting work with different people."
New in town, Moore mentions Bob Magnusson as a fellow musician who helped to take his playing up a notch or two. "I got to town and started getting a few gigs with Bob. I thought, 'I've played some jazz gigs. I've got a pretty good handle on this jazz thing.' But every time I played with him, after the gig I felt like I'd been run over by a freight train. And I couldn't figure it out. I would hear him play with Jim Plank and the two of them just seemed to work so well together.
"But Bob was patient with me, and he explained to me that I needed to focus on the quarter note feel of the music. And learning to play it well takes a LOT of focus. I had learned all the rhythms, but I hadn't learned how to focus in on it. I learned so much from him.
"Jim Plank is one of my favorite musicians. When I first moved here, he was the go-to guy for everything. He is an incredibly versatile drummer. He plays with all the great players; he's been a part of Road Work Ahead, and he's been one of the performers with the San Diego Symphony. He got me started in town subbing for him. He's a great musician and a wonderful human being."
Moore has an unassuming easy-going manner about him. With a short grey beard, he gives off an air that makes it seem, while not quite professorial, that he would be comfortable in front of a college classroom. When I talked to him, we tossed around the names of famous drummers. One of the first drummers to cast a spell on Moore was, of course, Ringo. He says that Starr, a left-hander who played on a right-handed set, had a unique sound. Some of his rolls wind up backwards to what a right-hander would play. I mentioned Stewart Copeland, the drummer for the eighties sensation the Police. "Stuart Copeland had a unique background," says Moore. "He added a lot of innovation to rock music, a new thing. He grew up traveling the world, picking up rhythms from the Middle East and other places. The funny thing about Stuart is that when he lived here in San Diego, he couldn't get a gig! People thought that his playing was too weird. Then he found his place. Now he's part of rock history."
Of course Elvin Jones comes up. "He brought a whole new way of comping, a polyrhythmic approach." Moore explains that the rhythm of jazz is based on a triplet figure, each quarter note being broken up into triplets. It's as if there is always some form of a fast waltz within the structure of a standard jazz rhythm. It is this characteristic that gives jazz its swinging feel. "Jones played parts of the triplet figure, playing the middle note of the triplet," Moore says.
Among the drummers that have influenced Moore the most is Tony Williams. "I was listening to a lot of rock at the time, and the way he played appealed to me. When I moved to San Diego I was obsessed with him, and I was playing a lot of his style. I would gig with Butch Lacey. We were playing with Hollis Gentry and Ella Ruth. I felt really at home playing with them, because most of the material was what Tony Williams would be playing. But the minute Butch wanted to do some Jimmy Cobb or something along those lines, I felt uncomfortable." Moore says that this prompted him to "do his homework." He realized that, although he had played drums since childhood and had studied his craft, there were still gaps in his knowledge.
While some folks might think that jazz players look down their noses at playing country music, Moore sees it as a chance to play and play well. "It's still an opportunity to play good time, to play with a good groove and a good feel. It's always great when you're playing and all the players are speaking the same language, that you're all exactly on the same page. And then you can add your own personality, and you can be creative and make things feel good. Even in county music, you have the ability to say a lot within a simple framework. And it can be a challenge to play simply and not overplay. But you have to have respect for the music. If you don't' respect it, don't play it."
Drums are important. Of all the different ways of making music — with reed instruments, with string instruments, or with instruments that you plug into an amplifier to make things really, really loud — the only instrument that you will find throughout all cultures all over the world is the drum.
Drums make things interesting and exciting. Imagine the Beatles without Ringo. Imagine one of their hits like "Rain" or "Paperback Writer" without that loose but reliable backbeat. Try to think of a big band swinging through an up-tempo number without the fills and rolls of a drummer. Try to think of Live at Leeds without Keith Moon. In the seventies, at the height of his popularity, Stevie Wonder put out gems of record albums such as Talking Book and Innervisions. He played drums on all the tracks. Once he started to use drum machines to help make his records, he noticed that his record sales dropped.
Drummers can be pretty amazing, superhuman in their abilities to play their drums right on the money. Former Roxy Music member, composer, and record producer Brian Eno relates a story in which he was recording with Larry Mullen Jr. of U2. Mullen complained that the click track — an electronically generated beat, like that of a metronome, which musicians use to keep the rhythm steady in a tune — was off and slightly behind the band. No one else noticed anything, but checking the electronics later, sure enough the click track was found to be off by six one thousandths of a second. That's right, six one thousandths of a second. In recent experiments designed to measure just how precise a person's timing could be, several drummers were able to discern variations of rhythm amounting to no more than two one thousandths of a second.
Moore notes the changes that have occurred to gigging. Back in the seventies and eighties the standard approach for most jazz musicians was to put a band together for a gig, show up for the gig, and play some standards or other well-known tunes. The fact that jazz is now studied in schools makes the process much more academic. Moore says that there are fewer club dates now and he is performing more showcases and concerts. As a result, there is more preparation for the shows, more practice and rehearsals. The amount of preparation varies. He says, "Some musicians send you charts, expecting that you'll rehearse them on your own, and others will ask that we get together for at least one rehearsal."
Our talk turns to recording and the changes that have occurred in the recording studio, particularly the use of drum machines or extensive rhythm tracking in recording. "Maybe I'm just getting old, but a lot of that stuff has gotten really boring," Moore says. "Even in the pop world, there is no personality in the drumming a lot of times. Even when there might be a good drummer on the recording session the rhythm machines and loops are so confining. With certain drummers you hear two measures of a tune and you know who it is by their sound and their licks. Now a lot of times I hear a new recording and I can't say that it sounds like so and so or anybody."
His son, who lives in Seattle, is also a drummer. "There is an upside to all the kids having iPods now, which can open up a lot of music that maybe I wouldn't have been exposed to. I remember when my son was growing up and I'd pass his room. One day he's listening to Pat Metheney; the next day it's Bob Dylan. They have so much more to draw on."
Inspired by the success of the various concerts that celebrate the different musicians and their specific instruments — the saxophone summit, piano summit, and bass summit — Moore and Chuck Perrin of Dizzy's instituted the drum summit in January of 2010 and have continued with the paean to percussion every year since. "I have been thrilled with the enthusiasm of the participating drummers as well as the audience response," says Moore, adding that the turnout has always been great. The daunting logistics of the drum summit prompted Moore to simplify things last year and featured fewer drummers. But with Dizzy's in their new, more spacious home, Moore is eager to experiment with different combinations of drummers and drums.
On faculty at UCSD, Moore also teaches students privately. He says that the way he teaches drummers depends a lot on their ages. When they are younger, he tries to expose them to differing styles, to give them a foundation of technique. Most of his students are high school or college age, but there is no age limit when it comes to taking on new students. "I have three students in their sixties; two are percussionists who have played in ensembles before. But I'm teaching one guy in his sixties who has never played drums in his life. I once had a student in his eighties," he says. He appreciates the open-mindedness and joy that the older students bring to their music classes. "When you're young, you're real goal oriented, wanting to play in a hot band or you want to become famous. With the older students, it's not about the destination, it's the journey, a perfect example of people having fun with the learning process."
For Moore drums and drumming are still something of a journey for himself. "I'm still finding what works and what doesn't work," he says. "Music is a learning experience, and the learning never ends."