DON STRANDBERG: Orpheus Descending — The Fugitive Blues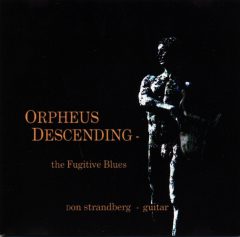 It is rare to find artists today that can channel inspiration from conflicting mediums into a piece that can standout against the landscape of a time long come and gone. Such is the artistic appeal in local Renaissance man Don Strandberg's latest venture. Strandberg's latest instrumental blues album, Orpheus Descending — The Fugitive Blues, draws its inspiration from the Tennessee Williams play, simply titled Orpheus Descending, and the 1959 film adaptation The Fugitive Kind, starring Marlon Brando. You can hear this inspiration drawn from the classic southern style of Tennessee Williams throughout the album, which easily sounds like it could have come from the same generation. In this latest release, Strandberg successfully channels these classic sensibilities of the blues-laden glory days of old.
From the start of the album you can hear the plot of the cited 1959 film roll out before you. The film opens with Marlon Brando's Valentine "Snakeskin" Xavier, a guitar-playing drifter, fleeing New Orleans to avoid arrest. The album opens with the aptly titled "Blanket Roll Blues (Kenyon Hopkins Tennessee Williams)," and in the very first notes, you can hear the longing sounds of a drifter rolling out of town against his best wishes. It is rare to hear such imagery channeled through nothing more than the emotive playing of a musician. With no words to hide behind, Strandberg successfully channels the emotions you would expect from such a concept piece through his dynamic approach to the instrument.
In the tracks that follow, from "Snakeskin and Satin" to "One for the Road" to "No Way Back Orpheus Descending (Parts One and Two)" you can imagine the traditional bluesmen of old and their legendary stories of drifting, deals with the devil, and selling their souls for the likes of fame or fortune. Strandberg's efforts to reconnect with this classic blues sensibility is one of the most successful attempts I have heard in quite some time. Strandberg himself makes it clear in the album notes that the "atmosphere of the deep South and the desperation of the characters and situations evoke more textures and colors than can easily be squeezed into a single project." This may be true, and these may be but the highlights of said evoked textures and colors, but then I must say that the mere high notes are more than any blues fan could ask for.
I have always been partial to artists who cross genres and mediums in their efforts and inspirations. Strandberg, himself an accomplished painter, channels a timeless film and play that complements the classic blues tones and legends. I would challenge any contemporary artist to more successfully live up to the challenge of operating within the classic genre and all that goes along with it. This album deserves a place in anybody's blues collection.