What do you do for a second act?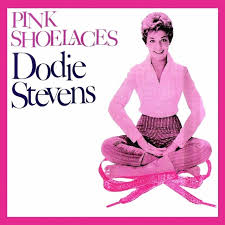 For Dodie Stevens, the former teen vocalist who originally hit the charts during a golden period for novelty records, the current status report at this juncture is that her career is still very much a work in progress.
There's her resume as an in-demand accompanying vocalist, her maintenance of a busy schedule out on the oldies circuit, the establishment of a business devoted to next generation of singers, a commitment to the importance of school music programs, and addressing the problem of bullying, which is afflicting many school playgrounds and classrooms.
Yes, it's been a remarkable second act, and there's no indication of a curtain falling soon for Dodie Stevens, born Geraldine Pasquale 74 years ago in Chicago. In 1959, she was catapulted into the public limelight with a half-singing, half-narrative called "Pink Shoe Laces." A song about a make-believe boyfriend ("He takes me deep-sea fishing in a submarine"), the song emerged during a popular period for novelty records: think Shep Wooley's "Purple People Eater" (1958), David Seville's "The Witch Doctor" (1958), The Playmate's "Beep-Beep" (1958), and Brian Hyland's "Itzy Bitzy Teenie Weenie Yellow Polka Dot Bikini" (1960). (Hyland and Stevens recently shared part of a bill at a 2019 Christmas show in Los Angeles.)
Dodie was a child prodigy in a home where her father was an Italian immigrant and her mother, a Croatian-American. "I was told I was singing before I learned how to talk," said Dodie, who has lived for decades in a comfortable California ranch-style home in Vista, which also serves as her voice instruction center. "My mother would be cleaning the house, listening to the radio, and I would be singing along. Her father also provided encouragement. "He was a house painter, and he would be singing while he was working. He had a beautiful voice."
The Pasquale family departed from the Windy City when Dodie was three and settled in LA's sun-kissed San Gabriel Valley. Singing and dancing lessons followed, and Dodie recorded her first single, "Merry-Go Merry-Go Round," when she was eight (under the moniker of "Geri Pace") on the Gold Star label. In these early years, Dodie appeared with two giants of show business, radio/television host Art Linkletter and singer Frankie Laine. A graduate of San Diego State Teacher's College (pre-SDSU), Linkletter's long career began as a boy wizard radio announcer on San Diego's KGB. He later hosted Art Linkletter's House Party, where he demonstrated his affinity for bonding with children. Dodie sang "Merry-Go Merry-Go Round" on the Linkletter show. Laine, a best-selling post-World War II recording artist, also had a TV variety show where Dodie appeared during her Geri Pace phase. Like Linkletter, Laine fell in love with San Diego, building a dream home on the hills of Point Loma in the late '60s, an estate where he lived until his death in 2007 at age 93.
It was on a local LA show, Strictly Informal, where Crystalette Records' President Carl Burns caught her act. "Carl Burns and Johnny Grant, the Mayor of Hollywood, gave me the name of Dodi Stevens," Dodie revealed. Although she didn't care for her new name or the song she was to record—"Pink Shoe Laces"—the general public reacted to the contrary, enjoying its radio airplay and the charming teenager giving the tune her best. (By downloading YouTube, you'll catch Dodie singing the million seller, a clip from Pat Boone's Chevy Show.) The tiny Crystalette label couldn't keep up with the consumer demand for the single, and the hit was nationally distributed by the far more prestigious Dot Records label. In addition to having a novelty record in her discography, Dodie also recorded an "answer" record to Elvis Presley's Are You Lonesome Tonight?" called "Yes, I'm Lonesome Tonight."
After a successful single, Dot would eventually give Dodie more studio time and the results were long-playing albums. The artistic direction utilized in the albums still confuse her to this day. "I recorded three albums, but the first two were geared toward adults, people of my parent's age. There were standards from the '30s and '40s, songs like 'Over the Rainbow.' I don't think teenagers were interested and I don't know if the adults were either! By the time I recorded my third album, it was geared toward teenagers. This should have been my first album, something with rock on it. It still boggles my mind!"
With Hollywood's habit of giving singers parts in the films, Dodie appeared in three movies during the "Pink Shoe Laces" era. Hound Dog Man (1959)—despite its title—wasn't a vehicle for Elvis, but Dodie did get to share screen time with Fabian. Her next film would be an animated feature that has grown in stature over the years. The cartoon, Alakazam the Great (1960), was one of the earliest examples of Japanese amime ever shown to American audiences. Based on the Chinese novel Journey to the West, the story centers on the misadventures of a monkey (voiced by Frankie Avalon). Dodie did the singing portion for another monkey, Dee-Dee, the love interest of Alakazam.
Other famous voices selected for the American market were Arnold Stang, Sterling Holloway, and the always unpredictable Jonathan Winters. Dodie's final screen appearance was in the noir thriller, Convicts Four (1962), where she's part of an amazing ensemble of actors that includes Ben Gazzara, Vincent Price, Rod Steiger, Sammy Davis, Jr., Ray Walston, and Stuart Whitman. As much as she appreciated the diversity of the film projects, Dodie prefers live singing to acting. "There's too much repetition," she explained. "You do a scene and repeat… and you repeat. After a while, it took me out of it. I like singing live to an audience and being in the moment."
Dodie walked away from the stage lights when she got married at 16 and lived in Missouri. After her marriage ended, Dodie returned to the West Coast with her daughter, Stephanie. Along with solo shows, Dodie has gained a reputation over the decades as an admired backing vocalist for diverse musical talent. One of her most memorable music chapters was the time period where she was recording and touring with Sergio Mendes' Brasil '77. Selected from an audition of 200 vocalists, Dodie replaced Karen Philipp, a singer-actress who would appear in the first season of M*A*S*H* in the recurring role of Lieutenant Dish. "[Sergio] had the creativity and ability to take his love for music and make it work," said Dodie. "We made an album called Primal Roots in 1972 and we recorded it in Portuguese. It was a return to true bossa nova."
The musical resume of Dodie continued to grow. She was a vocal accompanist for Harry Belafonte, Boz Scaggs, and Loretta Lynn and enjoyed a long and rewarding tenure with singer-songwriter Mac Davis. The concert stage led to television specials where Dodie provided backup harmonies for Dolly Parton, Donna Summer, and Luther Vandross.
Stephanie Stevens has successfully followed her mother into the recording studio and concert stage, with the stage presence and vocal power passed down from one generation to the next. They have appeared in several oldies tours, featuring Dodie's musical peers from back in the day and participated in the fiftieth anniversary Winter Dance Party at Clear Lake, Iowa, where Buddy Holly, Ritchie Valens, and the Big Bopper gave their final shows before dying in the tragic plane crash on February 2, 1959. In addition to the foray in to country—they formed a band called A.K.A. Stevens—Dodie and Stephanie have been involved with schools to promote positive self-image and to address the serious issues associated with bullying.
In recent years, Dodie and Stephanie have performed for adults original numbers from a CD called The Game of Life by  Affirmasong. From Dodie's website, the message of the project is that it "is designed to instill confidence, optimism, and overall sense of  peace and well-being."
Dodie Stevens feels an obligation to perform her famous 1959 hit at the conclusion of a show. But by then audiences know that she brings more to the stage than just pink shoe laces.
For more information, visit https://dodiestevens.com/