DANIEL NIELSEN: You Never Know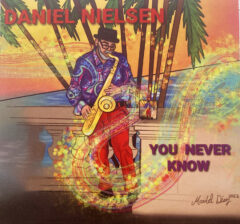 You Never Know is the second CD release from tenor saxophonist/vocalist Daniel Nielsen. He is joined by an all-star cast of local musicians, featuring Irving Flores on piano, Glen Fisher on upright bass, Richard Sellers on drums, Allison Tucker Adams on vocals, and Peter Sprague on guitar, who also produced, recorded, and mixed and mastered the project at his Spragueland Studios in Encinitas.The ten tracks include one cover and nine original compositions by Nielsen (two co-written with Fisher).
The session opens with the title track, an up-tempo minor-key samba groove immediately featuring Nielsen's out front voice with an instructive chorus, "it's true what they say…you never know," with Adams-Tucker adding a Brasil '66 vibe with lilting background vocal responses. The second track, "Magnolia," a rocker, immediately signals that Nielsen is about to take the listener on an eclectic musical journey as he honks out gritty tones from his tenor sax, followed by "Allegre," a bluesy swing cut highlighted by Flores' magic fingers soloing effortlessly on the piano in tandem with Sellers' syncopated drum chops.
Another 180 degree turn occurs on "Believe My Eyes," a tango earmarked by Nielsen's lush melody notes reminiscent of the warm and gritty tone of saxophonist Gato Barbieri. Nielsen's lyrics can not be overlooked throughout as noted in the folk-rock track, "Francis," embellished by Sprague's fluid nylon string guitar passages and Adams-Tucker's mellifluous vocal harmonies. "You're looking for a savior…I'm no longer your favorite flavor." Additionally, on "True American." "Got a fertile mind…and that's a dangerous thing."
Nielsen gets to spotlight his soulful chops over a rock-flavored chord vamp on "Magikind," in stark contrast to his dulcet tones from his horn on the lovely ballad "Heaven's Bellboy." Nielsen's voice steps out front and center on the classic tune, "What a Wonderful World," the only cover tune on the album, with lone piano accompaniment from Flores intertwined with a tender sax solo from Nielsen.
Adams-Tucker takes center stage on the closing tune, "Nunca Se Sabe," singing effortlessly in Portuguese over the infectious rhythm section's salsa groove, tying a neat bow on this very entertaining and eclectic set of tunes from Nielsen, an album where there is something for everyone to enjoy.
Don't miss the CD release at Winston's in Ocean Beach, November 12, 4-7pm.