Book Review: Mandolin Man, the Life of Roland White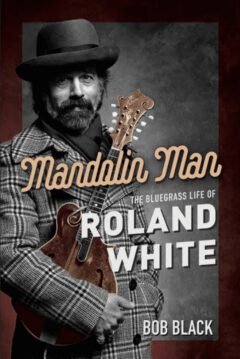 Notice of Bob Black's biography of Roland White, Mandolin Man, the Bluegrass Life of Roland White, came by email back in February. I bought it right away, though delivery was scheduled for June (it arrived in late May). Roland died on April 1 of this year, at age 83, so he never got to see his biography out in the public.
This is a wonderful read, a chronicle not only of Roland's amazing and varied life but also a reflection of the history of the development of bluegrass at a particular time—from the 1950s through the 1970s and beyond—times that changed the music and who played it. Roland's own life, moving as a teenager from rural Maine to sprawling Los Angeles, is much the story of how urban musicians moved into almost entirely white music played by rural musicians.
Mandolin Man, the Bluegrass Life of Roland White is a thoughtful, knowledgeable and immediate chronicle of Roland's life and impact. The power of Mr. Black's biography and his approach, which details the well-known phases of Roland's life and those he touched, is also part personal recollection of the author himself, a noted banjo player who moved to Nashville in 1974. There he met and was shown around town by Roland in addition to working with prominent bands such as Buck White & the Down Home Folks and, of course, Bill Monroe and the Bluegrass Boys.
Mandolin Man focuses chronologically on Roland's development as a player, band member, and leader—from discovering Bill Monroe records as a kid (not an easy task at the time), leading to the Country Boys with brothers Clarence and Eric, and then the Kentucky Colonels. He also worked as a sideman with Bill Monroe and the Bluegrass Boys on guitar and mandolin with Lester Flatt and the Nashville Grass (1967–1973), was co-leader for 13 years of Country Gazette with Alan Munde, 13 more years as a member of the more collective Nashville Bluegrass Band, and, finally, leading the Roland White Band with his wife and collaborator, Diane Bouska. There are photos from every part of Roland's life, an alternate way by which Mr. Black tells the story.
Roland's playing reflects who he was: generous, lyrical, and modest. Besides his distinctive lead playing, which was markedly different from and complementary to brother Clarence's much imitated guitar style, he was a great rhythm player. At the IBMA in Nashville in 2008, Roland told me about how he had been exploring, using bass notes to move chord changes in his comping with Nashville Bluegrass Band—a subtlety his then bandmate Stuart Duncan noticed and encouraged.
The best teachers are learners. And Roland was always a student, absorbing so much from whatever environments he sought. He and the Kentucky Colonels' dobro player, LeRoy McNees, took their first trip to Nashville for the 1959 DJ Convention as bluegrass tourists. They met and visited with Flatt & Scruggs backstage at the Opry; there's a picture of a young Roland standing between Lester Flatt and Earl Scruggs, 14 years before he joined Lester's band. There's also a wonderful picture of Roland standing next to the very tall Stringbean (David Akeman, whose height was accentuated by his overalls with exaggerated low waistline).
The White brothers were part of the vibrant country scene in early 1960s Los Angeles, mentored themselves by people like Joe and Rose Lee Maphis and Rose Maddox. Los Angeles is vast—they must have put a lot of miles on LA freeways, from the Valley to Oceanside and later on, up and back to Bakersfield. They were on television, especially with the Maphises on Town Hall Party. They became part of the larger national folk revival, knocking people out at the Newport Folk Festival in 1964, touring the East Coast with an extended stay in Boston.
Clarence's stint with the Byrds began in 1968 as a high school kid in Pasadena; I saw one of his first shows with the band at the Rose Bowl, an all-day festival that ended with Big Brother & the Holding Company. The end of the Kentucky Colonels and Clarence's prominence as an LA studio player and a Byrd, led Roland to move to Nashville in 1967, playing guitar with Monroe (he, like others, pronounced it, "Mon'-roe"). He got the job because he was adept from the start at playing a Lester Flatt G-run, something Clarence joked about when he himself contemplated and didn't join Monroe on the road. Interestingly, Monroe echoed that when praising Roland for his always appropriate G-run. As a mandolin player, Roland benefited from long road trips with Monroe, driving the bus while encouraging his boss to play mandolin nearby. Roland came out of the Monroe tradition but always had an identifiable voice all his own.
Bob Black writes at some length about Roland's time as Bill Monroe's guitarist (1967-69) and how Monroe had his band build the stage at Bean Blossom, Brown County Jamboree, in 1968. The band, which included Kenny Baker (fiddle), Vic Jordan (banjo), and James Monroe (bass), worked from Roland's birthday on April 23, 1968 until Monroe's festival, which began on June 21st. He describes in detail how much hard work the musicians put in, staying in rough cabins without even outhouses, taking cold showers, eating every night at Monroe's more finished cabin. During all of this time, Monroe paid Roland $150. Roland began to look for a new job, which led to his stint with Lester Flatt the next year.
He never left Nashville after moving there in 1967, becoming a foundation of the town's bluegrass scene thereafter. He was a consummate jammer—when he wasn't on the road with Flatt in the early 1970s, he'd be at Bobby Green's Dusty Roads Tavern, the original Bluegrass Inn or at the earliest incarnation of the Station Inn near Centennial Park. (Within a short span from 1971 to 1974, Bobby Green died, setting Dusty Road on a course away from bluegrass; Earl Sneed opened the Bluegrass Inn on the West End, which played to Vanderbilt students for several years, and a collective opened the Station Inn in mid-1974.) Early in 1974, he brought the members of Country Gazette and Linda Ronstadt to Bobby Green's for a memorable jam session.
When bass player J.T. Gray bought the Station Inn after it had moved to the Gulch, a desolate place near the old train station, Roland was a regular and positive presence. The 1984 album, The Dreadful Snakes, with Roland, Bela Fleck, Pat Enright, Jerry Douglas, and Mark Hembree is memorable bluegrass with skill, energy, and heart. This pick-up band came directly out of the Station Inn.
Roland is much more than simply a great player and bandmate. He was a mentor to so many people who were young and in transition to a life of music. Most famously, he brought Marty Stuart to Nashville in 1973 at age 13, introduced him to Lester Flatt, with whom he stayed after Roland joined County Gazette and Flatt retired in 1979. Marty Stuart, who played a couple of songs at Roland's memorial, says this about his relationship with Roland:
Roland White is bluegrass music royalty. He is, without question, the most dedicated soul I have ever known when it comes to playing and inspiring people to look into the beauty of the music Bill Monroe called "the ancient tones." Roland is especially gifted at encouraging young musicians to look deep into their hearts and play what they hear inside. He is a great professor. I know. He was mine. In reality, I owe my entire career to Roland White.
Bob Black tells a similar tale as did numerous people at the Station Inn's memorial for Roland on May 22. When Doug Green—aka Ranger Doug—moved to Nashville, he stayed with Roland and his first wife, Arline. Roland, Doug, and Vic Jordan played a lot together at that time.
It was Roland's generosity, wide world view and, perhaps, some sense of obligation that led him to often help new musical residents of Nashville. I would imagine, based on my own experience, that he did this wherever he went. He strengthened the sense of musicians as colleagues in a town that can often seem cut-throat. I suspect that Roland didn't see anyone as a competitor; he was that sure of himself as a musician and a person.
Richard Bailey played with Roland and Diane for a very long time. He says of Roland:
Roland is one of the few people—Vassar [Clements] was another—who were super nice and they were always trying to help whoever was moving to Nashville and whoever they took a liking to; they would try to get to get them out and get them around people. Roland did that for me, and Vassar was the same way.
 The other thing I like about Roland is that when I was playing solos on vocal material it would be different, and sometimes I'd take some chances and sometimes I'd "fall off the limb." It bummed me out so much, and I remember telling Roland more than a few times, "Man, I'm really sorry." And he always said, "No, that's why I want you playing with me. I do the same thing. I want to play with somebody that that takes some chances–they might work, and they might not."
Author's note. Roland was wonderfully welcoming and friendly to me when I moved to Nashville in the summer of 1971 at age 19. Earlier that year, I introduced myself to him at the Ash Grove in Los Angeles, when he was playing there with Clarence, Eric, and banjo player Pat Cloud. He inspired me to take up mandolin the year before; I was a huge Byrds fan and went to a lot of effort to find a copy of the Kentucky Colonels' Appalachian Swing LP.
I visited again with Roland in June 1971 at Bean Blossom, Bill Monroe's festival in Indiana, where I mostly hung out at John Hartford's bus, listening to his Areo-Plain band jam all day long. Roland was there playing with Lester Flatt's Nashville Grass. It was there, I suppose, in talking with Roland, that my plan to move from Yellow Springs, Ohio to Nashville began.
I hitch-hiked from Ohio a month after Bean Blossom, going straight to Tut Taylor's sign shop with an old Gibson oval-hole arch top that Tut bought, which gave me some seed money. Through Tut, I found a home that night in a house on 16th Avenue South full of musicians. I got up early most mornings to hear Lester Flatt's radio show on WSM at 5:45 in the morning along with farm reports.
In those early months of my time in Nashville, I saw Roland quite a lot—at GTR, George Gruhn's store on 4th Avenue South, at the Bluegrass Inn, and even at my house, where Roland gave me a lesson. He let me sit in with him at the Bluegrass Inn often. I'd comp while he played with people like Al Munde, Gloria Belle, and Mike Long. We'd often go for coffee after an evening at the Bluegrass Inn. He smoked in those days but was never a drinker. Roland arranged for me to go to the Opry when it was still at the Ryman, introducing me to the guard at the backdoor, who thereafter always let me in when I showed up.
A highlight for me was going with Roland twice to the WSM studios to witness taping of Flatt's early morning show (they'd do three weeks at a session). I met Lester Flatt and members of the band. Even more surprisingly, as he entered the room, a legendary Opry announcer walked to where I was sitting, leaned down and introduced himself to me: "Grant Turner," he said offering me his hand.
I kept in touch with Roland for all the years after I left in August 1974, certainly every time I went to Nashville. I ran into him at a gas station one night in 1979, while I was driving from Boston to LA. What are the chances of that? We talked whenever he and Diane played in San Diego. The last time we saw each other was at a dinner our mutual friends Roby and Debbie Cogswell gave in East Nashville in February 2019. It was pretty clear he was slowing down., but Roland was as always friendly and interested and said he'd call, which he did a couple years later.
Roland was a mentor and a model for me, a genuinely kind and interested person. I feel privileged to have known him. I am sad that he is gone and couldn't believe it at first. I felt so proud to see his substantial obituary in the New York Times, surely a marker of who in this world is important.
Mandolin Man, the Bluegrass Life of Roland White is a fitting and accurate telling of Roland's life, a chronicle of a person who led a full life—a life of value and music. It is well worth the read—for those who know Roland and his times and for those who do not. It is, finally, a complementary companion to Roland's great body of recorded work and the legacy for all he touched.