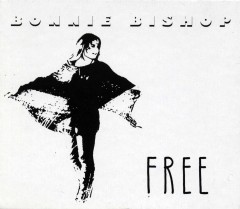 Nashville songstress Bonnie Bishop made a recent stop in Julian on her nationwide tour, capping a year that saw her place a song she co-wrote on a Grammy-nominated album by her hero Bonnie Raitt and the release of her fourth disc, Free. The seven tracks on the EP-length album are all originals written by Bishop and co-writers (many by keyboardist Jimmy Wallace), and the sound is power country-rock with a generous helping of Southern gospel. Bishop has a husky, raise-the-roof voice and the smooth Nashville studio crew and material here complement it perfectly.
On "Keep Using Me" Bishop belts out a surging, soulful strut as a wall of piano, organ, and legion of background singers (the "East Nasty Choir" among them) launch into a rave up that packs a lot into four minutes. Things keep rocking, "Shrinkin' Violet" seems like a catchy tale of a wild child waiting to be discovered, "It takes a real man to find it." A disc highlight is "Bad Seed," about, what else, a good girl gone astray by running off with a guitar-playing ruffian to sing rock and rock 'n' roll; it rocks and Bishop means business; she could be singing her life story.
"World Like This" dials gospel back in as it starts small with a life message of hope and by the end it is huge, with church full of soaring voices affirming its message. Bishop pours her heart and soul into "Best Songs Come from Broken Hearts," and it is a radio-ready anthem, piled high with strings and dynamic buildups.