A Music Store Just for Drummers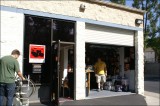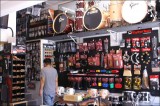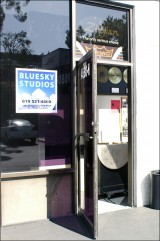 Drums (and drummers) are often the Rodney Dangerfield of the music business — they tend to get no respect. Rich dilettantes collect fancy vintage guitars, not drums. Teenagers usually want to learn to play the guitar, not drums. Rock and roll and blues legends are predominantly guitar players — think Eric Clapton, Jimi Hendrix, Duane Allman, Stevie Ray Vaughan, and Jeff Beck–rather than the rhythm section that made their music possible. The reality is, all musical groups, regardless of genre, have a drummer (often overlooked). What would Rush be without Neal Peart? Or Genesis without Phil Collins? Or the Eagles without Don Henley? Or the Band without Levon Helm?  You get the point. So why does San Diego have so many guitar stores but (until recently) no music stores specializing in drums?
That is the question that father-son team Paul and Chris Scott asked themselves on a recent cross-country road trip, visiting cities large and small with specialty drum stores. They returned to San Diego with a vision–to create a full-service retail outlet for musicians who play the drums (or beginners wishing to learn). The result, which opened on June 25 at 4580 Alvarado Canyon Road, Suite H, is in the heart of Mission Valley (in the industrial park behind Adventure 16, near the trolley station). Side by side, with ample parking, are the San Diego Drum Shop, selling new and used drums and drum accessories; and Bluesky Studios, featuring rehearsal studios available for hourly rental (with or without amplifiers and equipment) and teaching rooms with professional instructors. Both experienced and aspiring drummers can pound away day or night without having to worry about annoyed parents or noise complaints from neighbors.
In addition, San Diego Drum Shop aims to become the gathering place for San Diego's drum-playing community, sponsoring monthly swap meets (offering used equipment and the like) in the spacious parking lot; "drum nights" each Tuesday from 7-11 p.m. featuring product specialists from leading suppliers demonstrating new and existing products, as well as impromptu drummer jam sessions; and regular meet-ups/drum circles, organized in conjunction with the Socal Drum Society. Beginning in 2012, San Diego Drum Shop plans to become a provider of "Music Together," which is an internationally recognized early childhood music and movement program for babies, toddlers, preschoolers, and kindergartners (and their parents).
San Diego Drum Shop carries a full line of drums (Gretsch, Sonor, TJS), drum heads (Aquarian, TAMA, Craviotto, Pearl), cymbals (Zildjian, Istanbul, Sabian, Stagg), sticks (Vic Firth, Vater, Zildjian), other percussion instruments (including cowbells, shakers, tambourines, jingle sticks, xylophones, bar chimes, etc.), stick accessories and specialty sticks, and a complete line of drum accessories. San Diego Drum Shop sells equipment ranging in price from entry level (complete kits for as little as $399) to the ultra-high end (handmade cymbals for $499). If it has anything to do with drums, San Diego Drum Shop carries it, with knowledgeable sales personnel to help the customer in a friendly retail environment.
The adjacent Bluesky Studios offers instruction by well-known drummers Toby Ahrens, Ron Haslam, and Tom Donlinger. The rehearsal studios come in various sizes, including one large enough for a full group to practice or perform, complete with overhead spot lighting to replicate the "stage" environment. For further information, call Chris Scott or Jon Oren at 619-521-4860, or contact them by e-mail at sandiegodrumshop@gmail.com, or visit the store at 4580 Alvarado Canyon Road, Suite H, San Diego, CA 92120.