IAN TORDELLA: Tragic Comedy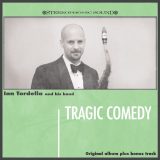 Jazz is a curious art form. It shares with classical music an abidingness to its history and heritage. Players scrutinize the performers of the past, transcribing their solos and studying their arrangements. At the same time and more so than other popular music forms, there is a constant call in jazz for continual innovation and the incorporation of other music forms. With his recent CD, Tragic Comedy, saxophonist Ian Tordella exemplifies this dynamic of strong musical roots and drive for innovation.
Starting with the artwork on the CD cover, with a black and white photo of Tordella in dinner jacket, graphics lifted from Don Draper's art department, and the perspective font banner enticing the listener with the promise of "Stereophonic Sound," Tordella signals that his music is firmly grounded in the tradition and sensibilities of the great boppers of 50 years ago, while incorporating influences and stylizations of the intervening decades.
Anyone who was a vinyl hound in the seventies will recognize the ECM influence, both in the open approach Tordella and the other musicians take to the compositions and the overall sound of the recording, which has a drop-the-needle-on-the-record warmth that makes you wish you still had that Marantz 2216B receiver you had in college. The spare compositions also recollect the ECM sound and the influence. One tune, "Expectations," is based almost entirely on a minor four-chord progression.
Tordella covers two compositions from the post-krautrock band Stereolab, "Puncture in the Radax Permutation" and "Monstre Sacre." The interpretations are inspired and are a great reminder of one of the most creative and refreshing bands of the '90s.
Confident is a word I've heard several times to describe Tordella's sound. He also plays with a great deal of fluidity, which is accentuated by the even timbre he evokes from his instrument. His solo lines also have an inner musicality, with definitely stated melodic ideas. With their electric guitars, Jeff Miles and Joey Carano incorporate echo, distortion, even noise, things that are usually eschewed by the traditional jazz guitarist. I particularly enjoyed the contrast created between Carano's oblique style and the more flowing approach of Tordella.
Bassist Danny Weller and drummer Richard Sellers solidly ground the rhythm on Tragic Comedy. Along with the ease with which they approach the 5/4 time signature of the title tune and "While We're Young," the two change the feel of some of the tunes almost organically, going from a strong yet inferred beat to a sort of progressive rock feel. Sellers can play his drums hard. It's not the drumming of Bad Plus' David King; Sellers has more going on than King's pounding.
With strong performances from Tordella and his band mates on intriguing compositions, Tragic Comedy more than proves Tordella's capabilities and a performer and leader of an ensemble. This disk is highly recommended for anyone who appreciates great, innovative, new jazz.