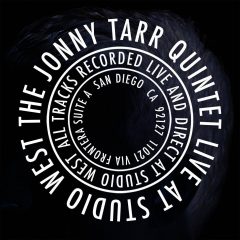 Jonny Tarr was awarded the San Diego Music Awards 2020 Best Pop and the new album by his band, The Jonny Tarr Quintet Live at Studio West, demonstrates why. The Wales native is a man of all musical trades—a singer-songwriter who plays multiple instruments, a DJ, and an accomplished arranger. On the new disc he sings lead vocals as well as plays sax, flute, keyboards, and samples. Also on board are Monette Marino on percussion, Matt Clowminzer on guitar, Ken Dow on bass and vocals, and Miles Clowminzer on drums and vocals.
Per his website bio, he is mostly interested in "music that makes people dance," and the tracks definitely do that. Driving dance grooves from the rhythm section on three sets interweave song ideas and feature sounds influenced by electronica, house beat, and fusion jazz while echoing such past icons as Michael Jackson and Sly and the Family Stone. The live presentation is absolutely note perfect, as Tarr's use of loops and samples and powerhouse vocals sound like a disc that took weeks to put together.
"Why Don't You Wait" starts with a guitar hook, evolving into verses that climb from calm to big crescendos as backing singers and a bass drum pulse take it to another level. On "Amnesia," the propulsive beat is still there, but now Tarr is rifling through lyrics about a betraying lover: "You burned my heart a billion ways/ It's all loose ends and nothing's true." Nice choppy rhythm guitar work by Matt Clowminzer helps propel it and Tarr's singing soars. The music continues with no interruption through "Learn 2 Burn," which injects matters with some funk flavor and hot sax soloing. "Sky High" is the disc highlight, with another great vocal and sharp looped horns that recall those on old Stax soul anthems.
"I've got a full-time horn section in my head," Tarr sings in "This City," and the big sound includes more nice sax work. "Move Yourself" leads off another set and includes a cranked-up guitar solo and  electronic touches, before Tarr's DJ intro for "Face the Truth." On this track, the band takes a sonic detour with some straight-ahead jazz guitar riffs, melded into the pounding house pulse, before more intricate sax lines. "The Loving Fades" works the same groove as much of the rest of the program, but catches the ear with a phase-shifted sax solo break and some dirty, fiery lead guitar.
The closest thing on this album to taking the pedal off the dance floor metal is heard on "Rockets," as Tarr sings a breakup number over powerful horn charts and a stutter-step rhythm guitar groove. But the boom boom is back for "Stick Your Neck Out," as he sings "Don't look so astonished/ This groove is moving, I'm getting' on it/ It's criminal but let them lock it up/ They took your wallet and phone with your numbers on it."
There is much to enjoy on The Jonny Tarr Quintet Live at Studio West, especially for fans of dance music.