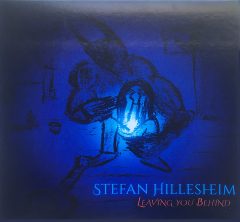 Leaving You Behind is the debut EP by Stefan Hillesheim. He's a German-born guitarist/singer/songwriter who studied classical guitar in Europe before moving to LA in 2014 to study guitar at the Musicians Institute. After some woodshedding in gospel churches and live music clubs, he started doing studio work, specializing in rhythm and slide guitar. The new disc is five-tracks and the artwork speaks volumes by dedicating the disc to Robert Johnson, with the dates of his birth and death and locations of each, when he became an early member of the 27 club in 1938. This is blues, recorded at Rarefied Recording in San Diego, with Hillesheim on vocals and guitar and backed by David Yuter on organ, Kevin Cooper on bass, and Richard Sellers on drums.
At first listen on the opener, "No Helping Hand," it becomes clear that Hillesheim is not out to blaze new trails. This tune is a straight-up blues combo shuffle, and his electric guitar playing is economical and clean, as this song and a couple of others are anchored effectively by Yuter's organ. Throughout, Hillesheim sings very well without affectation or pretense, and while his original songs follow templates that listeners are familiar with, they are executed with confident precision and reverence for the form.
"Good Thing" illustrates that Hillesheim has some skills on slide guitar that seem to set him apart, as it evokes the Johnson/Delta blues style enough to lay bare his ability to do some tricky picking, bottleneck moves, and effective juggling of treble and bass string melodies, while adding accents with the slide. He eschews extraneous flash, instead favoring crystalline tone, and his vocals on this slower, old-style blues pushes all the right buttons.
"Favorite Hiding Place" is a nice blues ballad that adds organ-driven blues to his slide ability on an electric number. Hillesheim carves interesting solo lines that incorporate minor mode scales, sliding from note to note on minor mode blues scales; it is the highlight of the set and recalls Derek Trucks with less vibrato. He tries for a Delta style again on "Can't Do Right By You," accompanied by just finger-picked acoustic guitar—played expertly, another allusion to Mr. Johnson—and his vocal again expresses the frustration of a man who can't satisfy his lowdown woman, as in hundreds of blues tunes from the beginning.
The title tune is the magnum opus of this project, a seven-minute plus slow blues that is intended as a lead guitar showcase. Hillesheim is up to the task, though ultimately his earnest vocal and lead guitar licks are a redux of what listeners have heard from a thousand six-string slingers before, from Eric Clapton to Duane Allman. His non-slide electric guitar work on this tune is tasteful with decent dynamics, but the slide inflected leads on "Hiding Place" are more ear-catching.
Stefan Hillesheim's debut EP shows a good feel for the blues, and his standout guitar skills include bottleneck and blues fingerpicking. It will be good to hear some more from him.