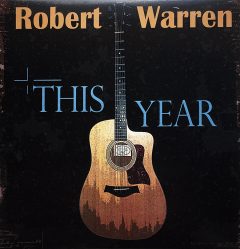 This Year is the new album by Robert Warren, who sings personal folk songs that often have a melancholy tone, as evidenced on his previous releases, including 2017's The Road From There to Here. His music is stark, but arresting, chronicling tales of heartbreak, personal failure, wandering, and sometimes even hope with a riveting voice that doesn't need much musical backing. The new disc's ten songs feature many of the same production personnel as Road, including producer/bassist Josquin Des Pres and string specialist Dennis Caplinger along with Warren's piano, guitar, and vocals. Also on board are pedal steel player Rod Worthington, guitarist Will Metz, and percussionist Monette Marino.
With Warren, there aren't any rock or pop crossovers or peppy changes of pace, but the songs are rock solid, telling stories and drawing characters. "Bernadette" does a good job of setting the parameters to open the set, as Warren tells a woman that their longtime relationship is over. His lyrics are incisive and earnest, "Something right shouldn't feel this wrong/ Perhaps it's we end this, Bernadette." As on the other tracks throughout, the backing is pristine, beautifully picked guitars with softly rendered pedal steel echoes, which is the backdrop for "Hillsboro" and helps Warren convey the yearning heard in his lyrics about a traveler on the last leg of a long journey to return to a lover.
Warren has the perfect voice and approach for a song about the bloody tragedy that was the Civil War with "Simple Kind of Peace," which is sung from the viewpoint of a young, wounded rebel soldier in Virginia who realizes that final peace is at hand for him. Snare drum percussion gives this one an extra dose of authenticity. The title tune is a slow, autobiographical ballad that recalls familiar Warren themes of a lost love due to alcohol, "And I always thought our love would make a difference/ But I fired all of cannons from a distance/ My aim was low."
Warren's website offers "It's Too Late" as a single release, and it is a microcosm of his style; directed at a former lover after a breakup. A checklist of heartbreaking changes and regrets, musically it is a catchy highlight. "I don't want to sing my sad songs anymore," he sings in his sad song "We Ain't Leaving," and seven songs into this set, the somber tone is perhaps one trip too many in a row to the same well. "If I Had Wings" works better because it is just Warren and an acoustic guitar; sure, it is a breakup/ regret song, but even though Warren is pushing the limit of his vocal cords to pull it off, the personal connection really hits home.
Another of Warren's road songs is "Somerville," which works both of his frequent themes of wandering life and desertion by a woman for another man into the tale. Robert Warren has proven his ability with folk songs of sadness and regret, and This Year backs the reputation up; the future will tell if he has other stories to tell.