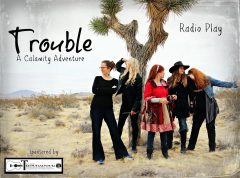 I suspect there's a contingent of San Diego Troubadour readers drawn to the concept of a radio play (aka audio drama, audio play, radio theater, etc.), especially those who are familiar with Orson Welles' legendary 1938 broadcast of The War of the Worlds, which is infamous for convincing an innumerable amount of Americans that Martians were, in fact, invading earth at that very moment. Once considered the centerpiece of home entertainment, audio theater was all but eliminated from terrestrial radio waves by the turn of the 21st century. When Americans began their love affair with television in the 1950s, the glory days of radio plays faded into folklore memories of the past.
In recent times, advances in digital recording have created affordable quality options for the layman audio engineer. Combined with the modern popularity of podcasts, which are more easily and inexpensively transferred across radio airwaves, the lost art of audio theater has experienced a re-emergence among the many various streaming airwaves. One such example of this audio resurrection is Trouble—A Calamity Adventure, a new radio play written and edited by Catherine Barnes and featuring performances by members of the San Diego-based Calamity band.
Calamity consists of five insanely talented female musicians who play original music to the tune of Americana, folk, and alt-country bliss. Their luscious vibe is comprised of tasteful layers of toe-tapping beats, professional musicianship, and soulful vocals, all of which resonate over a velvety terrain of skillful songwriting. This troop of savvy songstresses include Cathryn Beeks (ukulele, vocals), Marcia Claire (bass, vocals), Nisha Catron (guitar, vocals), Catherine Barnes (drums), and Patric Petrie (violin).
In Trouble—A Calamity Adventure the Calamity gals navigate through a wild array of adventures beginning with one of their legendary bandmate sleepovers (that we all secretly wish we were invited to). Witty one-liners whip and hurl past their lips as we chuckle along from an imaginary sideline, envisioning a deluge of comedic chaos thriving well into the night (and possibly even morning). "Were you sad when the dinosaurs died, Nisha?" is one of my favorite playful jests here, thanks to a perfectly timed and aptly dry delivery by Barnes. The Calamity brand of hilarity and mischief ensues, including a prank call to "Bradley Cooper" that is evocative of the infamous Jerky Boys of lore. Nisha's gloriously campy diatribe about a dead opossum that is terribly upsetting her love child with Liam Neeson hits us with howls of laughter while spotlighting her super slick improvisational skills.
This first scene also includes an impressive Calamity-style version of Gillian Welch's "Caleb Myer," for as one bandmate implies, what successful sleepover doesn't entail a little ghost story or two? Yet, it's hard to slip into a frightful frame of mind when these ladies slay Gillian's eerie folky gem into a gloriously gritty herculean anthem of their own.
At some point later, the ladies receive a call from a Las Vegas promoter who offers them a gig opportunity seemingly too good to be true, despite the fact he deposits half the pay in the Venmo account in a good faith measure. Marcia Claire, for one, remains vigilantly suspicious of this mystery promoter's offer, and the fact that his name is Mike Crotch only amplifies her wariness.
From this point onward, mayhem and misfortune beleaguer the Calamity clan at every unexpected twist and turn. The purposefully haphazard plotline pivots between tongue-in-cheek satire and savagely delicious dark comedy. The visual force exhumed from the psychological realm plays out in our mind like a picture show, induced by methodical sound effect placement and unfeigned dialogue dispersed among the Calamity crew in each unique auditory setting. Colorful visions loom of crazy-eyed klepto stalkers, roofie-laden green room snacks, murder via Joshua Tree, brazen small-town robberies, and even the disposal of a dead body all flicker like a mental motion picture throughout. We follow on the heels of Calamity as they transition into a band of Thelma and Louise-like outlaws, singing and slinging guitars while living dangerously on the run. There's a sense that they will be forever chasing the intoxicating lure of freedom into the desert's setting sun.
In 10 of the 15 scenes of this comedically pleasing audio tale, we are gifted with the indisputable musical artistry of Calamity's diverse repertoire of songs. As a soul collective of singular gems, they settle effortlessly into one resplendent sonic wave throughout. These musical interludes gleefully bring to mind A Prairie Home Companion-like feel, serving up meticulously crafted musical performances set between whimsical scenes and chaotic plot twists. The contrast establishes an engaging balance between the serious musical performances and playful banter in the scenes.
So, if you are feeling in the mood for something fresh and fun that will stimulate your auditory senses, I recommend you keep an eye out for the release of this sweetly sinful and purely satisfyingly radio play Trouble—A Calamity Adventure, which is set to be released and go live on March 7. The irresistible allure of music, mayhem, and murder beckons you onward through this calamitous adventure.
Trouble—A Calamity Adventure will be available on all major streaming services, including iTunes, Spotify, and Amazon, beginning March 7. For further information and to sign up for their email list, visit heycalamity.com.