This month we take a look back at those we lost in 2019, pose a question to two local legends, look back at the year's best play, and chat with Quel Bordel.
IN MEMORIUM
The grim reaper hit the world of music hard in 2019 and San Diego was no exception. Here is a list of San Diegans, past and present, that we lost in the last year.
January 12 / Batton Lash (65) – comics artist best known for Wolff & Byrd, Staring at the Sun cover artist
January 19 / Ronald Lane aka Night Train (66) – blues guitarist
February 18 / Larry Dent (66) – drummer Blitz Brothers, etc.
March / John Ruckle (64) – drummer with Marshmallow Highway (1969)
March 26 / Hollis Hassell, Sr. (96) – drums with the Count Basie Band, the Walter Fuller Trio and the Fro Brigham Band – vocalist of the O'Jays
April 2 / Rick Elias (64) – guitarist with the Rick Elias Band, the Ragamuffins, songwriter for That Thing You Do movie
April 10 / Tony Higgins – performed with Nelson Riddle / Glen Miller Orchestra's, backed Elvis Presley, Whitney Houston, etc.
May 13 / John Lorge (63) – French horn with Arioso Wind Quintet
May 16 / Dennis Neal Smith (73) – "Harlan Ellison based several short stories on his art, including "Bright Eyes," "I Have No Mouth and I Must Scream," and "Delusions for a Dragonslayer." He also did the art for the first progress report for the 1972 San Diego Comic-Con and served on the committee" (via Jackie Estrada)
June 7 / Ken Tagami (73) – bassist for Up With People, Emma's Gutbucket Band, Summergrass sponsor
June 29 / Gary Duncan (73) – guitarist with the Brogues / Quicksilver Messenger Service
July 1 / Jason William Weedon (44) — guitarist with Sunnyside, Chicken Farm, etc.
August 11 / Val L'Heureux (65) — bassist with Johnny Vernazza, Backwater Blues Band, etc.
August 11 / Vanessa Weslow (66) — guitar and bass with Emma's Gutbucket Band
August 12 / Mick Marsh (50) – DJ
August 16 / Antonino Del Pesco (59) – bassist with '80s new wave combo, the Puppies
August 17 / George Piper (53) – guitarist Radd Co, Nemesis, Roni Lee Band
August 20 / Billy Bacon aka William Russell (55) –bassist and frontman with the Forbidden Pigs
August 24 / Jason LaFave (47) – drummer with Fuzz Huzzi, etc.
August 27 / Jared Jacobsen (70) – the Bishop's Choir, the San Diego Civic Organist from 1978 to 1985, the Spreckels Organ Society's Board of Trustees, First Lutheran Church's music director
August 30 / Ron Manaog (48) – drummer Savannah Van Band, etc.
September 1 / Arthur Ray Sesma Sr. (64) – acoustic guitarist, guitar maker
September 4 / Gilbert Ardilla (66) – guitarist with  City Lights Band
September 7 / Lloyd Kozuma aka Kenji (72) – sax with the Inmates (1966), hit record: "This Is the Day" ($1,000 at auction)
September 9 / Mark Merrell (62) – guitarist with the Palominos, Whiskey Heart, the Neverly Brothers
October 8 / Steven Brian Duke – bassist with Three Guys Called Jesus, etc.
October 8 / Scott Corey – Blues player with the Five Careless Lovers, the Rhumboogies
November 20 / Timothy "Mac" MacDonald – comedy duo Bird and Macdonald, solo gigs, Texas Tuxedo
December 3 / Robert Scott – owner, Comickaze Comics
December 4 / (64) Jerome Cruz – guitarist in Big Mountain
QUESTION: WHAT'S THE BIGGEST DIFFERENCE?
What's the biggest difference between shows today and those "back in the day?"
Jerry Raney (The Roosters, Jerry Raney & the Shames, the Beat Farmers) – "The difference with multi-band shows like this is that in the past everyone was so stoned that no one had sense enough to backline a drum set and bass rig for all the bands to use. It used to take about an hour for one band to break down and the other to set up. We also didn't have electronic guitar tuners. Things run a lot smoother nowadays."
Richard Livoni (The Blitz Brothers) – "The difference between shows now and then? One set instead of five every night. Nice!"
A LOOK BACK: HOUSE OF DREAMS 33 1/3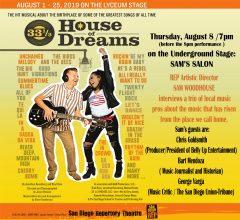 is a new musical that tells the story of Stan Ross and his legendary Goldstar Recording Studios in Los Angeles. Legendary is a word that is bandied about all too often, but here it's not enough. Goldstar was a place where music magic happened for decades; hundreds of songs known and loved around the world were crafted there, from Eddie Cochran's "Summertime Blues" to the Ramones "Rock 'n' Roll High School" and a whole lot of great tunes in between. There is even a direct San Diego connection. Both the Cascades "Rhythm of the Rain" and Iron Butterfly's "In A Gadda Da Vida" were recorded there and show up in the play.
Presented for this initial run of shows by the San Diego Repertory Theatre at the Lyceum Theatre, House of Dreams 33 1/3 covers decades of music history. It's an immensely enjoyable show, which left me wanting more— the story hinted at many more happenings that took place there. My friends and I would have gladly sat through another hour of scenes.
While the production has closed for now after its successful first run, plans are to take it to the national stage. It has all the makings of a hit.
Casual music fans will enjoy the musicals soundtrack and the story of a man and his dreams, but diehard fans will also love the production. Well paced, the constantly moving scenery helps keep the story flowing. Of course there is a little artistic license, as is needed when squeezing so much history into a couple of hours, but key music events and figures are present and accounted for and there are plenty of moments that will make even the most jaded music listener smile. Watching House of Dreams 33 1/3, music fans will truly feel like a fly on the wall at some of music's most pivotal moments.
As well done as the story is, it's the musical numbers that truly shine here, and there are numerous standout scenes, with the terrific cast portraying fabled musicians and producers. Top of the list would be Phil Spector and the Ronettes recording "Be My Baby." The way that's put together is simply stunning and quite effective in conveying the creativity of the era. Also wonderful are the high energy R&B performance of "River Deep Mountain High" by Tina Turner and at the complete opposite end of the spectrum, the innocent teen pop and dance routine of The Paris Sisters "I Love How You Love Me." From Ritchie Valens recording "La Bamba" to The Runaways singing "Cherry Bomb," a lot of ground is covered here.
House of Dreams 33 1/3 does the story of Goldstar justice. I highly recommend it to anyone who likes music – the story is great, the songs are incredible. I loved every second of it and even got teary eyed a few times as the performances moved me. It was one of the most enjoyable night's out I've had in a long time.
More info on future productions: www.houseofdreamsmusical.com
FIVE QUESTIONS FOR QUEL BORDEL
Acclaimed combo Quel Bordel has been a festival favorite since their 2013 inception. Considered a world music combo, more specifically, "I guess we can describe our music as folk/world/punk," said the bands guitar / banjo player Aaron de la Rosa. "Our influences range based on the individual band members. Anything from rock, punk, folk, funk, jazz, to bluegrass."
How did you get your band name?
The name came up when our singer/guitarist Jakovich was on a tour in France and heard the term spoken by hotel room attendants shouting "Quel Bordel!" when coming in to clean the band's room. The bands French name translates as "What a Mess."
Where have you toured? What's your favorite place to play?
We have toured in France, Spain, Germany, Netherlands, and Canada (Quebec). We feel that audiences outside the U.S. are very supportive of us and found that audiences in Quebec to be the most stoked.
Are you working on a new album?
Our most recent recording is our EP,The New Freak Show, released in 2018. We're working on some new material, but at the moment focusing on playing/touring.
What's next for the band?
More traveling and touring, planning on a Pacific Northwest tour in Sep/Oct 2019, then back to Europe and hopefully another recording in 2020.
What's your favorite thing about being a part of Quel Bordel?
Being able to play music and travel the world with your best friends, being able to make a living doing what we love most in life, and the opportunity of meeting and playing with incredibly talented musicians in San Diego.
www.quel-bordel.com