This month we have two "Five Questions" interviews, with singer-songwriter Lori Aguilar Wilson and Phil Lozano of Bump City Brass, plus a few reviews.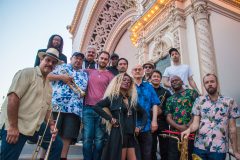 Formed in 2014, 15-piece funk and soul band Bump City Brass has been packing dance floors around San Diego with a great set of cover tunes, ranging from Tower of Power to Tom Browne.
1) How would you describe your music? Who are your influences?
Our music is overall funky and soulful; everything we do is real—we're not going through the motions. I think that's what makes it such an almost healing form of social music. We play and sing from the heart and there's a church-based foundation of gospel coming through in all of our music. Songs we do, like "Love Train" and "Ain't No Stopping Us Now," all have a very positive, uplifting reverberation. Meanwhile, our influences are Tower of Power, Earth, Wind & Fire, Malo, WAR, Chaka Khan, Parliament Funkadelic, Kool & the Gang, Lettuce, Sly & the Family Stone, James Brown, Three Dog Night, Commodores, Fat Back Band, Bootsy Collins, Tom Browne, Curtis Mayfield, and Stevie Wonder.
2) How do you choose your covers?
We are currently in the process of working on an original now, but I have a mental checklist that I like to go through when choosing our covers. I consider whether we can groove to it, if people can dance to it, if can it be heard repeatedly, and whether it leaves you feeling good about yourself and uplift your spirits? We do like to do songs that aren't as common but that stir up old memories and help create new ones.
3) What are your crowd pleasers? Do you have any originals?
Our crowd pleasers are nearly always Tom Browne and Toni Smith's hit "Funkin for Jamaica," which has a fantastic horn intro and is super groovy all the way through; We've put our own spin on Tina Turner's "Proud Mary" with a gospel twist halfway through that takes it up a whole 'nother notch. "Sing a Simple Song" from Sly & the Family Stone and Kool & the Gang's "Ladies Night" are also popular.
4) What's your favorite thing about being a musician?
When I get the most enjoyment, it's just about participating. There's times when we practice together and I just stop what I'm doing and just revel in what's going on around me. It's a pinch-me moment. I just love appreciating the music and our band. It's one of my biggest passions, sharing in the healing powers of social music.
5) What's next for you and the band?
We are collaborating with La Bodega Gallery for a special funk and soul show in their amazing gallery space on Saturday, July 27. Funky comic book art, which reflects the time of war, time we grew up in, will be displayed in celebration of the San Diego Comic Con and we'll be grooving all night from 7 to 10 p.m.
For more information and to get tickets, visit https://www.eventbrite.com/e/funk-soul-in-the-barrio-tickets-63186261810?aff=efbeventtix&fbclid=IwAR0SSPpk_eSoeFksJdB7_XQb8cgu_k7QbqC74byjEZR-IlvtHPWooM9Hrtw
FIVE QUESTIONS FOR LORI AQUILAR WILSON
Singer-songwriter Lori Aguilar Wilson made her solo debut at this year's Art Around Adams Music & Art Walk, but she's had a long career in music, playing with various bands over the past four decades. Born and raised in San Diego ("Grass fed and farm to table," she jokes) in the San Carlos-Lake Murray area, she is currently preparing to record her first solo album, we ask five questions:
1) You've written songs for decades. Why have you chosen now to finally release your own music?
Geez, when you say "decades" it sounds scary. But my original music has always happened in my living room. When friends would come over, I'd play a new tune for them. They'd tell me they liked what I wrote and played and ask for more and encourage me to go to open mics. So, it was all of my friends' fault that they are now public. Gotta blame someone! [laughs]. Next, musically for me, is recording. I'd been wanting to get my songs completed, meaning working out all of the instrument parts that I hear for a while now. It's time to have a hard copy with these pieces of my life's story, for my daughter.
2) What bands have you played with?
My band history began in Los Angeles in a group called Blue Collar. We were on our way "up" and got invited to record at A&M Records. We played all of the hot clubs there at the time, including The Roxy, Club 88, etc., however, things didn't pan out. After our break-up, I went on to sing in an all-black gospel choir called Tommy T & Company. I loved that experience because of all the support, ten people behind you whispering with such enthusiasm, "sing, girl…sing," and all of the harmony! Eventually, I left L.A. and moved back to San Diego where I joined a funk/rock group called the Outside, while simultaneously becoming involved with a doo wop group called Street Corner Symphony, which then morphed into the Fabulous Earrings. We performed many summers at Sea World for example. Then I joined with Loren Smith's Down Under group for the Night Time Zoo summer season entertainment, followed by stints with the Hatfields and Big City Hicks. Currently I'm working with a new group called Rock Couture, and with a group that's been around S.D. for years, the Legends. As well, I'm currently performing solo or with a mandolin player playing the classics for rehabilitation centers and senior living facilities.
3) Who are your influences?
When I was five years old, I saw The Wizard of Oz  and was mesmerized by Judy Garland singing "Somewhere Over the Rainbow." I remember thinking that I wanted to do that! I have always loved musicals because of the storytelling drama and the acting out of the song lyrics. Also, my father played guitar and sang with a beautiful tenor voice. He'd play for me while I sang. I grew up singing harmony with my sister and him. Later, when I began playing guitar, my first song was a Beatles song, "With A Little Help From My Friends." Big influences would have been the Beatles, Joni Mitchell, Judy Collins, Linda Ronstadt, Bonnie Raitt, as well as, Earth, Wind and Fire. I listened to their horn harmonies. Lyrically, I'd have to say mostly Joni Mitchell, Bob Dylan, and Bernie Taupin. My daily life influences my songwriting now. The music of everyone that I've ever heard is in me and I draw on my emotions.
4) If you could perform a song with any singer, past or present, who would it be and what song would you sing?
I think that I'd pick "Sunny Side of the Street" to sing with Tony Bennett. He's the grandfather of performing to me and seems so kind and nurturing. I imagine that I'd learn a lot about phrasing and feeling of the song. I love him.
5) The music biz is harder than ever what motivates you to keep going?
I don't think of the music biz as being hard. I only know that music is something that I have to do to be happy in my life. If something grander than playing small venues comes to me, then bring it, Universe! I'll be ready!
REVIEWS
Gangstagrass: Pocket Full of Fire / Live (Rench)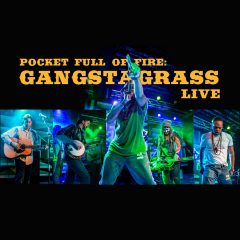 A dozen tracks recorded live at a half dozen venues across the U.S. The bands sixth album overall, this is well played and recorded, except for applause at the front and end of tracks, you'll forget this is a live recording. As might be surmised from their name, New York based quintet, Gangstagrass, blends genres, mixing bluegrass, played traditionally, banjos and all, with modern style reverb rap vocals on top—and it works spectacularly. Bluegrass fans will love the songs' foundation, while anyone who enjoys lyrical wordplay will enjoy this as well, but this will appeal to a wider spectrum of music fans than that. Americana, country or hip-hop fans will want to give this a listen. It's all about rhythm and the two genres slot together well, the rap vocals filling in sonic spaces, particularly effective during song choruses. The single here is likely "Nowhere to Run," an excellent county rocker, featuring twangy vocals from band front man Dan Whitener, with the rapid-fire lyrics working well against the songs swampy groove. Also good is the shuffle beat of "Ain't No Stopping" with counter melodies between the vocal parts, but every song here is worth hearing, each subsequent listen revealing new layers. www.ganstagrass.com
Julia Othmer: Sound (self-released)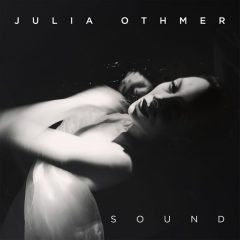 A sophomore release, what we have here is a ten-track album of atmospheric, keyboard based songs. Othmer has a great voice, reminding me at times of the likes of Annie Lennox or Sam Phillips, smooth, confident and soulful. Othmer's stylistic range is evident in the first two tracks, opening with a melancholy piano piece, "Hearts on Fire," a wonderful showcase and introduction to her striking voice. This is followed by the album's first candidate for a single "Hungry Days (Make Me Feel)" a quirky rock / dance oriented number with a slow build and a pulsing bass line that would sound good on the dance floor. The top track here is likely "Frickin' Awesome," a catchy uptempo pop rock number that's all hook and uplifting message. It's as radio friendly a tune as you're going to come across, complete with instantly anthemic, sing-a-long chorus. Love the backing vocals too. The album sounds great, the production by JT Lundie really bringing out the power in Othmer's voice. Othmer is the real deal, a hard touring musician, with a love of melody and whole lot emotion in her voice.
www.juliaothmer.com
Popdudes: Maximum Rock Stupidity (Not Lame Media)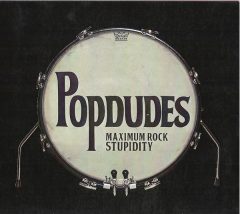 24 tracks of power-pop fun, mixing covers with a handful of like-minded originals plus a hidden track. Recorded between 2002 – 2017, most songs are unreleased, with a few songs from out of print compilations. Featuring a core of singer-guitarist Michael Simmons and drummer John Borack, with additional vocals from the likes of Michael Carpenter, Robbie Rist and Kenny Howes, there are great versions of not-often-covered songs like Wings' "With a Little Luck," the Turtles "Eleanore" and Walter Egan's "Magnet and Steel." Most of the covers are fairly faithful to the original arrangements, but some do change the template a bit, to good effect. One such case is the Howes' sung version of Supertramp's "Logical Song," which rocks harder without losing its pop edge. Also notable is his take on Abba's "Waterloo," as noted in the liner notes, quite "Move" like. Meanwhile, the original songs, while obviously not as familiar, are just as uniformly good. Top of the list, the album's "single" is likely track three, "High" sung by Rist, a sweetly melodic rocker with soaring harmony vocals. Love the mix of electric piano and acoustic guitar. For powerpop fans this one is essential listening. With fresh takes on old favorites and solid originals, this is an album you'll find yourself playing loud and often. www.facebook.com/Popdudes