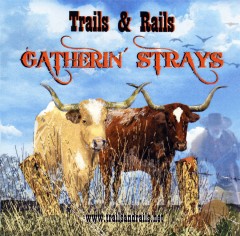 For over a decade Walt Richards and Paula Strong have been the nucleus of Trails and Rails, the local western and train song specialists. Richards plays banjo, guitars, and mandolin; Strong plays guitar and, since 2011, the regular bassist has been Mike Craig. All three sing lead vocals and the deep harmonies that are a group trademark. The eight previous CD releases since 2003 have typically been very generous albums (sometimes 20 or more tracks) of cowboy and train standards; their 2012 Off the Beaten Path was superb, with no originals by band members (though a tune by tragically slain North County fixture Larry Robinson and Gary Shiebler was featured). The new one by the band, Gatherin' Strays, marks a departure by including nine originals, seven by Craig.
Despite being less familiar, the 17 songs here are still carved from the same musical clay as the traditional music on earlier albums-and the band still plays them with smooth confidence and rich three-part harmony. Richards wrote and sings "Canyons Of My Mind," a pleasing memoir about his days in the back country as a youth, hearing ancient string tunes, running with his dog, and there is a verse wondering "What will happen to our kind when the canyons are all gone?" Craig's "Guns and Dust" has a foreboding vibe and an absorbing storyboard about an outlaw, a posse, and a lynching; the texture of the song is a sharp departure from the other country harmony tunes and it's a highlight. Next, Craig misses the mark with "Remington," a clumsy slow ballad that tests his vocal range.
Strong is in command on the western swing of "San Antonio Rodeo," which clicks with both energy and nostalgia, snapping off close-harmony choruses that pull in memories of Bob Wills and the Andrews Sisters. "Days of '49" is a traditional piece given a reverent treatment by Richards on vocal and banjo, while "Cowboy's Lullaby" is another standout moment for Strong. This cover of a song by Danny Wheetman is wonderfully performed, as fingerpicked guitars lay down a gentle melody above which Strong soars – joined by beautiful harmonies: "In a window of the cabin he can see a candle burn/ He knows she'll be waiting for him till he can return/ He'll hold her so gently like the prairie holds the sky."
As on previous T&R discs, Richards' banjo is featured on several instrumental tracks, including "Cowboy's Fancy" and "William Told Underture." Both of these are technically challenging and well played, especially the latter with its familiar arpeggios. Of Craig's songs the best might be "He's a Cowboy," a sort of mission statement for the trade, "You won't ever change him with a promise or a kiss/ He's a cowboy, that's not what he does, that's what he is." Sung to an unhurried, comfortable shuffle, this one has that touch of hickory authenticity that sets it apart.
Gatherin' Strays is another album of fascinating cowboy songs from Trails and Rails. No train songs this time, but some interesting originals that are sure to please fans of acoustic roots music.