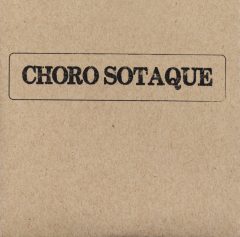 The trio of Choro Sotaque has released their first disk, an EP of five tunes that will leave many listeners tapping their toes and wanting to hear more of this band's charming and sweet music.
An earlier form of music than either samba or bossa nova, choro is comparable to its American counterpart: ragtime. You can hear the influences of European marches and polkas as well as lively African rhythms. Where ragtime is jaunty and occasionally ironic, choro is, as all of Brazil is, lighthearted and breezy. And there is much joy in this music. Also like ragtime — and part of the delight of this music — each choro composition comprises several different musical sections.
Guitarist Marcus Alcantarilla and percussionist Halysson da Silva are both from Brazil, and I don't believe that I'm wrong in guessing that they grew up playing choro. The rhythmic backup they provide is solid and filled with spirit. I think they could fall off a truck and not skip a beat. Stefanie Schmitz, who plays clarinet and saxophone, is American born, but her dedication to choro is apparent with this release.
Four of the tunes are pure choro, including the classic "Andre de Sapato Novo" (Andre and His New Shoes). Choro Sotaque includes a rock tune for the kids, Lennon and McCartney's "Day Tripper." The choice is a nice little surprise and kind of fun, but the simpler form, a variation of the blues, and simpler tune than the disk's previous compositions is an odd denouement to this lively disk.
The engineering and other recording techniques for this disk are top notch. Altogether a very good EP. I'm eager to here more from this delightful trio.