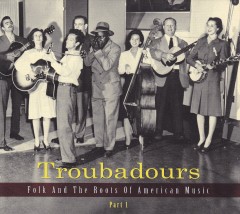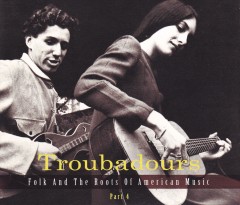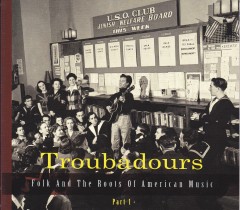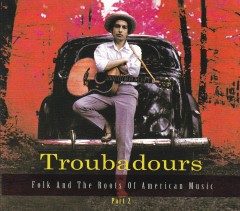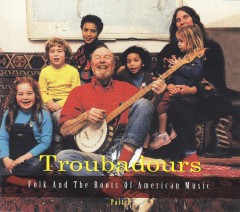 I'm glad to say that my dreams came true. I saw America changed through music.
– Harry Smith
It's easy to forget, living as we do in this post-post-modern world of ours, with the Library of Congress accessible through a few clicks of a button, that it's been a mere 500 years since the advent of the printing press. And it seems hardly a stretch to imagine how 500 years before that milestone, in a largely pre-literate world, that most people learned about history and/or current events through a roving band of minstrels known as troubadours. It's a vital oral tradition that continues to shape our contemporary culture in enumerable ways.
The timeless, archetypal truths to be found in the work of such rambling, gambling wordsmiths as Woody Guthrie, Hank Williams, John Prine, and scores of other itinerant singer-songwriters from centuries past, represent a deep cultural legacy deserving of every thinking person's attention. American folk music is an indigenous tradition that most musicians of the twentieth century have drawn from in some significant way – particularly in the wake of the game-changing example set by The Freewheelin' Bob Dylan LP in 1963.
Few record labels have a more expressive catalog of titles than Germany's Bear Family imprint, and they have done another beautiful job of capturing and contextualizing an important aspect of our musical history with their latest 12-disc set, Troubadours: Folk and the Roots of American Music. Bear Family's curatorial skills seemingly know no bounds with this comprehensive tribute to the proto-topical American folk song – a genre that eventually mutated into the equally narrative, but less political, singer-songwriter movement of the 1960s, '70s, and beyond.
Rounded up into reasonably digestible portions, and organized thematically in a more-or-less chronological manner, Troubadours covers a crazy patchwork of territory stitched across four evenly paced, triple-disc sets. It's an expansive enough journey that your head is likely to be spinning after 15 hours of cruising through the wide-open frontiers of the western psyche. Packaged in sepia overtones suggesting the turn of the century, each of the four segments has a colorful 100-plus page booklet with excellent and thoughtful liner notes by co-producer Dave Samuelson. Each artist is given a minimum of three or four pages to provide historical context. The mastering is consistently excellent, and if you're a fan of hearing the human voice stripped bare of any electronic gimmicks and accompanied by the sound of wire on wood, then Troubadours will certainly be your cup of tea – or flask of whiskey, if that's your poison.
Grass roots broadsides from the bohemian grove explore the classic themes of movement and expansion. Union songs and freedom riders find a number of singers proselytizing for communism, or at least for the common good. Others were singing for socialism or pacifism or sometimes for no particular ism at all – merely providing snapshots of a world gone crazy, with lost souls seeking, and occasionally finding, salvation. It's one long hootenanny, with tales of hard travelin', broken romances, death ballads, and the prose of non-conformity: social outcasts who married or exist outside of their class, religion, nationality, or race.
Through the act of singing and sharing songs from our collective history, communities of humans throughout time have frequently aspired to create something positive out of the lousy hand that life has seemingly dealt. There's a sense of urgency in many of these songs, with parables parading the ugly truth that any day now the atom bomb could fall, so we better correct the error of our ways and do it double quick – tomorrow might not be here to give us a second chance.
These songs are archaic and contemporary at the same time – commentaries on the human condition that are not bound by the hands of the clock nor a calendar page. If you just now dropped into the world and were interested in how we arrived from wax cylinders to Neil Young in five or six easy chess moves, Troubadours is a tremendous place to expand your edification.
In many ways Troubadours is the logical extension of Henry Smith's legendary 1952 compilation Anthology of American Folk Music – it's four separate packages that add up to a singular series. Whereas Smith's compendium draws upon recordings from the period of 1926-1933, Troubadours demonstrates how much of an influence the Anthology was to the emerging folk artists of the 1950s and '60s.
Part 1 starts with a trio of seminal sides from 1928, by the first family of American roots music, the Carter Family. As the set progresses into the '30s and '40s, it would be unfathomable to conceive of the 20th century without the contributions of such musical pioneers as Woody Guthrie, Cisco Houston, Leadbelly, Pete Seeger, and the Weavers. The Lomax Folksingers of Josh White and Burl Ives share the stage with the early influences of Goebel Reeves, the Dixon Brothers, and the Earl Brothers. As we slide into the 1950s ("The Peoples' Songs Movement"), the political ramifications of folk music as a cultural agent for change are clearly heating up in the songs of the Almanac Singers, the Union Boys, Sam Hinton, and Oscar Brand. "Songsmiths" are well represented by the likes of Jean Ritchie, Merle Travis, Bob Gibson, and Paul Clayton. The set concludes with the Gateway Singers and the Easy Riders representing the emerging Folk Groups movement.
"The Popular Folk Music Era" in Part 2 demonstrates how the clean-cut, collegiate folk movement revival was in full swing by the late '50s and early '60s, with the unquestionable stars of the era being the Kingston Trio, whose immense popularity in the cultural landscape was dominant until the Beatles, and the subsequent British Invasion, quashed much of their relevancy with teenagers and college students alike. Other suit-and-tie acts of the day include the Journeyman, the Rooftop Singers, the Limeliters, the New Christy Minstrels, and the Chad Mitchell Trio (it's a shame there wasn't room for the Modern Folk Quartet). Still, by 1963, Bob Dylan's example of penning his own songs was turning the folk music world on its head, demonstrating how you could deconstruct the idiom in order to literally write about anything in the universe. The inclusion of half a dozen Dylan tracks ably demonstrates how the Bard from Hibbing changed the face of popular music forever, just by penning "Blowin' in the Wind," "A Hard Rain's A-Gonna Fall," and "Mr. Tambourine Man." Dylan's contemporaries are represented by the stellar likes of Dave Van Ronk, Phil Ochs, Tom Paxton, Eric Andersen, and David Blue. The mighty Fred Neil and Tim Hardin's masterful tunes, toward the end of the set, hint at the emerging onslaught of singer-songwriters to come in the early 1970s.
Pure historical posterity in Part 3 dictates that a large wing of the gallery is devoted to such important folk mainstays as Pete Seeger, Joan Baez, and Buffy Sainte-Marie (they equally divide all of disc seven). The "Cambridge and East Coast Folk Scene" was immensely important to the development of the genre, made clear by the contributions of Ramblin' Jack Elliott, Tom Rush, Eric Von Schmitt, John Sebastian (with the Lovin' Spoonful), Jim Kweskin, and Geoff and Maria Muldaur. A subtle shift occurred when the '60s folk troubadour mutated into the singer-songwriter of the '70s, a cultural sea change expertly rendered with classic selections by Jim Croce, Harry Chapin, Melanie, Steve Goodman, and David Bromberg. This particular elbow of the river is remarkable for its inclusion of all 181/2 minutes of Arlo Guthrie's incomparable "Alice's Restaurant," which sounds better than ever, not to mention the stone-classic saga of the customs inspection challenges that await the international traveler in "Coming in to Los Angeles." The fruit didn't fall far from the Guthrie family tree, with the son arguably eclipsing the father's mercurial talents.
With the acknowledgement of Croce and Chapin and lesser artists like Jonathan Edwards ("Sunshine"), it's clear that Troubadours could have easily ventured off into James Taylor, Cat Stevens, CSN territory – or practically every artist who wound up on David Geffen's Asylum label: Jackson Browne, the Eagles, Tom Waits, Warren Zevon, etc. For whatever aesthetic reason, Samuelson and his co-producer Richard Weize didn't go that route, but plenty of commercial chart toppers are included on Part 4, with artists as diverse as John Denver, Kris Kristofferson, Gordon Lightfoot, John Hartford, Michael Nesmith, Harry Nilsson, John Prine, and Townes Van Zant all flexing their creative muscle. And yet it's the more obscure tracks by Jean Ritchie, Billy Edd Wheeler, Shel Silverstein, Ian and Sylvia, Malvina Reynolds, and Richard and Mimi Farina that are really startling in their quality, and taken together as a whole, Part 4 of the Troubadour series really demonstrates how the work songs and folk tales from 100 (or 1,000) years previously continue to thread their way into the narrative fabric of American (and world) culture. Everyone loves a good story well told, and this Troubadours series is teaming with them. While some of these selections may be strictly academic, if you're not already in possession of a library full of these classic masters, this is an amazing place to begin or continue your journey into the mystic/ mythic regions of American folk music. Ride on.
This feature also appears in issue #38 (Fall/Winter 2014) of Ugly Things magazine. Much appreciation and many thanks to publisher Mike Stax.