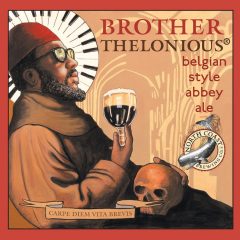 Today's breweries are quick to support worthy causes through the donation of their ale at the multitude of beer-centric events we see on any given weekend during the summer festival season. Some brewers have even gone so far as to produce a specific brew to benefit a person or cause, such as Stone's Matts Burning Rosids, which goes to raise money for Matt Courtright's family and chosen charities after a tragic accident last year. There are many examples of charity and community support that come from this thoughtful and creative bunch but one in particular comes to mind that has been supporting the jazz music community for almost a decade now: North Coast Brewing Company's Brother Thelonious Abbey Ale.
Brother Thelonious was introduced to the thirsty public in 2006. Plans for this traditionally styled ale did not initially encompass the philanthropic side it is now well known for; rather, the primary goal was to copy the style that has been made by the Trappist monks in Belgium for over a century; hence, the original incarnation of the brew was known simply as "Monk." It was Doug Moody's idea, NCBC's vice president and life-long jazz enthusiast, to continue in the charitable vein of their already well-established brewery and partner with the Thelonious Monk Institute of Jazz at UCLA, forever donating a portion of the profits from the sale of Brother Thelonious (re-named by Sheila Martins to honor the late great Thelonious Monk and draw a parallel between the beer and music) to their Jazz Education Initiative.
Monk's belief that the best way to learn jazz was from a master of music. This is manifested in the Monk Institute's practice of matching seasoned jazz musicians with young and inspired students. Musicians such as Herbie Hancock, Wayne Shorter, Dianne Reeves, and Ron Carter have collaborated with young students from the ninth grade up through college, focusing not only on daily music instruction and instrument training in public schools but also master classes meant for those serious and gifted enough to excel into the spotlight.
The same theory could apply to NCBC's brewmaster Mark Ruedrich and his approach to the classic beer style of Brother Thelonious, which takes lessons from the monks in the complexity of its brewing style much the same way young musicians take instruction from these jazz greats. At the time Brother Thelonious was created, Ruedrich had been brewing his own recipes professionally for almost a decade. Even with all this experience under Ruedrich's belt, it was a distinct challenge to attempt a style so classic and highly revered.
North Coast's donations to the Monk Institute have exceeded $750,000 over the course of their partnership. This has allowed the Monk Institute to continue such educational programs, free to the public, with the goal of filling the gap left by budget cuts while inspiring imaginative thinking, creativity, and positive self-image. They include:
– Jazz in the Classroom
– Performing Arts High Schools Jazz Program
– Commitment to New Orleans Initiative
– Jazz in America: The National Jazz Curriculum
– Bebop to Hip-Hop
– The Blues and Jazz: Two American Classics
– International Programs
From the positive recognition of NCBC's support of the Monk Institute came the opportunity to sustain jazz music on a whole new level. 2014 will mark the ninth year North Coast has sponsored the Monterey Jazz Festival, making theirs the longest continuous sponsorship. North Coast is the only beer sponsor at the festival and takes great pride in educating patrons of the event by hosting multiple beer tastings throughout the weekend. In addition to the Monterey Jazz Fest, North Coast Brewing is now an official sponsor of: Portland Jazz Festival, Oregon Coast Jazz Party, Redwood Coast Jazz Alliance, the Kansas City 18th & Vine Jazz & Blues Festival, the American Jazz Museum, the We Always Swing Jazz Series, Montclair Jazz Festival, Newport Jazz Festival, the Jazz Journalists Associations Awards, and the Northampton Jazz Festival. North Coast Brewing is proud to be involved in all things jazz!
There are many breweries out there that do good work. There are many kind-hearted and conscientious folks who care about more than profits and gladly participate in charity events in their communities. However, I can't think of one that is more wholly involved in philanthropic endeavors than North Coast Brewing. If you are working for and with North Coast, you must embrace their charitable involvement on all levels. It is essential to respect them in their belief that money doesn't trump the importance of education. Most important, the creativity and drive they are instilling in the younger generation is providing a more stable foundation for our world. The next time you see Brother Thelonious at the grocery store, local bar, or jazz venue think about how your simple action of sipping great beer can help support change. So raise your glass, it's a straight, no chaser.
www.northcoastbrewing.com/beer-brotherThelonious.htm
www.monkinstitute.org/