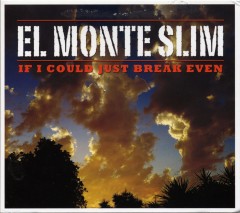 In 2010, El Monte Slim released an EP, Kill Myself to Sleep, that caught the attention of local alt-country listeners and snagged an SD Music Award nomination. That disc was a bare-bones recording with just vocalist/guitarist/singer Ian Trumbull and pedal steel/guitarist Joe Camacho in the studio; El Monte Slim is back with a full CD and a full band: If I Could Just Break Even, and a rhythm section of Ruben Ramos (bass/vocals) and Paul Brewin (drums) are aboard. The sound hasn't changed a lot, though; Ian Trumbull is the heart and soul, and his world-weary singing of classic country themes is captured in a loose, informal recording by Christopher Hoffee (cover story in last month's Troubadour). The lack of gloss translates to a vibe of friendly immediacy.
"AM Radio" opens the disc with a straight-ahead, up-tempo bit of nostalgia as Trumbull recalls his youth over the top of a simple shuffle. The first country tastes come with "Paid My Rent," when fiddle by Heather Vorwerck joins Camacho's steel accents. This one stands out, as Trumbull's vocal ("Gonna bury my money in the back yard/Where the weeds and the spiders they grow") hammers home the blue-collar, working-class spirit of this and other songs. He doesn't sound like the kind of dude who has rhinestones on even his best cat-clothes shirts.
A short, nifty swing number, "Jukebox," pays tribute to the Sunday-night club hangouts Trumbull loves to haunt; then "Have You Seen Her Lately" pulls out the boozy ballad stops. "She's drinkin' the wind out of her 90-proof sails," he bemoans to the bartender as steel licks wrap around fiddle to create a wistful feel, and his voice sounds like he has drained a few 90 proofs himself. "Turn For the Better" is one of the best tracks on the debut EP, and here it continues the string of ballads with clever, minor chord guitar figures setting the tone. Trumbull sings of slices of work-a-day life, like a broken accordion and beer stains, while a stubborn chorus insists it is all about turning it around.
One of the disc's highlights is "Against the World," which kicks up the beat and finds Trumbull telling the tale of memories of a past relationship when he and his lover were in an idyllic relationship. It is over now, but he is glad to have had the ride while it lasted. Another good country-rocker follows, "Whiskey Girl," built on a bluegrass chassis and giving the cats on hand a rare opportunity to do some sharp soloing. The disc closer, "Break Even," is a full-band rocker that sounds like it was recorded live in the studio; it not only shows the band and Trumbull's potential to push the envelope, but is yet another catchy three minutes of tasty guitars and blue-collar country attitude.
If I Could Just Break Even establishes the sound of El Monte Slim through a set of strong Ian Trumbull originals and will win the group a new flock of fans.