LOU FANUCCHI: Café a  la Mode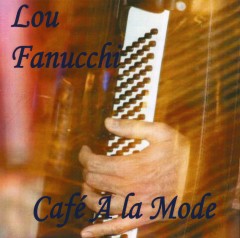 For decades accordionist Lou Fanucchi has distinguished himself as one of the most accomplished and versatile musicians of southern California. San Diegans might be familiar with his klezmer performances with Hot P'Stromi, his appearances with the Tex-Mex band Mex, or his solo performances at several local restaurants. From tango to Cajun and zydeco, to polka, and to classical, if there is an accordion to be found in the music, Lou Fanucchi plays it and plays it well. He even rocks out from time to time.
For eight years Fanucchi studied classical accordion with one of the greatest maestros of the instrument, Anthony Galla-Rini. He also studied jazz with the well-renowned Frank Marocco. He has performed with the Gipsy Kings, Bob Geldorf, Bette Midler, the San Diego Symphony, Luciano Pavarotti, and famed accordion slinger Myron Floren
With his latest CD, Café à la Mode, Fanucchi serves up a taste of France with15 solo performances of popular French tunes, musette, jazz, and Gypsy jazz. The extraordinary musicianship and often dazzling performances on this fine selection of tunes make Café à la Mode a highly recommended CD.
Anyone familiar with Gypsy jazz or anyone who might be a fan of any band with the name "The Hot Club of [fill in the blank with a locale]" will be familiar with many of the musette and Gypsy Jazz hits on this disk, such as the classic Murena/Colombo collaboration "Indifference" or the international 1950s hit "Under Paris Skies." Fanucchi even includes a brief rendition of the Smoke on the Water of Gypsy jazz, Django Reinhardt's "Minor Swing." Fanucchi also plays "Made for Wesley" by Jimmy Rosenberg, Angelo Debarre's "Swing Gitan," as well as other more recent additions to the Gypsy jazz songbook.
Fanucchi adds four of his compositions to the CD's menu. Noteworthy are "Sunrise with Anna," a sensitive composition that brings out the sweetness of the accordion, and "Stompin' at the Casbah," which is jaunty and fun. If an accordion could smirk, it would be during a performance of this little tune.
My favorite selection on the disk is the medley Fanucchi makes of "La Vie en Rose" and the waltz from the movie Amélie. The Edith Piaf's signature song and the movie theme are delightfully interwoven. It almost sounds like Fanucchi actually surprises himself from time to time as he melds the two French themes.
Recorded at Tripp Sprague Studio, the quality of the recording of this disk is top notch. All the distinctive timbres of the accordion are captured, yet I heard no mechanical sounds, the clickity clackity and often distracting sounds that you can sometimes pick up on recordings of the accordion.
If you're any fan of Gypsy jazz, or if the accordion is one of your favorite instruments, or if you just like to hear wonderful music that is played well, you should certainly check out this latest release from Lou Fanucchi.