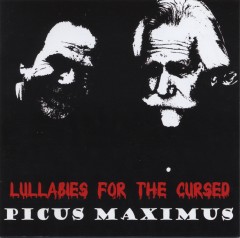 The brain-child of monster movie buffs Rick Sparhawk and Jim Soldi, Lullabies for the Cursed is an homage to classic horror films set to groovy blues rock. On paper that might sound like a far-fetched and hare-brained creative endeavor. But this is no comedy album or Dr. Demento Halloween Special re-hash. It's a self-described "Sonic Tribute to Drive-in Monster Movies" that succeeds on its own terms, well beyond all reasonable expectations. Sparhawk and Soldi's sincerity, singular vision, and stubborn dedication to their beloved subject matter elevates this album far above novelty record status, forging ahead into uncharted territory that Picus Maximus can call their own. Though they are not above the odd pun or seven, the lyrical content is surprisingly deep. No small feat when your subject matter includes Godzilla, the big bad wolf, the Prince of Darkness, and Frankenstein!
Aside from the obvious lyrical references to B-movie vampires, aliens, and other be-fanged baddies, there are some great musical puns here as well from the album-opening pipe organ intro reminiscent of the Phantom of the Opera to background vocals comprised of Wolfman-like howls of "Ow-ooo!", and loads of howling and screaming amidst a slew of menacing minor key vamps. (Pun intended.) In addition to the bluesy groove of "She Calls Out His Name,""Ghoul's Mardi Gras," and "When the Moon Goes to Shinin'," Picus Maximus mixes it up with tastes of heavy metal ("New World Order"), bad dream electronica ("Alien Probe"), and the Transylvanian country ballad "Vampire's Kiss." Even the overall pacing and sequencing of the album flows smoothly, making this mix of genres and ominous subject matter go down with an almost-cinematic feel that may or may not have been intentional but it works!
Though the music here doesn't sound at all like the Surf Punks, this record reminds me of those '80s rock jesters more than a little bit. Perhaps it's because, like the Surf Punks did before them with surfing and punk rock, Sparhawk and Soldi have taken the thin slice of pop culture arcana that they hold dearest and made it their life's work to explore, inhabit, and re-define it and themselves. There are quite a few laughs here, but that is actually a very serious accomplishment for any artist. It just goes to show that at the end of the day, whatever it is you consider your labor of love, if it's done with passion and grace it can and will stand as a sincere artistic statement.