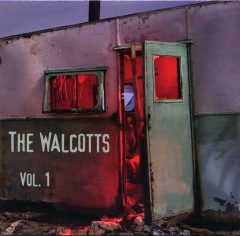 The Riders built up a sizable repertoire of roots music and a local fan base (releases included 2010's Crown City Sessions). The sound of front man Tom Cusimano and drummer Jimmy Olsen, violinist Devin Shea, and keyboard player Neil MacPherson showed a heavy influence by The Band. Now, the Riders are no more, but these four members are the core of The Walcotts, who now hail from LA and base their name on a Band song. Their debut EP is Vol. 1.
With Cusimano writing or co-writing all four songs, and providing guitar and distinctive lead vocals, the sound here is Riders plus the trimmings: mandolin, steel guitar, female backing vocals, piano or organ, even occasional trombone. The music still maintains the rustic vibe that worked for the previous incarnation — Cusimano sings like the ghost of Levon Helm, and songs like "Should Have Been Me" mix six or seven instruments together playing a great hook, without crowding one another out. At various points tinkling keys poke through, at another, its the mando; all the while trombone giving the song a Crescent City bottom. On "Instead," Cusimano trades phrases with Emily Alfstad, "Something's changed, maybe my age/ We've somehow grown, but somehow remained the same," as pedal steel swells and organ chords provide the dynamic framework on which they hang the melody. "Staring Back" has harmonized lead vocals, plenty of pedal steel and keys, and it clicks.
Vol. 1 ends just when listeners are getting a taste of The Walcotts' potential, but it's a taste that will have them back for more.