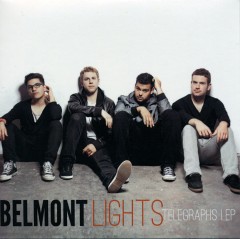 Local indie rockers Belmont Lights used to be the Pennant, with a couple of EPs, before their new name and new debut EP Telegraphs. More than the name has changed: the new disc's five tracks go for a big sound, piling on multiple layers of synthesizers, digital effects, echo, and soaring backing vocals over the top of lead vocal/keyboardist Isaiah Blas and guitarist Casey Peek. The effect of the LA-recorded disc recalls arena rockers Coldplay: they very sound good if a bit overproduced in spots.
The songs are co-written by the entire band, and "Halfway" opens with Blas singing of the frustration, unable to close the deal with his lover. His voice is fine and the tune has a hook, but there are so many added tracks of sounds and instruments that he can barely be heard on the choruses. "Young and a Memory" has the quiet verse/big chorus structure, bombast, and drum beat of Coldplay's "Paradise." It doesn't lift the melody, though, and while the listener still gets a dose of musical dejá vù, it works well as a song and is a disc highlight. The same formula is followed for "Battle," as Blas sings uplifting lyrics that are available on the band's website. "Let Me" is almost stripped down, as bassist Jed Peek and drummer Oscar Gonzalez can be heard up front, Blas urges his lover to accept him, "And maybe it's not too late/ To make everything all right."
Telegraphs is ambitious, interesting music, a great listen, and Belmont Lights clearly have something to say.