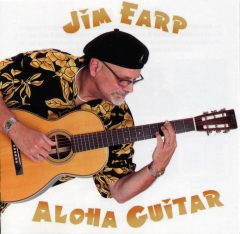 Aloha Guitar is the new CD by San Diego acoustic guitarist Jim Earp and, cutting to the chase, it is a masterpiece of the form. Earp has been a nationally recognized finger-picking guitarist since the mid-'90s and has a considerable local reputation on both electric and wooden instruments; his many albums include Guitar Uncovered from 2007. He is a "do-it-all" performer whose style blends elements ranging from Chet Atkins to Michael Hedges, and on the new disc in particular he shows his versatility using Hawai'ian alternate, "slack key" tunings. It's the kind of music that the artwork insert lists the songs by title, then by the six-key tunings of the guitar strings.
"Kahuna" is one of ten originals on the disc, most with Hawai'ian names and inspirations. Earp uses slack-key tuning on this tune (and several others) to facilitate his laying down a low, steady bass line while simultaneously playing short chords on the treble strings and picked patterns that slide up and down the fretboard, telling the musical story of each song. He uses the same approach on "Makani 'Olu 'Olu," which means "Pleasant Wind," beautifully weaving three hypnotic melodies together. The timbre of his solo guitar is so deep and rich, his technique so fluid and clean, that the technical wizardry almost gets taken for granted. Almost.
The first cover is "Ob-La-Di, Ob-La-Da," and the Beatles standard is transformed into a toe-tapping harmonic dance. Earp returns to the islands mode for "Mele Ka Lei Puka," a highlight showing his ability to capture a native Hawai'ian vibe, as the song seems soaked in a Pacific sunset, named for a puka shell necklace and capturing its essence. Atkins fans will be on familiar ground for "Wheels," the closest to a country-picking tune here, but like all the others, played crisply, with pristine touch. Likewise, a superb cover of "Spanish Harlem" uses its very loose tuning to get a striking bottom end as Earp's picking up top both lays down the familiar chords and tasty lyrical riff. The air gets filled with notes on "Skyla's Waltz," as Earp uses 3/4 time to convey a baroque feel, and as usual has no trouble keeping several musical balls in the air at the same time; it's another highlight. Earp has recorded devotional music in the past, and here includes "How Great Thou Art," the good, old time hymn is given a reverent reading and Earp's sound on this tune and a few others here has so much going on, and is so full, that it brings to mind both harp and harpsichord. He gets a lot out of six steel strings, a wood box, and no overdubs.
Aloha Guitar is a generous helping of beautifully played music and a must-have for acoustic guitar lovers, and it is also a primer for slack-tuning guitar, performed by a master.