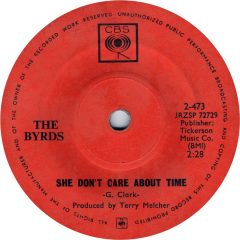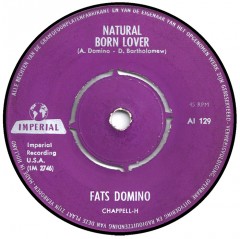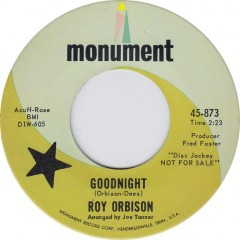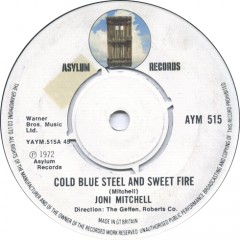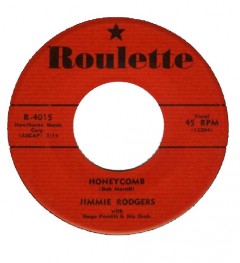 I "heard it on the X." For real. In 1960, at age 10, our family was moved to Yuma for nearly a year, and three things still stick in my memory: the heat, the old mahogany console radio next to my bed, and the 50,000-watt station that broadcast from Mexicali or thereabouts, playing wall to wall music by Elvis, Roy Orbison, Fats Domino, the doo-wop groups, Little Richard, Patsy Cline, and Johnny Cash. Wolfman Jack was a DJ, and they didn't play the "sanitized" music. It was old school music, and by the time I moved back to San Diego at 11, it had its hooks in me and they're still there.
Fast forward a few decades and over 35 years of record and CD store prowling, garage-sale Saturdays, and judicious allowance spending have resulted in a personal music collection with a focus on old school rock, blues, and British Invasion music that spills out of my man-cave/den. In the process, I have constantly found certain B-sides, great ignored album tracks, and other songs and discs that were overlooked or otherwise slipped under the radar. Now, in the age of the download, it's a breeze to fill a gap in a playlist of some of these artists; it seems no tune is more than a few clicks and a buck or so away. Here are several I have found along the way that may serve as suggestions for other people who like old classic rock, have the music bug, and may want tunes that aren't on the customary "greatest hits" packages:
"Natural Born Lover" was a B-side released in late 1960 by Fats Domino (and played plenty on the X). Where most of his singles were two-minute exercises with fellow genius Dave Bartholomew's horn section playing the bridge, this tune is twice as long and has the Fat Man displaying his lightning keyboard chops and blues trills. It's almost hypnotically good.
The early Beach Boys had two sounds: soaring Brian Wilson harmonies on tunes like "In My Room" and surf/car rockers like "Fun, Fun, Fun." A good song from the March 1964 album Shut Down, Vol. 2 is "In the Parkin' Lot." It starts and ends with slow, glorious harmonies that switch into and out of a catchy rocker about cars and girls, complete with clumsy high school lyrics. Another Beach Boy tune to seek out is the B-side to Holland's "California Saga"; "Funky Pretty" is a rare slice of Brian Wilson in the 1970s and is one of their best songs from that decade.
"Goodnight" was released in early 1965, just after Roy Orbison conquered the world with "Pretty Woman." This tune is omitted from most of the available compilations and greatest hits packages, it went only to number 21 on the charts (a higher spot than "Blue Bayou," "Leah," or a few others that usually make the cut). It is a return to the operatic build-up style of many of his earlier hits, the final high "goodnight was just a lie" line is good for goose bumps. There is a live version on many websites; the studio version is better.
The psychedelic age started with Bay area groups like the Sons of Champlin, who cut a song called "Sing Me a Rainbow" in 1965 that went nowhere. Too bad; it is a catchy winner, and if looking for it, make sure it isn't an "alt vocal," the good one is from the Fat City album. Jefferson Airplane followed up their top 10 hit "White Rabbit" in 1967 with a B-side titled "Two Heads," which is a sitar-fueled acid anthem that, while similar, makes "Rabbit" seem like child's play.
While some of their B-sides were filler junk, the Byrds also managed some minor classics. The chime rockers "She Don't Care About Time" and "It Won't Be Wrong" are well-known to Byrds fans and stand up as great mid-'60s folk rock on their own. "Time" wasn't released on an album originally, so it is a bit harder to find.
In December 1965, Bob Dylan released "Can You Please Crawl Out Your Window" on the tails of "Positively Fourth Street" (when I bought my single of "Fourth Street" the song on it was "Window," making the long-gone 45 collectible and worth hundreds of dollars). The song flopped, not because it wasn't good, but perhaps because it had a music riff very similar to "Like a Rolling Stone"; its lyrical imagery is straight out of the Highway 61 period. It never appeared on an album until decades later. There are two versions out there: the most commonly available is from the Biograph set and is the "official" 1965 release, featuring The Band backing him. My erroneous 45 had a slower alternate take, which really takes searching out and can be heard behind some YouTube plays and sounds a lot like the instrumentation on "Rolling Stone."
Jimmie Rogers disappeared after a few hits like "Honeycomb" in the late '50s. "It's Over" was a 1966 country/folk release that is haunting, lovely, and worth a little bit of looking for.
Though not a B-side at the time, the 1967 Lovin' Spoonful track "Coconut Grove" from their Hums of the Lovin' Spoonful album is a soft, catchy delight with a jazzy feel. Most Spoonful fans love it, and non-fans usually do too after a listen.
Fans of garage rock and Jimi Hendrix (and who don't have the track already) will find both on "The Stars that Play With Laughing Sam's Dice," a 1967 B-side that you won't find on any Hendrix greatest hit discs. It is early Jimi, swamped in reverb, with a noisy crowd in the studio; what stands out is his earliest use of wah-wah pedal and an amazing, scorching guitar solo that dominates most of the song. Then, of course, the name abbreviates to "STP with LSD."
The early, pre-Buckingham/Nicks Fleetwood Mac with star guitarist Peter Green were big in England but couldn't get arrested in the US, though their work is coveted by blues musicians young and old. While most of their music is stripped-down blues, a great tune for non-Mac freaks to seek out is "Albatross." This tune is a captivating, blues-based instrumental that was a British number one in 1969, may have inspired the Beatles' "Sun King," and is found in a great British CD called Pious Bird of Good Omen and on American compilations.
The Rolling Stones made so many good B-sides in their early, good years that most are familiar, like "Play With Fire," "Dandelion," and my personal favorite "No Expectations," which featured Brian Jones' superb acoustic slide guitar and Nicky Hopkins piano. One striking tune that Jagger and Richards wrote, from a movie soundtrack (Performance), and released in the 1970 heyday of glitter rock, is "Memo from Turner"; it features classic Jagger growling and standout electric slide guitar by Ry Cooder, and can be found on Stones compilations.
Overlooked and B-side Kinks songs that need to be heard could fill an article all by themselves. Aside from the "You Really Got Me" clone "I Need You" and the once-obscure "Sunny Afternoon" B-side "I'm Not Like Everybody Else," which every Kinks fan has long since memorized by heart, there are plenty of other choices. The 7/69 B-side of "Village Green Preservation Society" (and track from the album of the same name), "Do You Remember Walter?" has the kind of catchy, music-hall whimsy that Ray Davies built his reputation upon. The Kinks didn't abandon muscular, power-guitar rock in their "klassic" period, though; the 1970 album Lola versus Powerman and the Moneygoround, Part One was trashed by critics for its lyrical themes, but layered guitars and charging  time signature on the track "Powerman" is, well, very powerful. It is one of the three Kinks tunes on the Darjeeling Limited soundtrack.
Jazz isn't a singles medium, but there are some gems that get overwhelmed by prior or subsequent music or overlooked. Against the backdrop of the earliest birth pangs of fusion jazz, John McLaughlin, after his gigs with Miles Davis and overhyped jam with Hendrix, used Jimi's then-drummer Buddy Miles and Larry Young from the Tony Williams Lifetime for "Dragon Song," from the 1970 Devotion album. McLaughlin hated the disc, but despite Miles' non-jazzy drums and an über-muddy mix, "Dragon Song" has machine-gun jazz guitar barrages unheard by anybody at the time; the title song from the album is also killer. The Mahavishnu Orchestra soon followed, with music that followed this blueprint.
The Steve Miller Band had two commercial peaks – in the late '60s when it was part of the San Francisco acid scene, with three top 25 albums and numerous tunes on FM radio, then from '73 to '82, when a newer (more commercial) style sent four out of five albums to the top three. In between these was a song from 1972 called "Fandango," which not only featured what probably was Miller's best ever guitar solo, but also maybe the best example of his early, dreamy harmonies with sharp drums and keyboards; it's a must for Miller fans.
Also, in 1972, a great song that was an A-side by Joni Mitchell came and went without much of a splash. From her transitional For the Roses album, "Cold Blue Steel and Sweet Fire" was a superb track, probably the best on the disc, and shows Mitchell nudging her folk roots into jazz territory.
Gordon Lightfoot usually has some great album tracks; two of the best are "The Soul Is the Rock" from his 1975 Cold on the Shoulder album, and "Spanish Moss," which was a European B-side and album track from Summertime Dream in 1976. Actually pretty much everything Lightfoot recorded up to the early '80s is almost uniformly good, but "Rock" is a marvelously involving song, and "Moss" recalls earlier ballads like "Beautiful."
"Silver Springs," the Buckingham/Nicks Fleetwood Mac's 1977 backup to "Go Your Own Way" – and arguably a better song – was not released on an album for decades afterward, and then only on certain compilations.
By the late '70s singles and their B-sides were fading, the album era was well underway, and if a song was decent it was on the radio (and so were a lot of other songs). When a song escaped notice, it was more than likely an A-side that just didn't catch on, and with the advent of CDs in the early '80s, singles were rare and only had one side. And of course, there are hundreds, or thousands, of really great tunes buried on otherwise mediocre, or even good, albums that never reach more than a few ears. Likewise, many superb artists (Richard Thompson immediately comes to mind) who play music with an old-school edge and place four or five gems on every disc they release, but never seem to reach a big audience. But good music is out there, and worth putting in a bit of footwork at times to chase down. While not everyone has the same feel for it, generally good is good, and you know it when you hear it. I know I miss the "X"; it was all good.