TOM CUNNINGHAM: If I Could Hear from Heaven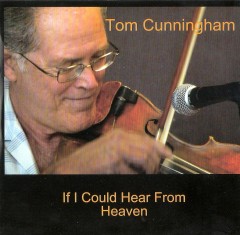 Tom Cunningham's solo bluegrass Gospel album, If I Could Hear From Heaven, features the local jack-of-all-instruments playing and singing ten acoustic songs. He has been a regular sideman with several bands, including the Clay Colton Band and Lighthouse, and has his own TCB. He not only plays guitars, mandolin, fiddle, bass, as well as singing lead and harmony vocals but he also pristinely recorded the disc in his home studio.
The title tune is a Cunningham original, singing in 3/4 about hearing his departed parents from their new digs in heaven. Like the later tracks, it touches on most of the keystones of the genre-lessons on the old-fashioned Christian life, dedication to family, and a life of homespun humility, delivered with the smooth assurance of an old pro on anything with strings. "Changed" builds a catchy country blues guitar melody driving a message about spiritual renewal, a highlight. After the folk-rock "Grace That Is Greater," Cunningham picks up the pace with some sharp guitar and mandolin lines in "He'll Make a Way." The tunes here jump genres a bit, and are by nine different writers, but the flavor is consistent and reverent-like The disc wraps with the traditional "Where the Soul of Man Never Dies," another highlight sung entirely in tight harmonies, punctuated by Cunningham's ace mandolin and guitar scales, a great way to finish this fine collection of spiritual music played with acoustic flair.