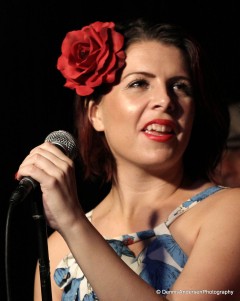 What are the qualities that most define a successful artist — other than raw talent, perseverance in the face of overwhelming oddities, and the focused discipline required to master his/her craft? Well, some might insist that the most crucial element in defining an artist's mettle is the ability to form a connection that results in an unshakeable bond with the audience to enter into a sacred agreement that when we commune together, both of us will give our all to one another. If you are willing to invest the time and the energy, and to care enough to pay your respects by being present, I will in turn give back to you all that I have of myself through my art. It's a pact that consummate artists have to earn with their audiences.
And because proximity is of such supreme importance, I say count your blessings and thank your lucky stars because if you enjoy heartfelt music that reaches in and stokes your soul by reflecting a love for life and the joy of existence, it's inevitable that you're going to discover why San Diego audiences are falling in love with the uninhibited grace that is Whitney Shay.
Born on September 16, 1985, it would seem that Ms. Shay was destined for show business from the very beginning. Her mother introduced her to the stage at the age of three — an arena where she is clearly in her element.
"I'm a native San Diegan, as rare as a Unicorn they say. I was born in La Mesa and my parents kept moving farther and farther east. And now my mom and dad have a 40-acre ranch out in Alpine — down a dirt road, out in the sticks, where they generate their own power.
"I grew up with animals, horses, 4H, and FFA (Future Farmers of America)," she says. "My mom had a petting zoo business called Party Animals, and a horse drawn carriage business, too, called Enchanted Carriages. I grew up helping with the petting zoo, going 'round to different special events. And the carriages — we did weddings and then at Christmas we'd do hayrides, caroling, and all of that stuff."
After an early introduction to show biz, Shay graduated from high school in 2003, going on to earn a bachelor's degree in theater from San Diego State University. She developed her performance chops by appearing in numerous stage productions, including three different runs of Cole Porter's Anything Goes and a season performing Smokey Joe's Café.
"I just did a show in January in Los Angeles called The Wild Party. It's an off-Broadway musical that was released in 2000. They actually did two versions of the same show; for some reason two different composers wrote two different musicals based on that same material. It was a long-form poem from 1928 by Joseph Moncure March. One version went to Broadway and the off-Broadway version is the one that we did, and I think that one has the better music and a bit more of a cult following. Idina Menzel, who was in Wicked, was in the off-Broadway version."
Along with her passion for acting, Shay also continues to develop as a musician and as a singer. Her tastes in music are broad and eclectic, admitting that she's not "into current pop culture at all — I don't have a TV, and the only time I listen to the radio is in my car.
"I grew up in East County listening to the '90s country that my mom liked and I've been taking voice lessons since I was 12. And since my degree is in theater I've listened to a lot of musicals. But musical theater is so competitive. Six years ago my goal was to go to New York and appear on Broadway as a working actress. But after graduating from college I got married to an actor and we ended up moving to Denver where he was from, and then we promptly split up.
"We were only there for three months. But it was great because I made a lot of contacts. And I made a couple of short films for the 48-Hour Film Project that won some awards. The first one I did was in August of 2008, called Is the Noise in My Head Bothering You? [where she is billed as Whitney Shay Stapp]. Then I moved away and our film won for Best Film in Denver. They ended up picking the top ten films in the U.S. and our film was picked for the Panasonic HD Shoot Out. They lent us a HD camera for a weekend and we made another film; I flew out to Denver in November to do that one where I'm actually the lead. That one's called Quillions and it also ended up winning for Best Film in Denver. So we won the camera and our film was supposed to go to the Cannes Film Festival but for some reason that didn't end up happening.
"So when I left Denver I came back to San Diego and at that point I tried to figure out what I was going to do with my life. And I decided I wanted to do music and start singing with bands. So I went on Craigslist and I found a piano player who was interested in forming a duo. We called ourselves Shay La Vie. I only started playing music in October of 2009. Around that same time I started swing dancing too so that tied it all together, as some of my first gigs were singing at swing dances, then playing three nights a week at the Gaslight Speakeasy.
"Swing dancing is very interesting because I feel it's a lot of — for lack of a better word — nerds. It's not a popular social culture. It's funny; there's a lot of somewhat socially awkward people, but there is a community. For me, I'm a dancer. I've done a lot of different kinds of dance. So the dance itself is what attracts me, but the social aspect is amazing. As they say: like attracts like and I've met some of my best friends through swing dancing, but I also see the exhibitionist aspect. It's the same thing when I'm around theater people now. I didn't know what it was like when I was doing it all the time, but now when I go out to dinner it's like look at me, look at me all the time, and it's a little exhausting trying to put on this façade all the time instead of just relaxing into who you are. But I think that once you get past all that and enjoy the dance for what it is and enjoy the moment where you're connecting with another human being, that's a very vulnerable thing. To be able to be that close and have that physical contact with somebody. It's an exciting thing, because I think we're so deprived in general of human connection and I think men especially in this day and age. Maybe that's why men are so excited about sex because they don't get that. Women, we're all touchy feely. So I think dancing is an opportunity to get past that repression."
That delicate crossroad where Shay found herself between the various disciplines of musical theatre, dance, and becoming a working musician is reflected by how much she learned in the first few years of singing in clubs around town. "Growing up in theater I never really had to improvise before in music," she says. "But music is different every night and I play with different people all the time. To be able to direct a band, I never had to do that before, so when I first started it was a little scary for me because I didn't really know what to do. I guess I'd just been more of an interpreter or a mimicker. Doing theater is [much more static] but in jazz, and music in general, it's wide open. I didn't really understand that when I first started as a musician and it took me a while. But what really helped me was gigging three nights a week, four hours a night. I cut my teeth doing that, I learned a lot of material, and got good really quick and started playing with these amazing musicians. Archie Thompson, who produced my album, plays every instrument and his brother Mike plays with the Eagles."
Ever since Shay took up singing professionally her calendar has been booked non-stop, especially since the release of her impressive, retro-ish debut from 2012: Soul Tonic. Shay proves herself to be a unique stylist and interpreter of songs from the classic '50s/'60s genre of soul, R&B, blues, and jazz. And try as some might to compare her to other vocalists, the only person that Shay sounds like is herself.
"People always say that my music is like Amy Whitehouse or Adelle. But that's the generic thing that people do when they think 'throwback.' Because there aren't that many popular artists today whose material sounds old school."
Especially as we collectively get further and further away from the source of all those classic cultural reference points, Shay's music becomes even more of an anomaly as she devotes herself to going back to the true sources of American roots music. "I was listening to Robert Johnson before I ever heard Eric Clapton," says Shay. "I know a lot of people who got into the blues after hearing Stevie Ray Vaughan. And when I listen to that stuff after hearing the originals, it just doesn't move me the same way. I'd rather listen to the earlier stuff.
"The funny thing is I missed the whole classic rock thing, because I didn't grow up with it. I've listened to all the artists that inspired Led Zeppelin — like "I Can't Quit You Baby" by Otis Rush — that video where he's playing on the American Folk Blues Festival (AFBF). I love that clip and I've played it for so many people and I say 'listen to this, 'cause this is the shit!' Another perfect example is Janis Joplin, who a lot of people love, but they don't realize how much she drew from Big Mama Thornton.
"Another reason why I listen to a lot of the old music is because I like good singers. With Auto-Tune and all this technology, there are not a lot of good singers out there. There's a video that I'm obsessed that's also from the AFBF, featuring Helen Humes, Willie Dixon, Brownie McGhee, Sonny Terry, and T-Bone Walker called 'The Blues Ain't Nothin' but a Woman.' I love that one.
"Etta James is my all-time favorite singer. I couldn't put a word to it about what really impresses me so much, but somebody said it was 'the sincerity of Etta.' That's exactly what it is for me. The thing that I love about Etta is that she sang all styles. She sang some standards, she sang blues, and she sang R&B. Everything she sings just makes me feel something. And that's what attracts me to singers in general. I love a lot of African-American vocalists. Basically my dream in life is to sing like a big black woman." [she laughs]
"I did a cover of a Candi Staton song on my album called 'I'm Just a Prisoner (of Your Good Lovin').' And somehow, through the power of social media, she got a hold of my version and she posted it on her Facebook, saying 'I love it when young artists record my old songs.' She really dug it and I love her voice.
"I love Big Maybelle, Ray Charles of course, Sarah Vaughan, Sam Cooke, SAM COOKE, Sam Cooke, Sam Cooke, Sam Cooke. Ruth Brown. But I also love Julie London."
"Another of my favorite male singers is Jackie Wilson. Archie and I have these conversations and we talk about how Jackie seems like he was kind of mismanaged because a lot of his material is really 'white bread.' But his voice! Talk about a voice. I listen to him doing '(Your Love Keeps Lifting Me) Higher and Higher' and he's dancing around and he's just so effortless, watching him dance and sing. Man, they don't make people like that anymore!"
And why do you think that is?
"I don't know! I think that's probably why I like movie musicals so much because you have performers who are triple threats. Like Gene Kelly — talk about a performer who could do it all. He was an amazing dancer and an amazing performer. You watch him and you can't take your eyes off him. When people have that level of talent, it just really moves you in a way.
"I've always loved the idea of being the Jessica Rabbit character — I've always been attracted to playing the sexy, sassy roles. I guess why I'm attracted to the older blues stuff is because when I listen to all those songs from the 1920s, these women were just getting the right to vote and making a lot of progress and the music is pretty hilarious in how it's pushing the envelope. It's still really true today."
Do you identify personally and get inside the songs as if they were speaking of your own psyche and your own heart?"Yes. I had a friend tell me a couple of years ago I should never sing any songs that I don't love. And I think that's true. If I hear lyrics that speak to me in some way, that probably means that I'm going to do that song. That's why I've been trying to write more lately, over the past few months."In addition to her love for theater, Shay continues to broaden her musical horizons and diversify her musical portfolio by gigging regularly, singing with Robin Henkel's phenomenal blues band, and fronting the big band ensemble the JazzKatz Project. That's, of course, when she isn't booking her own gigs and creating her own productions, such as the tremendous sold-out tribute to Julie London last month at 98 Bottles where she performed with guitarist Jaime Valle and bassist Jodie Hill. As she follows triumph after triumph with local audiences, Shay continues to keep her ambitious eyes on the horizon of what promises to be a busy summer.
"This month is just an average month for me, where I'm performing between 15 and 20 gigs. In May I'm doing the Gator by the Bay festival [read about it on page 4], as well as going out to Palm Springs for a weekend to play with Robin. I like to have a lot of plates spinning at once. I have a musical revue that I'm putting together in June with my friends Adam and Chris [who's head of the San Diego Opera Chorus]. We're putting together a musical revue, writing a loose script, and putting together all kinds of songs. It's called The Cornycopia Cabaret," and [adding with a chuckle] no, I did not name it."
"It's confirmed that I'm doing Cabaret in August at 98 Bottles. We're basically doing a concert version of it, but also with selected dialog. We'll have a band and I'm going to be Sally Bowles. I was her on Halloween a couple of years ago so it will be really fun."
In June, Henkel will be traveling to Europe to play some shows with drummer Ric Lee (of the Bayou Brothers band) and the notion of getting out beyond the environs of Southern California gets Shay excited. "Hopefully, we're going to go over together next year. I've been talking about it with Robin for a while. I'd really like to go to Europe but I'm just trying to figure out the people to go with. I'm supposed to go on a vacation with my boyfriend in September. We're planning a trip right now. I'm dying to go to Rome, because I'm a big art history buff. We're going to Rome, Florence, Venice, Paris, and London for three weeks. I'm really excited."
Nothing broadens your perspective like traveling.
"Oh, I agree. I'm dying to go play elsewhere, because I really haven't had the opportunity to do that yet. I really want to just go and see things. But the idea of doing a European tour freaks me out a bit because right now I do all my booking myself, and trying to do that overseas where I don't know anyone, it scares the shit out of me.
"But just the idea of doing it the first time and trying to figure out what instrumentation to bring, too. I'm not a solo artist — I wish I played an instrument well enough to support myself. But probably the best idea for me would be to take someone like Robin or take an instrumentalist, kind of a band leader and then get a pick-up band or a rhythm section over there. The problem is I have musical ADD so trying to figure out what I want to do is the other problem."
Musical ADD?
"Well, I like jazz, I like blues. Everyone always wants to pigeonhole you into a genre. I understand it from a marketing perspective, too, but my problem is trying to figure out what I want to do. I know writing more original music will definitely help that. I've been writing for the past couple of months, getting together another group of songs, so I have more original material to pull from and something to promote when I go over there, too.
"I think a lot of people in general are numb and I think that music and theater and the arts are a way for us to feel something. I made it my new year's resolution a couple of years ago to feel as many moments of electricity as much as I possibly can, and I try to do that when I'm on stage, whether I'm acting or singing. I've been on stage since I was three and it's almost as natural to me as having a conversation. And you don't realize how it affects people — when people come up and talk to me afterwards and say, 'Oh, I love that song.' You forget about that when you're in the moment and you're doing your thing; you forget about that reaction you have when you hear music and see art that moves you. If I can attempt to create art that's even half as good as the people I idolize, then that's what life's about, right? We're given this talent to use and not squander. So if I go out there and 'kill myself' doing 20 gigs a month, I feel alive. And if other people enjoy it too, I feel I'm doing my job.
"And that's why I think writing music and uncovering that layer within myself will maybe dissolve the fourth wall, as we call it in theater, and allow people in even more. Someone once gave me a compliment and said, 'If I was going to tell somebody about you, I would say that you're really genuine.' I thought that was the best compliment that I ever heard in my life, because that's something I strive to do. I just want to be myself all the time and not have an air or a falseness. And I think that as human beings we're always trying to connect with each other as much as we can and so if I can do that through music or through making friends, and be the most authentic person I can be — then everything else is easy breezy. If I can discover that now and cut through all the other bullshit — here's music, here's performance, and this is what it means to me, and you take something from it and that inspires you to do something and find your passion, then that's a wonderful thing."
See Whitney perform this month at the following shows (see the calendar for details.)
May 2: JazzKatz Project w/ Whitney Shay, Westgate Hotel and later Whitney Shay at the US Grant Hotel
May 3: Whitney Shay Quartet, Gaslamp Speakeasy
May 4: Whitney Shay Quartet, Bernardo Winery
May 9: Whitney Shay Quartet, US Grant Hotel
May 10: JazzKatz Project w/ Whitney Shay, Museum of Man
May 11: Whitney Shay & Robin Henkel Band, Gator by the Bay
May 14: Robin Henkel Band w/ Whitney Shay, Java Joe's
May 16: Robin Henkel & Whitney Shay, University Towne Ctr.
May 22: Whitney Shay Quartet, US Grant Hotel
May 23: Robin Henkel/Whitney Shay/Billy Watson, Ki's Restaurant
May 24: Whitney Shay Trio, Proud Mary's
May 25: Robin Henkel Band w/ Horns! & Whitney Shay, Lestat's
May 28: Robin Henkel Band w/ Horns! w/ Whitney Shay, Java Joe's