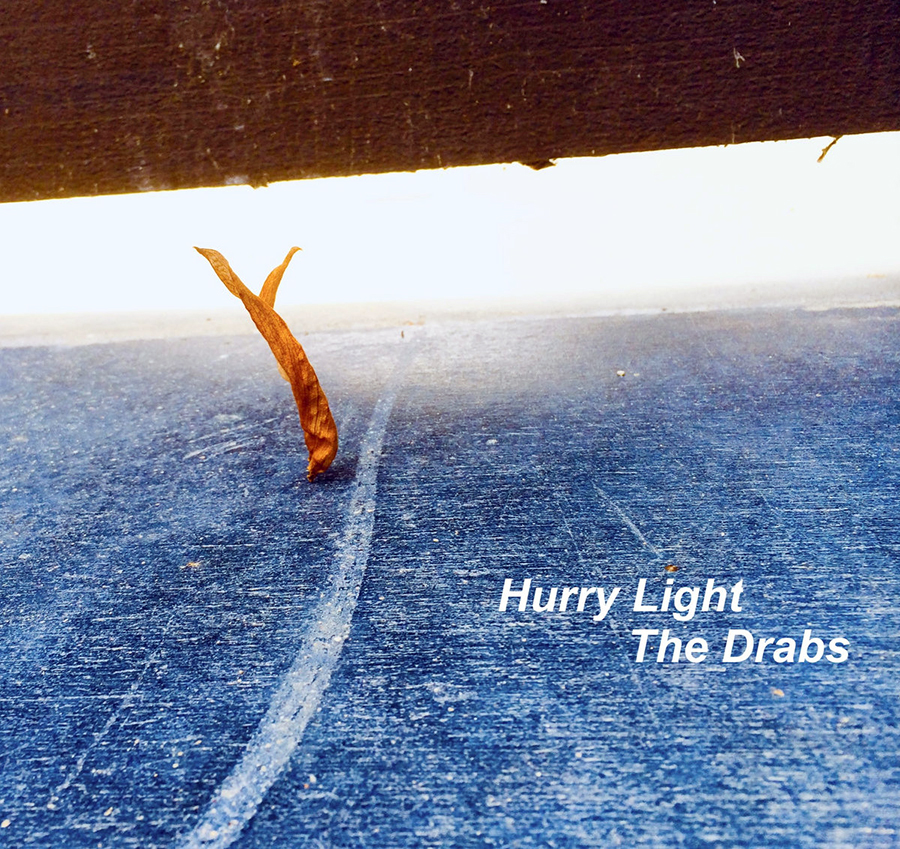 There's good music medicine brewing in the slack-rock energy of Hurry Light, the third official release by the Drabs. The cadence and echoes of Lou Reed in the vocals and the rhythm of the lyrics—pop poetry mixed with that just north-of-coastal-San Diego twang of joy, fun, and angst cocktail, what's not to love? Yes, the angels of Lou Reed are flying into North County straight into a conduit to David Bernat's vocals and guitar. "You kicked it out Washington Street, cowboy boots and tumbleweeds on the lawn…tattooed by graffiti…mesmerized, we sit there for hours out where the sidewalk ends." Bernat's lyrics on "Borrowed Life" conjure up the mud, mystery, and magic of Middle America. Ed Kornhauser's hypnotic reverberations on the organ in "Borrowed Life" spiral uninhibitedly, the 88s exponentially magnifying that slack-rock/clandestine pop that the Drabs are most noted for.
David Bernat's guitar, Steve Mike's bass, and the magical aural sound glue to Michael C. Stone's solid drums; they all weave together for a strong rhythm section. This is a band that plays power, poetry, rhythm, and melody together in the present moment, reflected and magnetized in the the Drab's recording. Ben Moore, who did the recording and mixing at Singing Serpent San Diego, does a fantastic job of capturing Hurry Light's slack rocking essence.
This suburban fun makes me want to head to the bar and hear these guys live with a little slice of lemon, dystopia, and clandestine pop in my beer when I hear those lyrics on "Santa's Got Toys." "The chain has rusted on my bike, my sister's doll just ain't right, these GI Joe's lost their joy, there are no tanks left to destroy, I cannot find my baseball bat… I watch the frisbee go down the drain, the power lines clipped the wings of my airplane… Yeah, I believe Santa's got toys"
The acoustic guitar track on "Not Exactly" toward the end of the disc cuts through the light and juxtaposes the inner and outer worlds of life in America today: "Everything was suspended in the air…. These days I just can't turn off my brain, there's always more coffee to settle in, got to shelter the noise and quiet it down, even though a few remnants still rattle around…. There's a peacefulness out on the cliffs, could be any minute now the fogs going to lift… it's perfectly clear despite the disarray…." Andy Geib's magic flugelhorn takes us out with "Not Exactly," from the duality into the land of hope of Southern California. Hurry Light is some good music medicine.