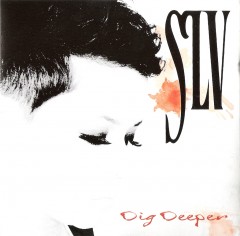 San Diegans might not be familiar with SLV, since the duo hails from Brooklyn, but their sound has a universal appeal. Sandra Lilia Velasquez is singer/lyricist, with drummer/composer Sean Dixon, and their debut EP Dig Deeper shows that they are ready for an audience on both left and right coasts.
The four songs here were lushly produced by Meshell Ndegeocello, who also plays bass and whose Grammy-nominated fingers are all over the project — especially the opening track (which she co-wrote with Velasquez), "Enough." This outstanding cut works a groove with great percussion by Dixon, and guitar and keyboard flourishes while Velasquez presses the catchy vocal hook "Ever enough?" to her incisive questions about being willing to take on the challenges of the world. This track recalls Sade in Lover's Rock mode, and it isn't the only one here that does. The disc's other clear highlight, "Painted Pictures," floats in on a soft strum and keyboard cloud as Velasquez sings in a dreamy tones, "Your words paint pictures in my mind," then a heavenly harmony chorus swells up and overtakes everything. Not all of the arrangements are as elaborate; "History" is boiled down to an acoustic guitar and haunting female background vocals as Velasquez goes for a short, folk-pop statement about how we can't ever count on getting the whole story about anything. It works okay, though the more produced tunes here are better.
Dig Deeper shows that SLV is clearly a polished pop group with great musical ideas. Hope they keep the music coming.