Robert Walter has long been known not only for his soul-drenched jazz organ but also for the variety of long-term projects he is part of.
Originally making a name for himself on the San Diego scene as a member of the Greyboy Allstars, Walter then started the 20th Congress with New Orleans-based drummer Stanton Moore, a friendship and collaboration that has endured for two decades.
Walter's latest project is a trio with Denver-based guitarist Eddie Roberts and drummer Adam Deitch from New York City. The acronym-titled combo WRD released their first recording, The Hit, on April 30.
Being in a variety of projects keeps his playing fresh, Walter said.
"I like it because I like lots of different kinds of music. It's fun to have to think on your feet all the time. Also, being around different musicians of different backgrounds you learn from them, even if you don't like their style, you learn what you don't want to play."
While the trio of Walter, Roberts, and Deitch had gigged around before, this was their first time in the studio together.
"We had a band—we were doing that lineup for a while, eight years ago or so. Around 2010, 2011, we did a couple of little tours. It came out of a Jazz Fest late-night hang where everyone was sitting in. We did a couple trips as a trio. We've played some festivals and stuff. A couple weeks on the East Coast, a couple weeks in Colorado, nothing extensive. But we did have a repertoire and stuff. We had done some touring but never done any recording.
"Eddie had a studio and label in Denver, and I went there and did a couple tracks. The chemistry was still there, and so we did the album.
"There are two sessions, one had four tunes, and then we finished.
"I met Eddie way back like in '96 or '97," Walter remembered. "The Greyboy Allstars had gone to England for the first time; we were playing in a club in Leeds, where Eddie was living at the time. His band, the Three Deuces, an organ trio, opened. At the time, we were the only ones we knew who were interested in '60s soul jazz. They opened and were into all the same stuff, had the right tones. It was neat to meet someone in a whole other country who had the same culture as us—we were all into digging for records. All that stuff was out of print—Lou Donaldson and Rusty Bryant—and you had to go looking for it.
"Then the New Mastersounds formed and started opening for the Greyboy Allstars. We became friends and played together in multiple things over the years.
"Adam I met years ago, too. He used to come see the Greyboy Allstars every time we came to Boston—the old, little House of Blues in Cambridge. I met him early on in the 20th Congress days—we'd gotten all our equipment stolen. The people who were running the Wetlands Preserve in New York City did a benefit to help us buy new gear, and a bunch of musicians were there, including DJ Logic, Stanton Moore and Galactic, and Adam. We played a million different things. All of us do a lot of these things where it's a lineup of different bands. We all get to interact in different sorts of line-ups."
Interestingly, the entire COVID-19 pandemic had very little impact on the release of the album, Walter said.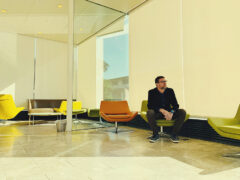 "To be honest, the record probably would have taken just as long even without the pandemic. We were done recording in December 2019, right before everything shut down. But we still needed to mix the album. Eddie just mixed it; we recorded it and Eddie took it and mixed it. It's minimal, because there's just the three of us and we were in the studio together live. No headphones even—no separation, really old-school, live in the room. No overdubs or fixes or anything. Documentary-style, I like to call it.
"We weren't really waiting for touring, we just did the album as something that would be fun. We didn't have bigger plans, but now everyone's talking about gigs, which is great because the band has a great chemistry for live shows."
While this lineup is obviously unique from all the other projects he's done—it couldn't possibly be anything else, given the presence of Roberts and Deitch—it was pointed out to Walter that over the past 10 to 15 years, his own organ playing has settled into a signature sound that is consistent through the many different environments and lineups he plays in.
Walter said he's observed the same thing, but felt it was just a natural progression from a young musician starting out to someone with some time under his belt.
"At first, I was imitating records that I liked and was trying to be Charles Earland and Ramsey Lewis. Over time, I started internalizing those things and speaking the language instead of trying to put it on. It became my own voice—so now, whatever I play comes through that. I'm no longer trying to imitate them, but obviously they're still a part of it.
"The downside is you can't help it," he continued, laughing. "You kind of start realizing what's good about who YOU are. Your limitations become your style—and if you don't run away from that, it can be a really great thing. I always thought that when I heard Thelonious Monk, he kind of sounds the same, and his solos all are similar—but you can tell that it's sort of a closed world he operates in: he's not about being versatile, it's about being essential.
"A friend of man, Dan Prothero, who produced my first couple albums, said, 'I'm looking for ingredients, not recipes.'
"The truth is, it's more about the actual people involved—who's on the album—and letting them be themselves. Being more organic and less contrived, and that gives you more staying power."
And while Walter clearly loves having a variety of outlets for his playing, he also values the familiarity that longstanding relationships provide. He pointed out that he still plays with both the Greyboy Allstars and with longtime collaborator Stanton Moore.
He and Moore still get together every year for the New Orleans Jazz Fest: "We play a gig on the first Thursday and then the last Sunday, and sometimes in between.
"We have a good thing together. We both love all that New Orleans funk music and we love jazz and we love Led Zeppelin and hard rock, so it's hard to meet people who get all of those things, who like the Meters and Zeppelin.
"There's something about the chemistry of a band over a series of nights—even if you get bored of each other, there's still another level you get to over time. The Greyboy Allstars has that, a telepathy."
Even after not playing together for a few years, Walter said it doesn't take long for a former band to find their groove again.
"It usually takes about two nights. The first night might be a little rusty, or the first night is great and exciting and the second night is rusty, but then it clicks."