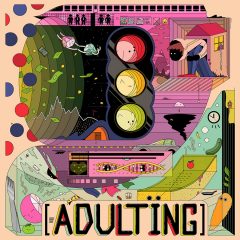 And now, for something completely different. Who, might you ask, is Plexus Play? Well, for the purpose of this album, Plexus Play is the brain-child of musician Matt DiBiase, and he's basically doing that one-man band routine (although saxophonist Robert Dove makes an appearance). Local jazz fans will recognize DiBiase as a virtuoso vibraphonist who's been making waves since arriving in town a few years ago.
The music on this record is definitely nowhere close to "traditional jazz" and, although it's closest to late '70s fusion, it also leans heavily on house, "glitch-hop," and elements of EDM. There is a unifying thread at work here: a celebration of all of the responsibilities (especially the banal ones) that make up our lives once we leave the protective nest of our parents.
This is music intended for animation, and the first single, "Too Much Input," is a superb example of this collaboration. https://www.youtube.com/watch?v=iaqvnbyOY0g&feature=youtu.be&ab_channel=PlexUsPlay
"Too Much Input" is emblematic of much of the album. Each tune contains vocals (often performed in multi-tracked manic fashion), with lyrics that point to the absurdity of taking all of this seriously. Imagine a touch of Jacob Collier, mixed with a dash of "Mr. Gone," era Weather Report, and a splash of "Weird Al" Yankovic, and you are on your way.
Sometimes the lyrics detract from the substance of the music. "You Are What You Eat" features a chorus of "Ginger, Soysauce, Garlic," and the next tune invites the listener to ponder the pride of buying a "New Sponge." Perhaps Frank Zappa is an influence, because the music is often dense and complex, I also hear strains of the Beach Boys and maybe Earth, Wind and Fire after a helium session.
Most of the album was created from sounds triggered by DiBiase's synthesized "MalletKat," instrument, and some of those sounds are absolutely stunning. DiBiase has chops galore and it's kind of hard to believe all that output is coming from one human being. Continuing with the theme of the album, "Laundry" might just be the "Bohemian Rhapsody" of dirty clothes. Another magnum opus poses the question: "The shit-storm has finally arrived. Do you have what it takes to survive?"
Amid all the stacked voices and layered synths, my favorite moment came on the tune "Stuck," which features a sample of the great Julian "Cannonball" Adderley's spoken word intro to his mid-'60s hit tune, "Mercy, Mercy, Me." Adderley opines, "Sometimes we're not prepared for adversity." Sounds like 2020 in a nutshell.