PAMELA REINAGEL: In the Shadow of the Mountain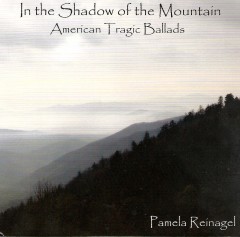 Pamela Reinagel subtitles her new EP In the Shadow of the Mountain as American Tragic Ballads and those three words speak volumes. These are mostly stories, sung a cappella, about death and often murder, treachery, disasters, and loss. Four are traditional folk songs rendered with precision and reverence by Reinagel, and the three more recent compositions are cut from the same bolt of coarse, homespun black cloth. Her melodious voice breathes life into the detailed accounts of each of the sad and momentous narratives, bringing the listener with her into the frame of these events.
"West Virginia Mining Disaster" is about a 1968 tragedy but has a timeless quality, helped by the chanted storyline. Reinagel gives a hint of Irish lilt in her voice recalling this addition to the long tradition of sad folk songs about lost coal miners, lamented by their surviving widows. Her vocal treatment is also very effective on the murder ballads "Omie Wise" and Mississippi John Hurt's "Louis Collins." To carry off a project like this, Reinagel needed a clear, unaffected vocal instrument with good sustain and power, and she more than delivers in the challenging "Shallow Was the Grave," written by Steve Voitka; this somber hymn the listener up, down, and around as a burial is memorialized "in the shadow of the mountain." The disc wraps with a strong, memorable rendition of "Lone Prairie," about, yes, another burial.
Pamela Reinagel's In the Shadow of the Mountain is sad and reverent music that is interesting — and very well done.