Nena Anderson: The Music of Letters and Serenades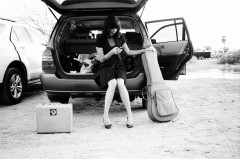 Nat King Cole once sang of those "Lazy, Hazy, Crazy Days of Summer" complete with "soda and pretzels and beer." George Gershwin thought the "livin' was easy" during "Summertime." While many Americans take the cue from these and other summer anthems and put on the brakes to relax during the heat waves of July and August, others continue to press on.
The year's warmest season hasn't forced Nena Anderson to slow down. The Encinitas-based singer songwriter, with 11 prior nominations at the San Diego Music Awards, has a full plate this month: in addition to a consistent touring schedule, she's involved with two intriguing projects that should please her sizeable fan base and will probably attract new followers as well.
The first project is the brainchild of singer-songwriter Alex Woodard, an author and singer-songwriter (and a neighbor of Nena's) who has successfully demonstrated that there is a link between letter writing and songwriting. (Letter writing itself is a vastly different form of communication from mere conversation, a distinction addressed by linguists and communication instructors on many internet sites. The communication (and, indeed, art) of letter writing may bring out deeper thoughts than the body language and eye contact of our restaurant or espresso bar conversations.)
Woodard's experiment had a unique concept: to provide actual letters to songwriters and have them become the impetus for new compositions. The theme for a CD, book, and live showcase project was called For the Sender, and Anderson was one of the musicians asked by Woodard to come on board. In the creative process that followed — revealed in this 2012 blog by Nena — she learned something about herself.
"Almost exactly two years ago I met Alex Woodard: I had reached out to him to pick his brain about music business and, more important, songwriting. I had never considered myself a songwriter and in working on my debut album (2011's Beyond the Lights), I was hungry for skills, advice, and inspiration. Over that first cup of coffee he challenged me to write a song. Alex had been receiving letters from fans telling him about their life stories, tragedies, and hopes. Their stories inspired him… not only to write, but to help them as well. He had a plan to take several of these letters and collaborate with local musician friends to write songs about them. He hoped that we could then play and record the songs for each letter author as a gift. Within the week, Alex had forwarded me one of those letters. Over the two years that followed, Alex wrote a book about his story, his own letter, and how the For the Sender project became a part of it. The songs [and especially playing them for the authors] are as touching as the letters, capturing the incredible emotions and stories — moments never to be forgotten. Alex and I co-wrote "Hush" for Katelyn, widow of a police officer, fallen in the line of duty, who had written Alex her story in a letter. At the time she had a newborn baby, Wyatt. The letter is about loss, hope, and love."
The artist roster for the first volume of For the Sender also featured Jordan Pundik (New Found Glory), Jon Foreman (Switchfoot), Jack Tempchin (the procurer of hits for the Eagles and Johnny Rivers), and Sara and Sean Watkins. After critical acclaim and enthusiastic reception by the public for the first go-round, a second volume of For the Sender (with the subtitle, "Love is (not a Feeling)" is out this year and there will be a major send-off at La Jolla's Museum of Contemporary Art on Friday, July 18th at 8pm. In addition to Woodard, Anderson, Pundik, and Tempchin returning, 'letter" songs will be performed by Molly Jenson and Graham Nancarrow (from the Nancarrow Band).
The Troubadour caught up with Nena recently at a Del Mar restaurant where she reflected on the aesthetic high of For the Sender. "I wrote a song in the first book, and subsequently have been touring with Alex as a duo (trading off gigs with another singer, Molly Jenson) singing songs from the project," said Anderson. "The project made me completely fulfill the understanding that I write/sing/perform to connect with people on a personal, emotional level. In addition, I designed both books, book jackets, audio books, and CDs, as well as contributed photography. The concerts have been amazing… unlike anything else I've done musically. For the audience to know the immediate source (the letters) of the songs and then hear our songs written about those letters/stories is very powerful. I've been thrilled to get to work with such an incredible group of talented musicians."
"Less is more" could be the appropriate mantra for her second project, the recently completed solo album, Serenade. The concept for the CD harkens back to the type of intimate recordings that were all the rage in the '50s, and the singer most identifiable with this format was the unforgettable Julie London. Nearly 59 years ago, Liberty Records released the LP, My Name Is Julie, and it's open to debate what it is best remembered for. Was it the full color photo of Miss London gracing the cover? Or, was it her rendition of a future torch ballad classic, "Cry Me a River, " written by Julie's high school friend, Arthur Hamilton , and later performed by London in the classic rock film, "The Girl Can't Help It"? London's soft vocals dominate the album; a good sign since guitarist (and future San Diego resident) Barney Kessel and bassist Roy Leatherwood are her only accompanying session pros. The record sold well and (musical) imitation soon became the sincerest form of flattery. Sarah Vaughn and Dean Martin followed the blueprint, singing wonderfully on albums with little production padding and minimal backing. Johnny Mathis is so amazing on his LP, Open Fire, Two Guitars, that the listener ponders if the man with the endless sweaters could had been an after-midnight jazz singer in an earlier Shirley MacLaine "life."
Serenade truly beckons back to the '50s minimalism. "This album was recorded in one day, all live takes, with only overdubs of background vocals," said Anderson. In her liner notes specifically addressed to the listener, Nena describes Serenade as "an intimate, acoustic album, showcasing several of my most requested songs as well as new originals. Serenade was recorded live, in the living room studio of a cozy Craftsman-era home for a sound that literally makes you feel you are in the room with us. Adding to the soulfulness of this sound is guitarist Adrian Demain (Lee Rocker, Brawley), David J. Carpenter (John Doe, Grant Lee-Philips), and Frank Lee Drennen (Loam, Dead Rock West.) It is real, honest, and a little rough around the edges… me, serenading you…"
The opening track, "Avery Smile," has a poignant theme, according to Nena; "This song was inspired by and written for a two-year-old cancer patient (and family friend) Avery. It was written to lighten her spirits while she underwent stem-cell treatments… and proceeds from it benefit her family and medical costs." Another song, "Begin Again," "is based on the poem "Unbound" by my friend and best-selling author, Nancy Levin," said Anderson. (Levin is a certified integrative coach with the Ford Institute for Transformational Training.)
In addition to the six Anderson compositions, there are four covers on Serenade; the Irving Berlin standard "Blue Skies," Kenny Young and Arthur Resnick's "Under the Boardwalk" (one of the last major hits for the Drifters), and Alex Woodward's "No More Time to Waste." Harry Dixon Loes' children's gospel song, "This Little Light of Mine," appears as a bonus track. Rock and roll fans will recognize the melody from "This Little Girl of Mine," a popular secular version of the song that was recorded by Ray Charles and the Everly Brothers.
Exploring different outlets for creativity appears to be a characteristic dating back to Nena's childhood. She is the daughter of a Chinese mother, Donna, whose family were pioneer Chinese immigrants in Port Townsend, Washington, and a white father (Rod Sorensen) who was a renowned shaper of boards in the golden age of California surfing culture." I used to airbrush surfboards when I was 14," said Anderson." I was a surfer girl."
Nena was exposed to music during a time before public school arts programs were drastically reduced from the school curriculum." In elementary school I learned the clarinet because I wanted to play the saxophone," Anderson laughed." I was later in musical theater, and in high school I was a DJ — I'd turn up at the pep rallies, campus events, basketball games."
he later attended at UCLA during the era of the tumultuous Rodney King riots. Initially pursuing a degree in industrial design, she was pulled into the music scene during a creative period that celebrated retro-swing (a movement revisited recently in the June 2014 edition of the Troubadour: sandiegotroub-adour.com/2014/ 06/from-the-mosh-pit-to-the-ballroom-the-inexplicable-rise-of-swing-dancing/) and California roots rock. "I loved bands like the Blasters, Los Lobos, the Beat Farmers," said Nena. Although she didn't graduate a Bruin, her work and reputation in various design projects began to blossom. She was also growing as a singer and performer in Southern California, comfortably embracing swing (Nena was with 47 Combo/Lucky Scandal and the Many Shades of Sin), blues, and country. Anderson eventually reached the crossroads where many musicians arrive and ask themselves the eternal question: will I make this my livelihood? "I made the decision to play music full time because I wanted to show my son that you can pursue whatever inspires you… and that it will be successful! Also, since I had only ever put 25% of my time into my music and had decent success, I figured that if I actually put 100% of my time into it, I could probably make it work! While it has at times been extremely difficult, I am the happiest I have ever been and it has been extremely rewarding all the way around."
One of the extremely rewarding chapters was the 2011 release of her first CD, Beyond the Lights, an appropriate introduction to the Nena Anderson sound. It's the best of all possible worlds — a celebration of the Stagecoach-Festival-at-Indio-vibe of Americana so currently in vogue. Yet, at the same time, it is a celebration of roadside honky tonks and Grand Ole Opry radio broadcasts from the past. One of Nena's best record shop scores was an album called 3 Country Gentlemen of Song: Hank Locklin, Hank Snow and Porter Wagoner. You can see the album cover in all its glory on her web page.
Anderson said Beyond the Lights "happened fairly quickly once we made the decision to do it. I had never recorded an album before because I had yet to find the right sound, the right people to help me with it. Mike Butler (guitarist and producer/engineer of the album) was that catalyst. I had already been working most of the songs for a few months at live shows. I played them in my rock band, country band, and jazz trio! I knew that if they were classic enough of a sound for that, that they would hold up on the album I wanted to make. We worked at two of San Diego's great studios, Big Fish and White Horse (now defunct). Mike and the band, which consisted of Patrick McClory (bass), Brian "Nucci" Cantrell (drums), David Berzansky (pedal steel), and Michael Feldman (keys) breathed a fresh sound into the songs that was exactly how I wanted it to sound… a modern recording with a soulful, classic sound. I love the record."
Audience reaction echoed her sentiment. From the Neil Young guitar-influenced "rust" of "Promises" to the old time gospel service sound of the title track, "Beyond the Lights" was an inspired first chapter for the blossoming recording artist. Ironically, Nena was already thinking about future goals once the CD was manufactured and released. "As far as having it in my hands, well that's a funny thing… by the time I usually finish a recording, I'm kind of over it, " Anderson laughs. "I don't want to hear it, see it, anything. I'm ready to move on to the next thing!"
The "next thing" depends on which band Nena is performing with on any given night. It could be Nena Anderson and the Mules, with the beasts of burden consisting of Mike Butler, guitar; Patrick McClory, bass; and Brian Larson, drums. Or it could be the country sounds of Brawley, a band that conjures up images of what a rowdy Saturday night in the Imperial Valley town would be like. In Brawley, Nena is part of a lineup that features Adrian Demain (vocals, guitar), Jim Austin (bass), David Berzansky (pedal steel), and Dale Daniel (drums). And if the stars are in a favorable formation in the sky, you might just see Nena portraying June Carter with Cash'd Out, a local Johnny Cash tribute band.
Music fans looking for a quick weekend getaway might take advantage of seeing Nina's monthly residency at the historic Ace Hotel in Palm Springs. Located on the site of the old Westward Ho resort, the Ace basks in its retro coolness. Would you like your room complete with a phonograph and old vinyl to play? No problem. "I love playing at the Ace. We always get a great mix of hotel guests and local residents in the audience. It's a small room, cozy booths and a dark bar… it's the perfect atmosphere for our mix of jazz, western swing and Americana. My backing band at the Ace (the Full House Band) was put together by Robert Furgo. He plays keys (piano/organ) and fiddle. (He is a top-notch session and touring guy; he's worked with Leonard Cohen and Nancy Sinatra to name a couple.) Other members of the band are Jim Austin (upright bass) and David Berzansky (pedal steel), both also in my band, Brawley, in addition to occasional shows including Adrian Demain (guitar) — also in Brawley. it's been great playing with these guys. They are all amazing musicians and I'm perfecting my rhythm guitar skills with them since we play without a drummer. The percussive bass work of Jim combined with my guitar lays down the rhythm for vocals and solos. It's a super-cool sound."
Closer to home, there were be several options to see Nena perform live this month. On the final night of the three-day Fourth of July weekend, she'll be doing a show on July 6 at 7pm at the Solace and Moonlight Lounge in Encinitas. The restaurant/entertainment venue is the North County equivalent of restaurateur Matt Gordon's successful Urban Solace in North Park. Following the For the Sender concert on July 18 at the Museum of Contemporary art, Nena performs at a old familiar name in a new location: Java Joe's in Normal Heights (see the June 2014 Troubadour cover story: https://sandiegotroubadour.com/2014/06/java-joe-splendid-times-still-guaranteed-for-all/) The July 25 set starts at 8pm.
Keeping this country's roots music alive one gig at a time: that's Nena Anderson.
Nena Anderson: www.nenaanderson.com
For the Sender: http://www.alexwoodard.com/for-the-sender-love-is-not-a-feeling/
The Ace Hotel: http ://www.acehotel.com/#palmsprings
Solace and Moonlight Lounge: http://www.eatatsolace.com/
Java Joe's: http://javajoessd.homestead.com/