MIKE QUICK: House of Dreams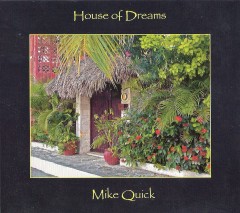 Mike Quick is a veteran acoustic singer/songwriter, last heard from on his CD Rain from 2010. Ear-catching roots songs drawing from blues, folk, and gospel came together with Quick's gravel-inflected vocals and smart production for a memorable listen; he is back with a 13-track of eclectic, original material with a similar approach in House of Dreams.
Quick's bio cites a period living in San Diego, maybe where his vocal similarity to a better-singing version of Tom Waits originated. On the new disc (as on Rain), his experience in the studio and with various musical styles pays off, as Michael Jerling again recorded, produced, and plays many of the instruments. The other musicians are able to flex from haunting folk to boogie — and back again —
impressively.
"Snake Oil and Sin" reflects Quick's gift: a catchy mid-tempo folk-rocker driven by his lyrical talents, telling a morality tale that warns of the temptations of the world and the weaknesses that make us go for them. Gospel roots are again evident in "The Day Jesus Came Home from the Sea," building its structure with fiddle and guitars, making the foot tap and the ear listen as Quick's sermon is about his fishing adventure, "They say that the devil is in the deep blue sea/ Waiting for the ships from Galilee." For good measure, this highlight ends with a rousing Gospel call-and-response coda. For "The King of Rock & Roll" there is a jazzy rhythm with minor chords, and Quick sings another tale about a self-destructive figure who makes it to the big time and falls victim to the lawyers and hangers-on, and himself. Throughout, Quick's ability to paint a vivid musical storyboard in a five-minute frame is impressive, and on this tune the sharp backing guitars help make it sink in.
Things are darker and bluesy for "Little Buddha Knows," as fiddle and percussion drive the message about a mysterious figure with "a hundred mile stare" and other homeless nomads in society's underclass; this one has a foreboding vibe that matches its lyrics perfectly. Staying serious for another tune, Quick sings "Barbed Wire Rose," about missing children, "If you ask about the children, all anybody knows/ Is that a dark angel passed through here last night and left a barbed wire rose." Things really get poignant when he starts reciting the names of some of the kids; a somber highlight.
Things lighten up for "Johnny and the Hurricanes," as Quick puts on his rock shoes and the band plays an homage to an early-rock band that was a late-50s legend in the Midwest (and popular enough in England to get into a Kinks song). This feel-good tune has a great groove and some hot lead guitar licks, played rockabilly style. The disc closes with "Tell the Native Sons," about Native Americans and New Age folks, as Quick asks, "You say the new war will be won/ Just tell me when the last war is all done." Indeed.
Mike Quick has some fascinating tales to tell and does so with engaging songs on House of Dreams.