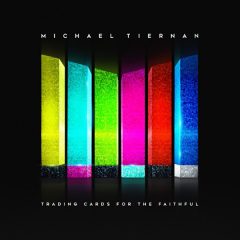 Trading Cards for the Faithful is the latest from Michael Tiernan. The six-track EP is his seventh recorded release since 2004, and this time he draws inspiration from his eventful life, which has seen him survive cancer, travel Europe with his guitar in tow, spend time in a Vatican seminary, and end up in SoCal as a music playing family man. The disc was recorded live in the studio, but doesn't lose any points for its sonics as the production crew includes LA area producer/bassist Andre De Santanna turning the knobs. As on earlier projects, it is Tiernan's acoustic guitar, vocals, and world view that dominate as he is clearly drawing from his roots. A multiple award-winning songwriter whose music defies pigeon-holing, Tiernan plays some songs that sound like laid-back beach rock, while others are introspective folk—and plenty of his pop has insights and things to say about our topsy-turvy social reality.
"Saint Theresa" opens, a slow and contemplative ballad anchored by acoustic guitar, with Tiernan in Dylan mode as he relates being near death in the hospital when he found solace and purpose in praying. The tune itself is a beautifully produced prayer, telling God "Sometimes I miss the heroes and the saints that are passed around like trading cards for the faithful/ But you made me who I am and you made this restless heart, I don't mean to sound ungrateful." His spirituality comes to the fore on multiple tracks as he turns inward. Whistling is heard in the intro to "Bailing Water," an upbeat and catchy pop ode using boat sailing in rough water as a metaphor for our struggles to deal with life's challenges.
The guitar work on "Feed Your Soul" is ear-catching on a track likely to be a concert sing-along favorite, as Tiernan's lyrics make clear that caring for one's spiritual core should take priority before addressing outside matters. A guitar-driven harder edge powers "A Few Bad Apples," a rocking highlight/social critique that points to how many of today's problems with fear and strife trace to just a few problematic people. "Ain't talking about no fists/ Sure as hell ain't talking about no guns/ Talkin' about a level of consciousness/ And it starts right here with everyone," he sings, and about how shaking the tree will clear out some of the bad fruit.
There is a reggae pulse to "Use You for Me," picking up the message of earlier tracks about how too many people take advantage of those around them—as Tiernan again mentions his religion, and his worry about his own children's future, as "digital surgery" and "cold hard ego" are among the phenomena for which he again proposes a compassionate solution. Tiernan sings about life as a singer who can inspire others on "My Joyfully," a lively set closer about how songs bring others joy, but that knowing joy also means having experienced pain.
Michael Tiernan scores another great listen with his latest, Trading Cards for the Faithful.