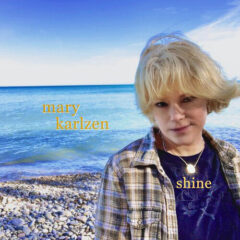 Singer/songwriter Mary Karlzen is back in the spotlight once again with her 2020 CD, Shine. After an initial splash in 1995 with her CD Yelling at Mary on Atlantic Records, followed by two releases in 2000 and 2007 on Y&T and Dualtone labels respectively, the Chicago native took a musical hiatus to spend more time with her two children. Fast forward to 2020 and Karlzen's reuniting with Y&T Music and producer Jansen Press in Miami, a familiar landing place where her musical recording journey began in 1992 with her debut self-titled album.
The 12-track disc, recorded and mixed by Press as well, includes an impressive cast of top-flight sidemen, including L.A. guitarist Mark Goldenberg, drummer Kenny Aronoff and E Street Band bassist Garry Tallent, to name a few, most contributing from remote recording locales around the U.S. The result is a delightful mix of skilled musicianship behind Karlzen's mesmerizing voice and pensive lyrics.
The opening track, "Slowly Disappear," sets the tone for many of her lyrics of self-reflection and personal growth, backed by a strong country rockabilly groove as the track accelerates, followed by "One Step Away from Home," a reflection of how life's events would all be different upon which fork in the road we choose to take.
Karlzen pens some impressive country flavored tracks with a jug band flavor on "Say You'll Never Go Away Again," along with the two steppin' vocal duet, "You Still Belong to Me," with Nashville based singer/songwriter/guitarist Radney Foster, and the upbeat track, "Try to Find," all superbly backed by the supporting musical cast.. 
Her vocal diversity is prominently on display with the up-tempo rocker, "Dumb Game," the pop-flavored "Something That I Missed" and a catchy 6/8 Jazz Waltz, "Moon & the Sky." She saves the title track, "Shine," for the grand finale, a lilting piano and strings accompaniment climaxing into a full orchestral finish with the prophetic lyrics: "and now is my time… I've waited a whole life to see what I would find." And shine she does throughout with an eclectic mix of styles and heartfelt words to live by.