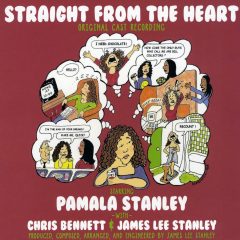 It took James Lee Stanley 20 years to put the finishing touches on his musical, Straight From the Heart, a story whose central theme details the close friendship of two women, played by Pamala Stanley and Chris Bennett, with the action focused on the joy and sorrow of life's roller coaster. What stands out immediately in the original cast recording is the exceptional cover art work by Pamela Adamowich, featuring animated cartoon depictions from scenes in the show.
Stanley, who composed and arranged all the music, also engineered and produced the recording. In addition to playing acoustic guitar, bass, harmonica, and keyboards, Stanley is joined by an ample group of supporting musicians, including Scott Breadman on drums, Ken Lyon on electric guitar and bass, Rob Kyle on sax, Michael Levine on violin, and Paul Barrere on slide guitar, augmented by the vocal work of Bennett and both Stanleys.
The 13 tracks, all nicely compacted between two-and-a-half to four-and-a-half minutes in length, are perfectly formatted for theatrical scenes. They run the gamut from pop to rock, with Pamala carrying the score with her mesmerizing voice.
The lilting pop tune "Daddy's Eyes" opens the festivities with Pamala's soothing on-pitch voice against Stanley's flanged guitar tone, followed by "Another Day Another Dollar," featuring the ensemble voices set against ominous chord changes and Barrere's haunting slide guitar bursts. "No Time for Romance" and "Sexy as I Wanna Be" are the two ditties that require the stage visual, the former featuring a strong in-sync ensemble vocal chorus and the latter, a campy back and forth between the two female stars against a well-arranged orchestral backdrop.
"Dirty Job," featuring J.L. Stanley in a prominent vocal moment, is bolstered by hot licks from Barrere, of Little Feat fame, on slide guitar with "Hard to Say No," a hard rocker in 1980s Blondie fashion, a perfect choice for an Act One closer, supported by a funky in-the-pocket groove from the rhythm section.
"Just Like Love," aided by Kyle's silky sax work, features Pamala's best vocal moment, while "When Love Comes Around" and "Falling in Love" are also strong out-front pop-flavored features for her, with Kyle and Lyons providing tasty fills behind her voice. "Shoppers Paradise," set to a staccato rhythm, brings the catchy lyrics to the forefront in another lead vocal by Pamala, followed by the title track, "Straight From the Heart," another shining vocal moment for her out front.
The driving triplets à  la Tears for Fears in the closing tune, "Two Wrongs," with both Stanleys taking it home in a final vocal counterpoint chorus, build gradually to the final curtain. All in all, a well thought-out musical score, with just the right tasteful instrument orchestration to support the lyrics and vocal prominence.