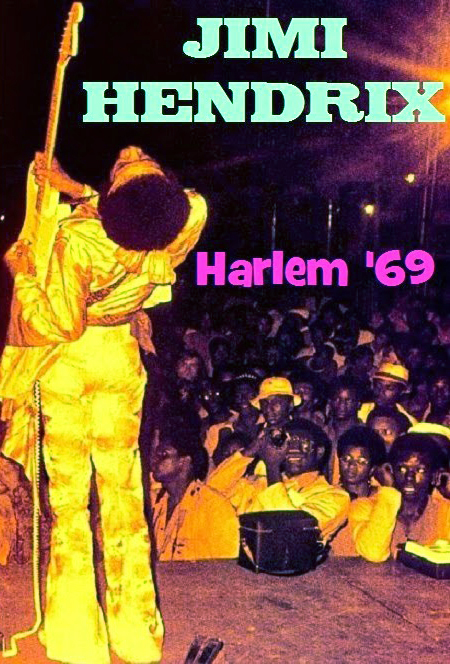 It was another typical end of summer evening on Friday, September 5,1969, cruising around the Bronx with my best friend Steve in his 1963 Dodge Dart with no particular place to go. We were tuned into WNEW-FM on the radio, one of the first FM radio stations to feature a rock music format. In between songs the deejay dropped a bombshell that didn't seem real when he subtly mentioned that Jimi Hendrix was scheduled to perform that night at a free admission street fair in Harlem. Without hesitation we made a beeline toward the Macombs Dam Bridge, which connects the South Bronx to the Harlem neighborhood in Manhattan at 155th Street.
The next hurdle was finding a parking spot near the performance site at 139th Street and Lenox Avenue. After circling numerous blocks, we forged our way into a tight parking spot on 145th Street near Lenox Avenue. The six-block walk entailed the usual stares and a few verbal taunts from neighborhood residents as we kept our eyes looking straight forward. Upon arrival at the site we worked our way into the crowd of a thousand or so eagerly awaiting Hendrix's appearance as R&B singer Big Maybelle was just finishing up her set. Hendrix was the closing act with six other acts appearing before him, which included Sam and Dave, Maxine Brown, and Big Maybelle.
Hendrix's six-piece band, Gypsy, Sun, and Rainbows, featured Billy Cox on bass, Mitch Mitchell on drums, Larry Lee on guitar, and Juma Sultan and Jerry Velez on percussion. The band set up their equipment on a modest four-foot-high city park stage without much fanfare as many of the neighborhood residents were unfamiliar with who he was. The anticipation grew as the band was getting sound levels on their respective instruments when a bottle was hurled from one of the surrounding tenement buildings, landing at the base of one of Hendrix's four Marshall amps, followed a few minutes later with an egg splattering on one of Mitchell's tom toms.
It was a seminal moment, though, for Hendrix as he wanted to prove to the Harlem community that he was a legit musical artist as his following was mainly an all-white audience. Just three weeks prior he was playing to over half a million folks at Woodstock with the same band lineup; quite a contrast. However, many doubts were dispelled when he opened the show minutes before midnight with emphatic versions of "Fire" and "Foxy Lady," followed by an impassioned rendition of "The Star Spangled Banner," the same version he played at Woodstock. After an extended jam version of "Purple Haze," he left no doubt to his mastery of blues guitar with an avalanche of torrid licks on his slow blues classic "Red House."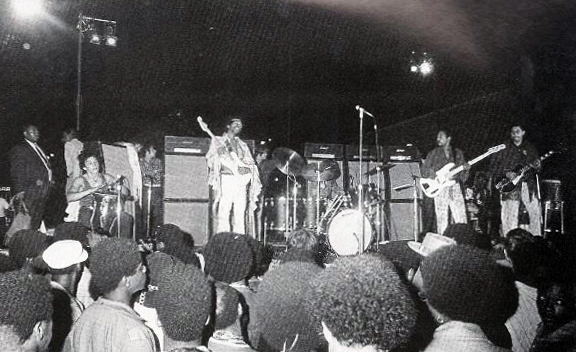 By now his performance was morphing into the wee hours of Saturday morning as he launched into "Voodoo Child," proclaiming to the crowd that this was his version of the "Harlem National Anthem." By now the crowd had thinned out to around a hundred people, which gave me an ample opportunity to move up to the front of the stage as he played his final tune, "Machine Gun," jamming on it for what seemed like an eternity. As he had his eyes closed and was gyrating at the edge of the stage, a few of us, including myself, were able to touch the headstock of his guitar. For me it was a moment of connection with my own destiny as a guitarist.
It became a surreal moment when he struck his final notes of the evening and held court with the few of us left just as if he were finishing a gig at a local bar and chatting with the hardy souls that stayed for the whole gig. He expressed his satisfaction with the impact his performance had on those who attended. For him it was definitely mission accomplished. No question that he won over the majority of the crowd and got his due recognition for the force he was musically regardless of the demographic of the audience.
By the time we returned to our car it was 2:30am as we realized we had just witnessed a concert that would be one for the history books. Indeed, now 54 years later, it's still indelibly printed in my memory bank as if it were yesterday. Sadly, my accompanying friend Steve passed away in March of this year. RIP Steve Kohlreiter (1950-2023).
The concert was never recorded, so there's no audio record of it other than a garbled cassette tape recording that you can't make out. There's a handful of photos from that night with one included on the back cover of the 1995 Hendrix compilation CD, Voodoo Soup. It was also the final hurrah for the six-piece outfit Gypsy, Sun, and Rainbows, as Hendrix went back to a trio format as Band of Gypsys, whom I got to see in concert at the three-day New York Pop Festival in July 1970 on Randall's Island. It was a subpar and shortened set and would be Hendrix's final New York City concert, five years removed from his arrival in the Big Apple when guitarist Cornell Dupree befriended him and took him under his wing in saxophonist King Curtis' band.
Sadly, a year after the Harlem concert and two months after the New York Pop Festival, Jimi Hendrix was dead, but not before leaving an indelible footprint in the annals of music history, notably when he played his heart out to a whole new audience into the wee hours of the night on a street corner in Harlem.