GREGORY PAGE: Shine, Shine Shine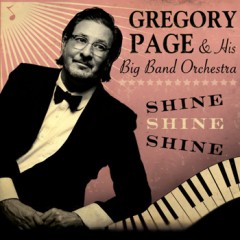 The quixotic and irrepressible Gregory Page has released his 21st album since arriving in the United States in 1976. The fan-funded Shine, Shine, Shine is Page channeling a big band singer from the 1930s. Think Glenn Miller, Hoagy Carmichael, and Cole Porter. Page has long been influenced by Al Bowlly, a jazz crooner whose 78 rpm records Page listened to as a child while growing up in London. With the amazing support of the Brad Steinwehe Jazz Orchestra, a string quartet featuring soloist Kate Hatmaker on violin, a rhythm section including Bob Magnusson on upright bass (Sara Vaughn, Ella Fitzgerald), and Page's usual touring companions Sky Ladd on piano and Josh Hermsmeier on drums, Page performs a suite of 10 elegant tunes harkening back to an earlier era (one, "Here to Stay," appears both with vocals and as an instrumental "bonus track").
Of the 10 songs on Shine, Shine, Shine, Page wrote the music and lyrics for nine. The exception is "What'll I Do," by Irving Berlin. (Moreover, the title track contains a portion of "Brother, Can You Spare a Dime?") Page's songs, written while he was touring in Australia in 2011, capture the innocence, grace, and joy of the early 20th century. Page is an unapologetic dreamer who from an early age has found an escape in music. His wistful longing for a bygone musical era borders on fantasy, but his beautifully crafted songs — and the sincerity and passion with which he performs them — draw the listener into his seductive world. This is not merely a nostalgia album, or a tribute to the big band era. Page's goal is to go back in time, and he succeeds. All of the tracks on Shine, Shine, Shine have the uncanny ring of vintage tunes.
The 22-piece big band instrumentation — arranged and conducted by Chris Fulford-Brown — is superb. That many of these talented musicians reside in San Diego is a testimony to the depth and diversity of the local music scene. But the album either fails or succeeds on the basis of Page's vocal efforts. And as a self-described crooner, Page pulls it off admirably, with a sweet tenor — occasionally drifting into falsetto — which provides exactly the bright timbre needed to complement the winsome orchestration.
Page "prepared" for this project by performing with a "Make Believe Orchestra" in 2010 — playing live with Ladd and Hermsmeier, but accompanied by vintage Big Band recordings from which the vocal tracks had been edited out (with the assistance of local music archivist Lou Curtiss). Shine, Shine, Shine dispenses with that element of make believe. The result of Page's ambitious project is an extremely entertaining collection of period songs, wonderfully performed by a stellar cast of musicians. Page's website states that he is "a product of his own imagination." Page's imagination is indeed a delightful place to visit.