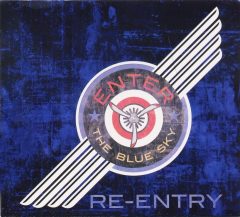 In the 1950s Johnny Cash eschewed the rhinestones, cowboy hats, and other gaudy costuming that had become part of the aura and marketing that had become expected of country performers. The Man in Black also pared down the sound of his ensemble, doing without banjos, fiddles, pedal steel guitars, and high-lonesome harmonies. There was Cash, an electric guitar, and a bass.
Cash's hits from this time, such as "Folsom Prison Blues," stand out among the rest of what country artists were up to at the time. He understood that the simplest is most often the strongest. Other country performers have relied on this formula for success. Bobby Gentry presented a less cumbersome country sound in the 1960s, and Willie Nelson became the stand-out star that he is today when he simplified his sound in the seventies.
Following in the footsteps of Cash, Gentry, and Nelson is Enter the Blue Sky, an ensemble that puts a new stamp on unadorned, simple, basic country. Their new disk of 13 songs, Re-Entry, is captivating, moving, and a real joy. I liked it from beginning to end.
The central star around which the universe of Enter the Blue Sky revolves is Sandé Lollis. Lollis is unique. I don't know anybody else quite like her. She has a strong, powerful voice, but she's never too big for the room. My guess is that she has decades of experience performing. Lollis is most certainly country, and I don't hear any trace or any attempt to bring in any pop or jazz. She doesn't hold back to express joy, fun, or sadness, and I like that.
Lollis also wrote all the songs for the disk. She understands what a song is all about. Her lyrics are simple and direct, giving us her take on all the joy and pain of love, as well as aging and getting used to all that newfangled stuff like texting. Most of the disk is light and laid back, but there are a number of more up-tempo tunes. The variety adds to the enjoyment of this recording.
The backbone of Enter the Blue Sky is bassist Alberto González. Without drums or much other percussion, his bass holds it all together. Karen Childress-Evans contributes on the viola. The deeper-voiced instrument is a refreshing change from the usual fiddle for country. The viola also gives a stronger support than a violin when Childress-Evans comps behind Lollis. John Seever is also similarly supportive on the harmonica. Al Deininger contributed background singing.
Thomas Burdett did all the recording, mixing, and mastering. He did a great job. The recording has a natural, warm sound with a great deal of clarity. Re-Entry has more than 60 minutes of music. It gets six bonus points!
I have to confess that although I love country music, I can't listen to the over-produced, auto-tuned, formulaic bombast that gets played on country stations today. If I could hear Enter the Blue Sky on the country airwaves, I'd tune in again.