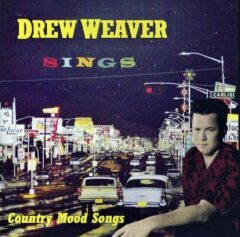 Drew Weaver's EP, Drew Weaver Sings Country Mood Songs, is pretty self-explanatory. The six songs represent a step toward the outlaw country songs of the 20th century; the tunes are not ones that everyone knows by heart, though they're written by folks like Hank Williams and Merle Haggard. The music is laid down in two-minute packages, and the artwork indicates that the session tapes date back to 1998. The unhurried, simply arranged ballads reflect an aesthetic rooted in Bakersfield instead of the glitzy TV specials that are the origin of much of today's country.
The covers are rendered by a supporting cast of studio players, including Rosie Flores adding guitar and singing a duet, producer Jansen Press on guitar, Gary Brandin on pedal steel that is prominent on the tracks, and others. It is mellow, twangy country with themes one would expect, like paeans about women who have come and gone, the bottle, and the need to roam. Weaver's vocals have an everyman quality that serves this music well.
Flores joins him on "Stranger in My Arms," the opener and a strong beginning. Written by Bakersfield native Wally Lewis, it is a breakup tune with an ambling beat and lots of guitar and pedal steel touches behind lyrics that say "The flame is gone that used to burn so warm." "Bad Man Highway Patrol" starts out a tale of an inept cop who pulls folks over for lectures, then makes its mark when the CHP sings about seeing an alcohol-fueled wreck with multiple bloody teen fatalities.
The pace picks up for "Donna on My Mind," the strongest track on the disc, as Weaver longs for a woman who makes him think of her from dawn to dark. Though not sure about her feelings, he is all in. Haggard's "You Don't Have Very Far to Go," and Weaver's vocal is right on as there is heartbreak afoot, and the next track is the minor chord ballad "Ramblin' Man." It is a deliberate and somber study by Williams about the life of a wandering honky-tonk singer, "And when I'm gone/ And at my grave you stand/ Just say God's called home your ramblin' man." The subtext about this being the short and turbulent life that Williams experienced is not lost on Weaver. The closing song is "How Far Down Can I Go" with Weaver settling in and becoming the penitent alcoholic who would "Steal a newsboy's dime for a small glass or wine."
The music on Drew Weaver Sings Country Mood Songs is almost all in the same cadence, about the things heard since the birth of country music, but it fulfills its mission as a slate of mood tunes, reverently played by masters of the craft.