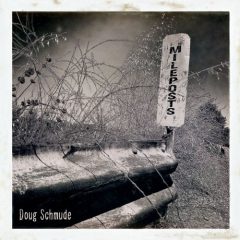 Americana singer/songwriter Doug Schmude (pronounced like moody) is well traveled, starting in New Orleans, then other locations including Nashville before settling in Orange County. Part of the jack-of-all-instruments movement, Schmude has released several CDs, including 2018's Burn These Pages, with original songs featuring his endearing vocals and own accompaniment on guitars, bass, dobro, mandolin, piano, and organ. His newest release is Mileposts, a generous seven-track EP that adds to the road songs genre.
Schmude has help on drums on some of the tracks and studio support on harmonica, fiddle, accordion, and percussion, but this is a solo effort that was produced, recorded, mixed, and engineered by Schmude—and sounds like he and his instruments are in the room with the listener. His vocals are friendly and well-suited to his countrified rock and pop folk, from personal laments to tales populated by colorful characters.
"Mileposts in the Rear View" kicks off things with a brisk road anthem. It rides hot drums doing a dance with electric guitar lines, giving Schmude a nice bottom as he establishes the relaxed vibe of the album while flashing his considerable guitar skills. The first character study is about "Early" who lived in Key Biscayne; his story is a humorous trip through the Gulf Southeast as a boat painter Early finds he has been fixing up smuggling votes—and here come the cops. The cocaine ends up on the sea bottom, and Early departs the Keys to an accordion crescendo.
Introspective folk marks "All of the Lines on My Face," as Schmude slowly takes stock halfway through life, and his investment in a long-term relationship gets a review after she left. "I thought you and I were working on a masterpiece/ But every canvas has edges, ours did at least," as his voyage is "adrift without a chart" on his own dark sea, facing a life of future regrets. A toe-tapping country ballad enhanced by impressive fiddle and guitar interplay, "Old Crow" shows another side of Schmude—one who is an acoustic guitar wizard and who carries on the traditions of music that has gone before, like folk and especially bluegrass. "Feels Like Texas" perks along on a tasty rock groove, dressed up by harmonica as Schmude details his history with the "big ass state." On this travelogue, he again takes opportunities to join the flow with some more hot electric guitar fills.
"I don't wanna live in a world without John Prine" is the chorus of his memorial to the Americana master, stolen by Covid. The world doesn't feel that goofy or funny anymore, and Schmude wonders how he'll go forward without Prine being there to tell what is the truth, and what are lies. A lurching beat drives the closer, "Maybe I Just Won't Go Home Tonight," as he debates whether to go face his wife when he goes home so early, having lost his job. As with the earlier tracks, a great hook makes it work. After a tasty blues guitar solo, he decides to drop the box of his work paraphrenia in the trash and postpone the reckoning.
Mileposts is thoroughly enjoyable Americana, played by talented and eclectic Doug Schmude.